Queen St Dining
Guildhall Shopping Centre
Queen Street
Exeter
Devon
EX4 3HP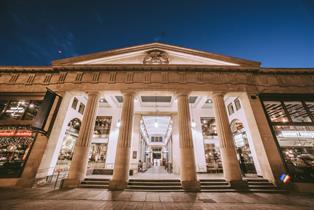 From dawn 'til dusk and to supper and beyond, Queen St Dining is the perfect location for Exeter's food-loving residents and city visitors to sample the finest fare from local food heroes and unique cuisines in cool casual dining destinations.
At Queen St Dining, you can start your day with an artisan coffee and end your evening with a nightcap on the roof terraces. All tastes, for all times are to be discovered! Three public spaces within Queen St have been re-invented, including Market Square, which sits at the heart of this premium dining destination.
Bordered by amphitheatre-style seating areas, and overlooking the stunning 12th-century St Pancras Church, Queen St Dining's restaurants spill out, continental style, onto the modernised square where diners can eat, meet, socialise and watch the world go by.
Whilst dining, don't forget to check out the shopping scene at Guildhall Shopping & Dining.
Information
What's Nearby
A self-guided tour exploring the buildings and history of Exeter's woollen trade.

0.05 miles away

Sound Gallery Studios is a professional recording studio situated at Exeter Phoenix and established...

0.06 miles away

Spacex enables access to contemporary visual art in the South West via a programme of projects and...

0.06 miles away
Libraries Unlimited believes in the unlimited potential of library services across the UK to make a...

0.06 miles away

Launched in 1991 as a platform for local and international bands, the Cavern is one of Exeter's...

0.06 miles away

Exeter's Royal Albert Memorial Museum reopened after a multi-million pound refurbishment with the...

0.08 miles away

The City's award winning Red Coat Guided Tours are provided by Exeter City Council and are the...

0.09 miles away

Medieval cathedral. Fine example of Gothic Decorated style. Longest unbroken stretch of Gothic...

0.1 miles away

Exeter Phoenix is one of the South West's leading contemporary arts venues, offering an exciting...

0.1 miles away

The site of Northernhay Gardens was quarried in Roman times for stone from which to build the...

0.11 miles away

Grade II listed in the National Register of Historic Parks and Gardens, Rougemont Gardens were...

0.12 miles away

Large parts of the wall that protected Exeter many years ago still exist & tell us a lot about the...

0.12 miles away
Previous
Next