Guildhall Shopping Centre
40 Guildhall Shopping Centre
Exeter
Devon
EX4 3HP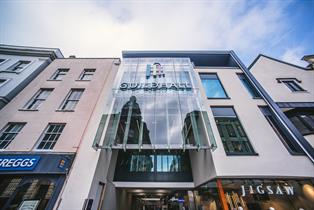 Guildhall Shopping & Dining combines a modern Shopping Centre and traditional architecture with the Charles Fowler Queen Street façade leading through to perhaps one of the oldest foundations of the City, St Pancras Church.
This quaint church in a most unlikely setting, makes Guildhall Shopping Centre the only Shopping Centre in the world to home a 12th Century Church at it's heart!
From fashion to food, to booking that perfect family holiday, everything you need can be found at Guildhall Shopping Centre, being home to brands such as Sainsbury's, Wilko, Primark, WH Smith, Superdrug, Mothercare and Jigsaw, amongst others. Whilst shopping, don't forget to check out the eight new restaurants at Queen St Dining!
What's Nearby
A self-guided tour exploring the buildings and history of Exeter's woollen trade.

0.05 miles away

Exeter's Royal Albert Memorial Museum reopened after a multi-million pound refurbishment with the...

0.09 miles away

The City's award winning Red Coat Guided Tours are provided by Exeter City Council and are the...

0.13 miles away
Medieval cathedral. Fine example of Gothic Decorated style. Longest unbroken stretch of Gothic...

0.14 miles away

Over 70% of the wall that once protected Exeter still remains and reveals a lot about the geology...

0.14 miles away

The site of Northernhay Gardens was quarried in Roman times for stone from which to build the...

0.15 miles away

Grade II listed in the National Register of Historic Parks and Gardens, Rougemont Gardens were...

0.15 miles away

The largest venue in Exeter city centre, Exeter Corn Exchange is probably the ideal location for...

0.19 miles away

A self-guided tour exploring Exeter's ancient city wall.

0.2 miles away

Since 1868, St Michael and All Angels church on Mount Dinham in Exeter has been serving the...

0.23 miles away

St Martin's props up the black-and-white building of Mol's Coffee House on a corner of Exeter's...

0.24 miles away

Discover Exeter's medieval past, find out about many of Exeter's surviving gems and the events that...

0.24 miles away
Previous
Next