10 Free Summer Activities for Families
We know the school holidays can be an expensive time, so we have put together our top 10 ideas for things to do in Exeter this summer, completely free! Whatever the weather (although we're hoping for plenty of Devon sunshine), there is plenty going on to keep everyone entertained. Plus there are some great free family events in Exeter over the summer holidays.
1. Visit Exeter's Royal Albert Memorial Museum and go on a voyage of discovery from pre-history to the present day through 16 galleries of displays. With free entry & summer holiday activities, workshops and drop-in sessions, there is something for all ages.
2. Spot a Rhino! As part of the Great Rhinos Project, life-size rhino sculptures will inhabit the streets of Exeter for 10 weeks from 30 July – 9 October.
3. Join the famous Red Coat Guides on a walking tour of Exeter, to discover more about the fascinating and turbulent history of the city. Tours run daily throughout the year, with a wide range to choose from. There is no need to book – just turn up, tours last approx. 90 minutes.
4. ...Or if you prefer to do things at your own pace, follow one of Exeter's self-guided heritage trails – kids can solve puzzles and quizzes along the way.
5. On warm days, pack your swimming stuff and head to Heavitree Park, which has paddling pools in which to play and cool down, or St Thomas Splash Pad, with water fountains, tipping buckets and cannons for plenty of water fun!
6. Visit the Custom House Visitor Centre on Exeter's Quayside to learn more about the history of the Quayside through fascinating displays, exhibits and a short film - 'Exeter, 2,000 years of history'.
7. Attend a milling day on the second Friday of every month or look for wildlife in the garden of Cricklepit Mill.
8. Film fans, head to the Bill Douglas Cinema Museum for interactive exhibits for children, or see a favourite film as part of the Odeon Kid's Club – whilst not strictly free, tickets are just £1 per person! Plus you can book online in advance with no booking fees. There are kids screenings every Saturday and Sunday morning, plus every day during the school holidays.
9. Find space to run free! Head out of the city to Haldon Forest Park, where themed walking and cycling routes are well-signposted, or follow special trails aimed at families with small children. You will also find family-friendly marked trails at Stoke Woods, an old forest dating back to the Roman times on the edge of Exeter, or visit one of five Valley Parks in the city, all great for walking, kicking a football around or enjoying a family picnic.
10. Take a family bike ride following the route of the Exeter Canal... this flat, traffic-free route is great for families, plus you can stop off at the Double Locks pub for refreshments in the large, waterside beer garden with an outdoor play area!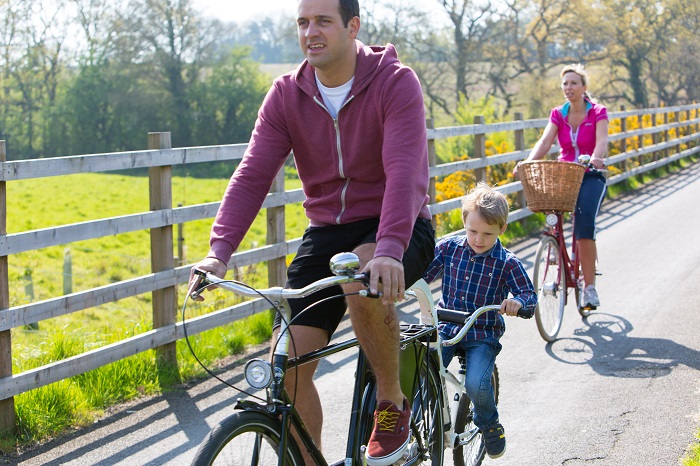 There are also plenty of free events throughout the summer, including:
23 July Romans Under Your Feet, Cathedral Green, 10.30am - 3.30pm. Visit the Cathedral's Roman activities stall on Cathedral Green (in partnership with RAMM) and find out more about the Roman archaeology beneath your feet. Suitable for all ages. Part of the National Festival of Archaeology.
3 August Wacky West Front Crafts, Cathedral Green 11am -3pm. Suitable for all ages, no booking required for this drop-in activity.
3 August RAMM at Play Day in the Park part of the National Play Day in the Park, celebrating arts, crafts, storytelling, live music and more with free activities for children of all ages. Join RAMM in the museum tent for a range of creative activities with a Roman theme.
5 August Medieval Fayre, Cathedral Green 11am - 3pm. Suitable for all ages, no booking required for this drop-in activity.
26 - 29 August Deep Water Solo Climbing Competition, Exeter Ship Canal / Piazza Terracina. Watch the UK and Europe's top climbers attempting to ascend routes on a man-made 'sea cliff' in the Exeter Canal Basin, without using ropes. If they fall, they get wet! The large open Piazza Terracina provides the perfect viewing platform for spectators.
27 August Exeter Street Arts Festival – Exeter City Centre will be brought to life with dozens of exciting live art performances – musicians, acrobats, jugglers, artists, poets, dancers, circus acts, mimes and bands will fill the city centre with colour & sound (10am-6pm).
Sundays in July & August Jazz on the Quay – expose your children to the delights of live jazz! Free music, and corresponding free 'Craft Sundays' at the Custom House Visitor Centre.
Below is a list of more upcoming free events in Exeter and the surrounding area...
Search Results
Search Results 42 products
Showing records 1 to 10.
RAMM's Pacific collections are redisplayed with new artefacts, new research and Oceanic perspectives.

Venue

Dates

From:

8 Apr 2016

To

1 Jan 2020

This exhibition shows forty four watercolours of Queen Victoria's remarkable visit to Paris in 1855

Venue

Dates

From:

17 Dec 2016

To

23 Apr 2017

Exeter Street Food Market is a weekly street food event open to the public (free entry) based in Exeter City Centre

Dates

From:

1 Jan 2017

To

31 Dec 2017

Another in this series showing the passions of local collectors. Take a journey across the country and through time with a local collection of illustrated Ordnance Survey maps.

Venue

Dates

From:

17 Jan 2017

To

2 Apr 2017

Location

Gandy Street, Exeter

A selection of free art exhibitions in the Gallery 333 at the Exeter Phoenix.


Dates

From:

14 Mar 2017

To

20 May 2017

Location

Gandy Street, Exeter

A free exhibition in the main gallery at the Exeter Phoenix. Body Builders, is a solo show of recent work by British artist Emily Speed.

Speed is interested in the relationship between people and buildings and her practice explores the body and its relationship to architecture, through sculpture,...

Dates

From:

17 Mar 2017

To

30 Apr 2017

2nd April marks the start of the monthly craft markets under the transit Shed on Exeter's Quayside, with lots of stalls to browse. The Quay is surrounded by great places for good food, as well as the local pubs and has a great atmosphere, particularly at weekends.

The organisers are also starting...

Venue

Dates

From:

2 Apr 2017

To

2 Apr 2017

We are eggstatic to be hosting some family friendly Easter events on 11, 12 and 13 April with activities taking place right in the heart of the city to keep the little ones entertained in the holidays! Families can enjoy a whole host of activities including drop-in family Easter craft workshops,...

Dates

From:

11 Apr 2017

To

13 Apr 2017

2nd April marks the start of the monthly craft markets under the transit Shed on Exeter's Quayside, with lots of stalls to browse. The Quay is surrounded by great places for good food, as well as the local pubs and has a great atmosphere, particularly at weekends.

The organisers are also starting...

Venue

Dates

From:

16 Apr 2017

To

16 Apr 2017

Come and meet popular historical novelist Lindsey Davis, who will be talking about her thrilling new book, The Third Nero, #5 in the Flavia Albia series. We look forward to seeing you there!


Dates

From:

19 Apr 2017

To

19 Apr 2017