Co-Bikes Ltd
Dixs Field
11-15 Dix's Field
Exeter
Devon
EX1 1QA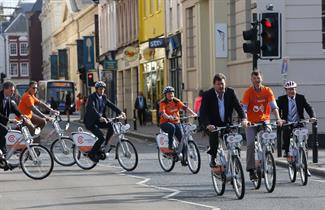 Experience an easy, enjoyable, electric Exeter with Co-bikes.
The hire-by-the-half hour electric bikes are great fun to use and perfect for exploring the hilly city of Exeter. Riders can hire, ride and drop the bikes off at any Co-bikes site – much like London's 'Boris Bikes' except purely with electric bikes.
The bikes have 7 speed gears, an integrated lock for locking up when you are away from a docking station, always-on LED lights, a basket for carrying bags and comfortable, height-adjustable saddles. With a range of 40 miles you'll also be able explore the beautiful countryside around the city and the popular routes down the Exe Estuary.
An app on your phone or tablet allows you to check bikes are available, book the bike and return it easily.
Opening Times and Prices
Step 1 Register with the Co-bikes website or Nextbike App 
Step 2 Rent a bike from any Co-bikes station
Step 3 Return the bike at any Co-bikes station
Costs
Join as an annual member for £60 then hire from 75p per ½ hour or £20 per day OR
Pay As You Go for £1.50 per ½ hour and £30 per day
There are docking stations at:
Exeter Central Station, Civic Centre opposite the Visitor Information and Ticket Office, University of Exeter, County Hall Topsham Road, Sowton Park and Ride.
And there are more locations coming soon!
Information
What's Nearby
Discover Exeter's medieval past, find out about many of Exeter's surviving gems and the events that...

0.12 miles away

The Passages were built to house the pipes that brought clean drinking water into medieval Exeter. ...

0.17 miles away

St Martin's props up the black-and-white building of Mol's Coffee House on a corner of Exeter's...

0.22 miles away
The City's award winning Red Coat Guided Tours are provided by Exeter City Council and are the...

0.24 miles away

Medieval cathedral. Fine example of Gothic Decorated style. Longest unbroken stretch of Gothic...

0.24 miles away

Over 70% of the wall that once protected Exeter still remains and reveals a lot about the geology...

0.26 miles away

A self-guided tour exploring Exeter's ancient city wall.

0.3 miles away

A self-guided tour exploring the buildings and history of Exeter's woollen trade.

0.32 miles away

The site of Northernhay Gardens was quarried in Roman times for stone from which to build the...

0.32 miles away

The largest venue in Exeter city centre, Exeter Corn Exchange is probably the ideal location for...

0.33 miles away

Grade II listed in the National Register of Historic Parks and Gardens, Rougemont Gardens were...

0.32 miles away

Exeter's Royal Albert Memorial Museum reopened after a multi-million pound refurbishment with the...

0.36 miles away
Previous
Next