12th UK Taiko Festival
Exeter Northcott Theatre
Exeter University
Stocker Road
Exeter
Devon
EX4 4QB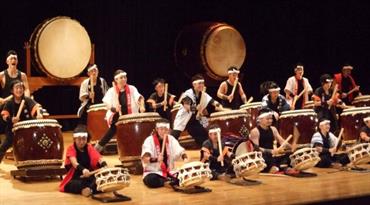 Kagemusha Taiko hosts the UK Taiko Festival, celebrating taiko's national presence, enhancing understanding between cultures through international artistic collaboration and providing a platform for all styles of taiko to share one stage. This exciting event is the biggest annual gathering of taiko players in Europe, offering the opportunity for taiko players of all ages and abilities to perform, learn, and share experiences. Groups come from all over the UK and abroad to inspire and be inspired by the energy, joy, and talent of the UK taiko community.
The 12th UK Taiko Festival will take place from 30th June - 2nd July 2017 in Exeter.
Programme
Friday 30th June : A Feast of Taiko
This concert features the excitement and talent of youth taiko groups from Devon, the UK and beyond. Featured groups include Gyoko Youth Taiko, who recently delighted a packed Royal Albert Hall in London, and this year's headliners, The Dublin Taiko Group, from Dublin, Ohio, USA.
Saturday 1 July : Taiko Beats (noon)
Taiko is more than just drumming, and there are many different styles of taiko to enjoy.  This concert features 10 different groups, each playing for no more than 10 minutes, making for a varied, action-packed, inspirational taiko show.
Sat 1 July 2017 : Pulse & Rock (evening)
Kagemusha Taiko present an exhilarating, uplifting new show which sees the group joined from Japan by former Kodo member, Shogo Yoshii , and from USA by one of the world's leading taiko performers, Shoji Kameda.   Kagemusha Taiko themselves have toured in Japan, represented European taiko at the World Taiko Gathering in Los Angeles, and featured in the European Taiko Concert in Dusseldorf, Germany.  This is the one and only chance to see "Pulse & Roll" performed with this outstanding line-up of players.
What's Nearby
The Exeter University gardens have the reputation of being one of the most beautiful in Europe &...

0.05 miles away

Found within the Devonshire Complex on the campus, the Great Hall is a great venue for dance,...

0.09 miles away

The University of Exeter's Streatham campus is set within 300 acres of botanical gardens. Starting...

0.14 miles away
A museum dedicated to the audience's experience of the moving image. Explore the visual culture...

0.18 miles away

Grade II listed in the National Register of Historic Parks and Gardens, Rougemont Gardens were...

0.71 miles away

A self-guided tour exploring Exeter's ancient city wall.

0.7 miles away

The site of Northernhay Gardens was quarried in Roman times for stone from which to build the...

0.71 miles away

Exeter's Royal Albert Memorial Museum reopened after a multi-million pound refurbishment with the...

0.73 miles away

Since 1868, St Michael and All Angels church on Mount Dinham in Exeter has been serving the...

0.79 miles away

The Passages were built to house the pipes that brought clean drinking water into medieval Exeter. ...

0.81 miles away

A self-guided tour exploring the buildings and history of Exeter's woollen trade.

0.85 miles away

The City's award winning Red Coat Guided Tours are provided by Exeter City Council and are the...

0.88 miles away
Previous
Next