Beachcombing handling sessions
Royal Albert Memorial Museum
Queen Street
Exeter
Devon
EX4 3RX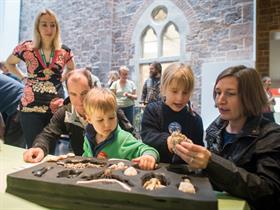 From 17 May to 19 July, every Wednesday, 11am to 3pm, free, drop in
Level 1 Hallway
Explore things of interest found on beaches near you.
Every Wednesday and Saturday from 26 July to 2 September then every second and fourth Wednesdays each month from 6 September.
One of a series of lively family activities linked to the RAMM's summer exhibition, Sea Life: Glimpses of the Wonderful.
What's Nearby
A self-guided tour exploring the buildings and history of Exeter's woollen trade.

0.05 miles away

Exeter's Royal Albert Memorial Museum reopened after a multi-million pound refurbishment with the...

0.08 miles away

The City's award winning Red Coat Guided Tours are provided by Exeter City Council and are the...

0.09 miles away
Medieval cathedral. Fine example of Gothic Decorated style. Longest unbroken stretch of Gothic...

0.11 miles away

Grade II listed in the National Register of Historic Parks and Gardens, Rougemont Gardens were...

0.12 miles away

The site of Northernhay Gardens was quarried in Roman times for stone from which to build the...

0.11 miles away

Over 70% of the wall that once protected Exeter still remains and reveals a lot about the geology...

0.12 miles away

A self-guided tour exploring Exeter's ancient city wall.

0.15 miles away

The largest venue in Exeter city centre, Exeter Corn Exchange is probably the ideal location for...

0.19 miles away

Discover Exeter's medieval past, find out about many of Exeter's surviving gems and the events that...

0.2 miles away

The Passages were built to house the pipes that brought clean drinking water into medieval Exeter. ...

0.22 miles away

St Martin's props up the black-and-white building of Mol's Coffee House on a corner of Exeter's...

0.22 miles away
Previous
Next