Exeter Cathedral - EMG Symphony Orchestra
Exeter Cathedral
Exeter
Devon
EX1 1HS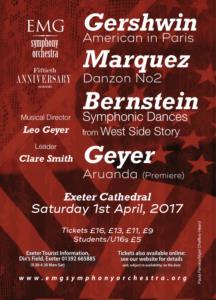 EMG Symphony Orchestra introducing our new Musical Director, Leo Geyer in a flamboyant programme of music as part of our 50th Anniversary Season:
Gershwin – An American in Paris
Geyer – Aruanda (Premiere performance)
Marquez – Danzon No 2
Bernstein – Symphonic Dances from West Side Story
Tickets in the Nave are reserved
£16 – Front Section
£13 – Middle Section
£11 – Rear Section
Side Aisles are Unreserved: The block nearest the stage/orchestra are £11, and the remaining side aisles are £9
Students with an NUS Card and Under 16s may obtain a discount on all zones APART from the £16 seats (i.e. £6, £5 and £4).
A bit about us:
The original Exeter Music Group was founded in 1967 and over the past fifty years has grown to the full-scale symphony orchestra that exists today. The EMGSO provides musicians with the opportunity to perform a wide variety of repertoire working with talented soloist and local choral societies as well as professional conductors and music tutors.
Box Office:
Tickets available online via EMG website or in person or telephone from :-
Exeter Tourist Information & Tickets, Dix's Field 01392 665885
Information
What's Nearby
The largest venue in Exeter city centre, Exeter Corn Exchange is probably the ideal location for...

0.06 miles away

St Martin's props up the black-and-white building of Mol's Coffee House on a corner of Exeter's...

0.06 miles away

Over 70% of the wall that once protected Exeter still remains and reveals a lot about the geology...

0.08 miles away
Medieval cathedral. Fine example of Gothic Decorated style. Longest unbroken stretch of Gothic...

0.11 miles away

The City's award winning Red Coat Guided Tours are provided by Exeter City Council and are the...

0.12 miles away

A self-guided tour exploring the buildings and history of Exeter's woollen trade.

0.15 miles away

Saddles & Paddles is a local business based on the historic Exeter quayside that offers something...

0.21 miles away

Exeter's Historic Quayside is the most attractive area in the city, popular with locals & visitors...

0.22 miles away

Discover Exeter's medieval past, find out about many of Exeter's surviving gems and the events that...

0.21 miles away

The Custom House Visitor Centre is in the centre of Exeter's historic quayside & occupies one of...

0.25 miles away

The Exeter Ship Canal first opened to shipping in 1566 and was the first canal to be built in...

0.25 miles away

Exeter's Royal Albert Memorial Museum reopened after a multi-million pound refurbishment with the...

0.27 miles away
Previous
Next