Exeter City Centre - Easter Events
Exeter City Centre
Exeter
Devon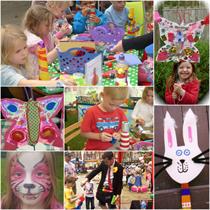 Easter Craft Workshops
Tuesday 11 April, 12 noon – 2pm = Corner of Sidwell Street and Paris Street
Wednesday 12 April, 12 noon – 2pm = Camper Coffee, Mccoys Arcade, Fore Street
Thursday 13 April, 12 noon – 2pm = St Pancras Church, Guildhall Shopping Centre
Make something lovely this Easter with our drop-in family Easter craft workshops. Children can decorate chicks, bunnies, eggs, butterflies and flowers using lots of lovely materials including painty pens, sticky back plastic and collage materials and then take their fantastic creation home.
The workshops are completely free to attend!
Face Painting and Balloon Artist
Thursday 13 April, 12 noon – 2pm = Harlequins Shopping Centre
Party Paints and Balloons Inc will be in the Harlequins Shopping Centre from 12 noon – 2pm. With their huge portfolio of inspired designs, Party Paints will be on hand to create fun, versatile and colourful face painting. A family orientated entertainer, Rich of Balloons Inc is Exeter's premium balloon specialist, able to rattle off an impressive array of balloon creatures to bring a smile to children and adults alike.
Street Food and Live Music
Thursday 13 April, 12 noon – 2pm = St Pancras Church, Guildhall Shopping Centre
Once you've finished getting creative at the workshops you'll also be able to enjoy live music and get your street food fix from local foodies cooking up delicious flavours including mac and cheese, wraps, doughnuts and burgers!
What's Nearby
A self-guided tour exploring the buildings and history of Exeter's woollen trade.

0.03 miles away

The City's award winning Red Coat Guided Tours are provided by Exeter City Council and are the...

0.11 miles away

Medieval cathedral. Fine example of Gothic Decorated style. Longest unbroken stretch of Gothic...

0.11 miles away
Over 70% of the wall that once protected Exeter still remains and reveals a lot about the geology...

0.11 miles away

Exeter's Royal Albert Memorial Museum reopened after a multi-million pound refurbishment with the...

0.12 miles away

The largest venue in Exeter city centre, Exeter Corn Exchange is probably the ideal location for...

0.15 miles away

The site of Northernhay Gardens was quarried in Roman times for stone from which to build the...

0.17 miles away

Grade II listed in the National Register of Historic Parks and Gardens, Rougemont Gardens were...

0.17 miles away

St Martin's props up the black-and-white building of Mol's Coffee House on a corner of Exeter's...

0.22 miles away

A self-guided tour exploring Exeter's ancient city wall.

0.21 miles away

Discover Exeter's medieval past, find out about many of Exeter's surviving gems and the events that...

0.24 miles away

Since 1868, St Michael and All Angels church on Mount Dinham in Exeter has been serving the...

0.24 miles away
Previous
Next