Exeter - Southernhay Gardens Street Food Market
Southernhay Gardens
Exeter
Devon
EX1 1UA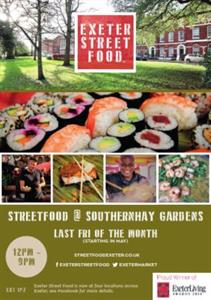 After the amazing success of the recent night street food markets on Exeter's historic quayside, we are pleased to announce a new market in lovely Southernhay Gardens, which is situated just behind the Princesshay Shopping Centre.
This day time and evening market event takes place on the last Friday of the month (May - October) and will be open from 12 noon - 9pm and promises the added bonus of the chance for a freshly prepared lunch or dinner.
Dates for 2016 :
Friday 27th May
Friday 24th June
Friday 29th July
Friday 26th August
Friday 30th September
Friday 28th October
So why not try out our latest location (one of four in the City of Exeter) and discover a local well kep secret, an exciting Street Food scene that showcases some of the best foodie talent in the Southwest in a great atmosphere.  Entertainment included.
For more information on menus and special events please visit the website link for www.streetfoodexeter.co.uk or check out our Facebook page @exeterstreetfood.  You can also follow us on Twitter @exetermarket
What's Nearby
Discover Exeter's medieval past, find out about many of Exeter's surviving gems and the events that...

0.06 miles away

The Passages were built to house the pipes that brought clean drinking water into medieval Exeter. ...

0.14 miles away

Medieval cathedral. Fine example of Gothic Decorated style. Longest unbroken stretch of Gothic...

0.18 miles away
The City's award winning Red Coat Guided Tours are provided by Exeter City Council and are the...

0.18 miles away

St Martin's props up the black-and-white building of Mol's Coffee House on a corner of Exeter's...

0.18 miles away

Over 70% of the wall that once protected Exeter still remains and reveals a lot about the geology...

0.2 miles away

A self-guided tour exploring Exeter's ancient city wall.

0.25 miles away

A self-guided tour exploring the buildings and history of Exeter's woollen trade.

0.26 miles away

Exeter Castle, its courtyard &the backdrop of the Northernhay Gardens now provide one of the most...

0.26 miles away

The site of Northernhay Gardens was quarried in Roman times for stone from which to build the...

0.27 miles away

The largest venue in Exeter city centre, Exeter Corn Exchange is probably the ideal location for...

0.27 miles away

Grade II listed in the National Register of Historic Parks and Gardens, Rougemont Gardens were...

0.27 miles away
Previous
Next