Designing our latest gorgeous new hotel room at Southernhay House has got us revisiting our own golden rules for creating the most beautiful boutique bathrooms. We always say they're half the pleasure of a boutique stay. Or should be! Building a dream bathroom is a personal thing of course, but these guidelines are worth considering at home.
Smaller bathrooms can make you go wild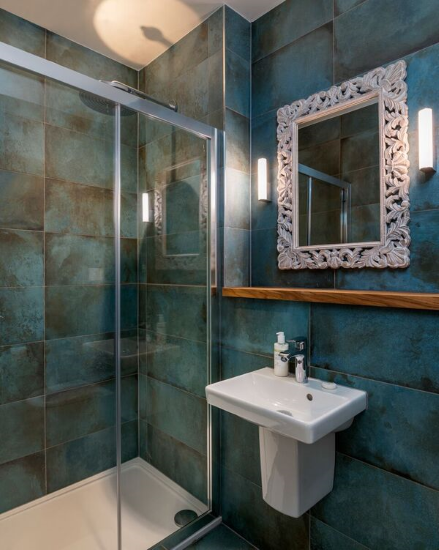 A luxurious bathroom honestly doesn't need to be large to be lovely. A littlun does impose its own rules though, and happily does provide one wonderful opportunity you don't get with a cavern: a licence to go wild with colour! Larger rooms demand neutrality and warmth. Smaller spaces can be as shade-tastic as you like, so long as you keep it all homogenous (see number 3).
If you've only room for a bath or a shower, it really has to be a shower. A bath with a shower above is a compromise and boutique bathrooms don't do compromise. (This is not the same as a bath with a shower attachment. Which is essential. How else are you going to rinse your hair?)
Whatever your space, your shower must be an absolute event. It must gush gloriously. Big heads? Oh yes!
Spend the money on the details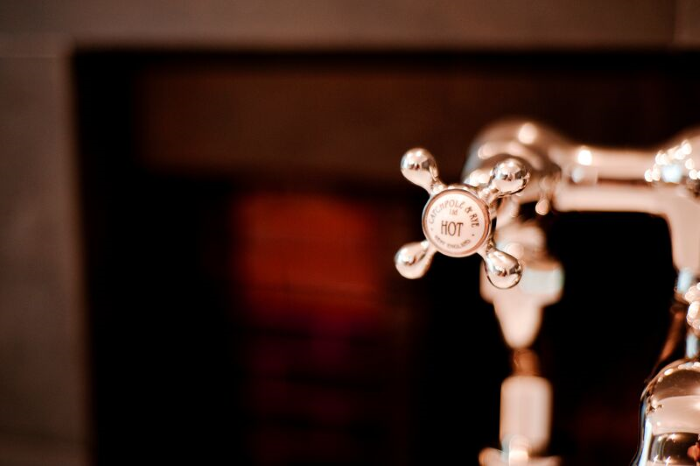 We promise you will never, ever lose the tactile pleasure of bank-vault quality light switches that go 'clunk' or, even better, 'ker-chunk'. They are the boutique bathroom equivalent of closing the door of your Rolls Royce. They'll need to be just outside the bathroom but any way you can do avoid a dangling cord flicking too and fro - only your cat will object.
Oooh, and real luxury is discreet floor lights at the room's entrance so you can leave them gently glowing all night. Fumbling around for the light switch ain't sexy. Ambient lighting just is.
Talking of lighting, and we should, if you are doing over the bathroom from scratch then do take the opportunity to fit functional lighting over the sink and shower. And think about a wash of light over a wall of rough-hewn tiles to max the textural love.
Soft-close loo seats. Well yes, obviously. Because loo-seats should be shut.
Be happily naked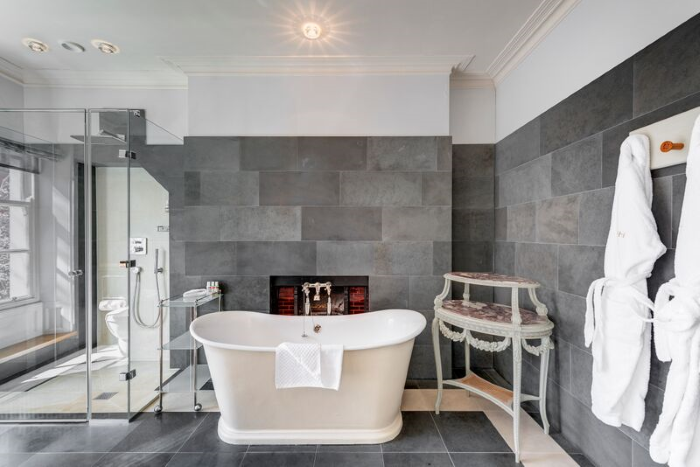 You're going to be naked or semi-naked in here, so you want to feel secure and cocooned. The vibe of the place and the practicalities contribute equally to the ultimate Zen.
Holistic unity is our goal. Keep it all calm by never using a different colour on the walls and floor. Play with textures by all means. Always lay oblong tiles horizontally (because Mother Nature would). Bathe in your lighting effects as above.
Bare feet love heat. It's impossible to overestimate the importance of under-floor heating to achieving the required ambience and keeping the look clean. We don't need to talk about carpet. Do we.
No cracks please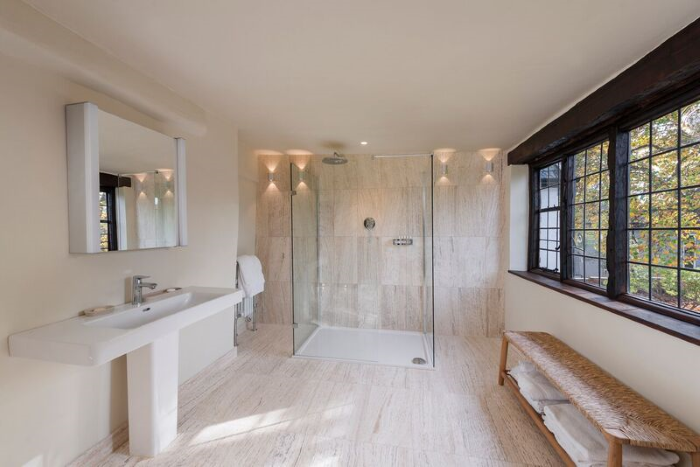 Practical is your first step on the path to beautiful. If you are facing a blank canvas there are many dull issues to consider. Start with levels. Water needs to go downwards, soil pipes need to go the nearest possible exit. You may not be able to choose where the loo goes. You may well need to raise the floor for the required sleek look because any boxing of pipes is strictly forbidden; it looks like you haven't thought about it or you don't know what you're doing. The only permissible boxing in a boutique context is a high level shelf, made preferably from waxed cherrywood, running the behind loo and sink on which you can arrange all your lovely stuff.
If you've the space and the dosh, you may well want to large it with great big thick tiles and a statement roll top bath. We certainly would. But keep it within practical; these things are heavy. We had to install an RSJ in the attic at SH to winch cast iron baths up through the stairwell. In another bathroom, we luxed out on 250mm thick tiles of beautiful, textural, earthy grounding beauty. But we needed to rebuild the entire wall to bear the load.
If all else fails, go clammy
If this all this sounds too exhausting and expensive and better left to boutique hotels, try developing a position that a plastic bath with a 90p shower pipe stuck over the taps topped off with a clammy plastic curtain (and a notice advising guests to keep it inside the bath) is in fact the ultimate in post-modern retro bathroom chic. Just be careful with those goldfish motifs.
Related
0 Comments