Christmas seems like a distant memory, so what better way to retrieve some of that festive feeling than with a January pantomime... we attended the Police and Hospital Players' opening performance of The Little Mermaid on a cold January evening - and it certainly brightened our spirits!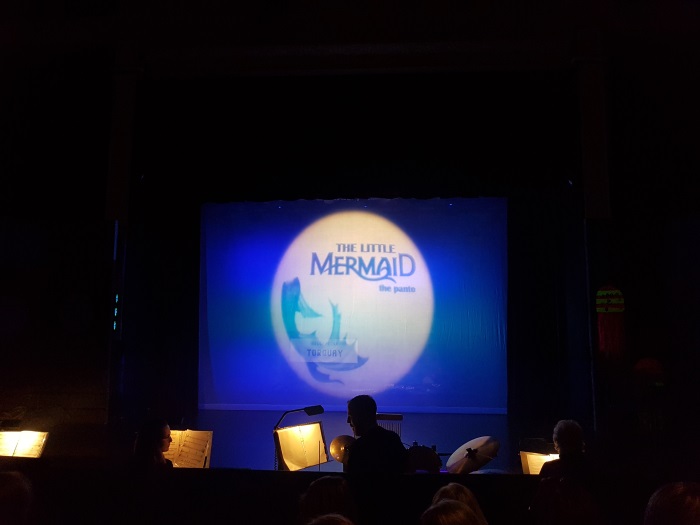 Set in Torbay, the story switches between land - and a group of hard-partying holidaymakers - and sea, under which live a family of colourful mermaids. One of these is, of course, the elusive Ariel, who dreams of a life on land.
One day a ship passes carrying the handsome Prince Marvellous, and Ariel is instantly in love - but how can they be together? You probably know the rest, but the story includes a few diversions and quite a bit of hilarious improvisation!
Some character highlights for us were the Sea Witch - cue plenty of boos and hisses - the ever-scrounging Sally the Seagull (played brilliantly by one of the youngest cast members), Ariel's crab BFF Surf, plus Ariel herself who radiated energy and enthusiasm throughout the performance, our girls (aged 6 & 3) loved her!
There was plenty of dancing and singing, including some of our favourite songs from the Greatest Showman, and the actors were keen to involve the audience, with some great, unscripted moments! Our girls love the story of The Little Mermaid, and the show didn't disappoint. Overall we had a great evening and look forward to next year's performance.
When & where?
The Little Mermaid is on at the Exeter Barnfield Theatre from 30 January - 2 February 2019, timings as follows:
Wednesday 30 January 2019 – 7.30pm
Thursday 31 January 2019 – 7.30pm
Friday 1 February 2019 – 7.30pm
Saturday 2 February 2019 – 2pm
Saturday 2 February 2019 – 7.30pm
Sunday 3 February 2019 – 2pm
Tickets are £12 for adults, £9 concessions, with profits going to the Police & Hospital Players' chosen charity this year, Exeter Hospiscare.
Related
1 Comments