In recent years, the tradition of a Christmas Eve box packed full of goodies for children has grown in popularity. For many families, it's become an important part of their annual celebrations, adding that extra bit of magic the night before the big day!
So this year, we've come up with some great ideas to help you create your very own Exeter Christmas Eve Box! Everything in the box can be bought from shops in Exeter, so as well as surprising your children with some amazing treats and gifts, you will be supporting local businesses at the same time! What better way to spread some festive cheer!
So what do you put in a Christmas Eve box? Well, that's entirely up to you, but we've focussed on some firm favourites, any child will love…
A sweet treat!
Hotel Chocolat in Princesshay has some great gift ideas for children you can order online here! Alternatively why not see what festive treats Chococo have in store? Proudly handcrafted in the South West, this artisan chocolate company pride themselves on tantalising the taste buds of their customers! Who doesn't love fudge? Luckily you can buy the very best handmade, crumbly fudge from Exeter's Roly's Fudge Pantry. Their beautifully wrapped gift boxes are inclusive of standard UK postage and packaging. Order yours here.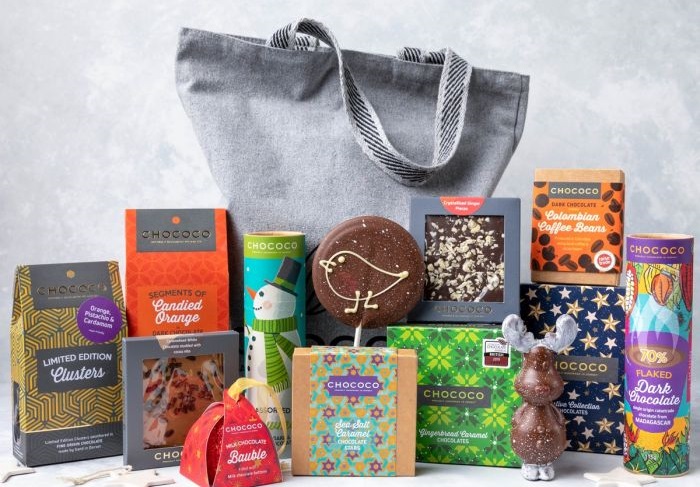 Pyjamas or onesie
Nothing is cosier, than a new pair of PJs or a onesie on Christmas Eve, preferably festive for the ultimate in cosy Christmas Eve vibes! There is a great choice of shops in Exeter from which you can order children's sleepwear online, including Fat Face, Marks & Spencer, Debenhams, Next, John Lewis, Joules, H&M and Gap. As well as big name brands, Exeter also has an amazing choice of independent shops too. We suggest checking out Kapbula Organics for some beautiful high quality organic cotton pyjamas at amazing prices.
A Christmas story
In Exeter we simply LOVE books! That's why we're a UNESCO City of Literature. It's never easy to get to sleep on Christmas Eve, so we think any Christmas Eve box isn't complete without a bedtime story or two. Here's a list of some lovely reads to enjoy with your children on Christmas Eve…
The Lockdown Fox - An old Devon fox, used to people and traffic, comes out during lockdown to find the world has changed. This delightfully illustrated book follows his journey through the empty streets of Topsham as he tries to work out what has happened. Buy from Topsham Museum for £4 here
A Boy Called Christmas written by Matt Haig, tells the tale of how Father Christmas came to be. Buy from Waterstones for £6.99 here
Dear Santa - For toddlers and younger children, we love Rod Campbell's popular Dear Santa, fast becoming a Christmas classic. Buy from Waterstones for £5.99 here
The Snowman – This wonderful tale illustrated by Raymond Briggs is a Christmas Eve must have. We think Christmas just isn't Christmas unless you go walking in the air! Buy from Waterstones for £7.99 here
We're lucky to have some amazing bookshops in Exeter from which you can order online or visit in person, including Waterstones, The Topsham Bookshop, Bridge Books, The Works and the Hospicecare Bookshop.
Slippers
No children's Christmas Eve box is complete without a fluffy new pair of slippers, so why not include a pair to keep their toes toasty! We've had a sneak peek at what Christmas slippers are out there this year for kids and some are too adorable for words! There are a number of shops in Exeter selling children's slippers online, including Accessorize, Schuh, Debenhams, Clarks, Next, John Lewis and JoJo Maman Bebe.
Hot chocolate
This is a Christmas Eve box staple, to be drunk during either the Christmas movie or with a bedtime story. Why not make it extra special by buying your child their very own mug from Hyde & Seek. For the ultimate in hot chocolate indulgence, we suggest Hotel Chocolats' delicious range here or Chococo's Mug to Hug hot chocolate gift set. P.S. don't forget the marshmallows!
A soft toy
A cuddly toy will help get them off to sleep in time for Santa's arrival, and Inside Out's super cute range of soft toys is the perfect place to find just the right one. They're also offering free delivery with orders over £40.
Games & puzzles
Get the whole family involved by including a game or puzzle. For younger children, RAMM's Alfie and the Birds puzzle featuring a delightful illustration of Alfie the sparrow and his friends in RAMM's bird gallery is a lovely choice, buy for £7.99 here. Exeter's Hyde & Seek also have a lovely selection of children's games and quizzes to pick from here.
Cookies or gingerbread
Gingerbread or cookies are a Christmas essential (in our eyes anyway), so pop in a festive biscuit or two for your little ones to enjoy. Order some of these locally made festive treats from St Leonard's Bakery or the Boatyard Bakery, who will deliver your goodies by bicycle! You can buy everything you need for baking your Christmas treats from Bake – a small independent business, selling everything from cutters and decorations, to boards and ribbons!
A toothbrush!
Why not pop in a toothbrush and have kids of all sizes (hopefully) queuing for the sink - they'll need a new one, anyway, especially with all those sweets and chocolates they're about to eat! Say goodbye to plastic with Hyde & Seek's Bamboo Toothbrush. Made from natural bamboo and coming from sustainably managed forests, this toothbrush is completely recyclable and biodegradable.
A Christmas film
Why not follow the opening of the Christmas Eve box with a cosy Christmas film night to encourage your child to wind down and go to sleep?
Choose a classic like Elf or Miracle on 34th Street to really get them in the mood for Christmas day. DVDs make a lovely addition to any Christmas Eve box, and can be bought from various shops in Exeter, including W H Smith, HMV and Rooster Records.
Reindeer food
A proper Christmas Eve box is also in need of a pouch of reindeer food to sprinkle outside before midnight. Make sure it's animal friendly, or make your own. Ideally get one with bird food mixed in. Check out this reindeer food mix recipe from the RSPCA here or watch the video below for some inspiration.
So whether it's snuggling up to watch a Christmas film, tracking Santa's route as he starts to deliver presents across the world, or putting food out for the reindeer, we hope these ideas from Exeter will make your children's Christmas Eve that little bit more special.
…And finally, don't forget that this year on Christmas Eve at 6pm, people are invited to come outside to ring a bell for two minutes to spread Christmas cheer and help Santa fly his sleigh. After a difficult year, this hopes to be a memorable and COVID safe event for children everywhere!
Related
0 Comments