Outdoor theatre has always been Burn the Curtain's thing. It's what we do, it's what drives us. To be able to go to spaces that people love, and provide unexpected, magical moments is a unique experience and a privilege.
One of the enormous benefits that Devon provides is the abundance of incredible natural scenery. Something that doesn't need set dressing, that changes with the seasons (sometimes daily depending on the weather...) and should arguably be the principal cast member of any promenade theatre company.
Which is why our home base of Exeter is always a joy to work in. For our latest project The Imaginarium of Us is a celebration of the green spaces of Exeter, and the three parks we have been working in since May – Riverside, Mincinglake, and Ludwell. To be able to have such diverse, beautiful, extraordinary spaces in the heart of the city is to be very fortunate. In many ways adventure is really only a few steps from your front door.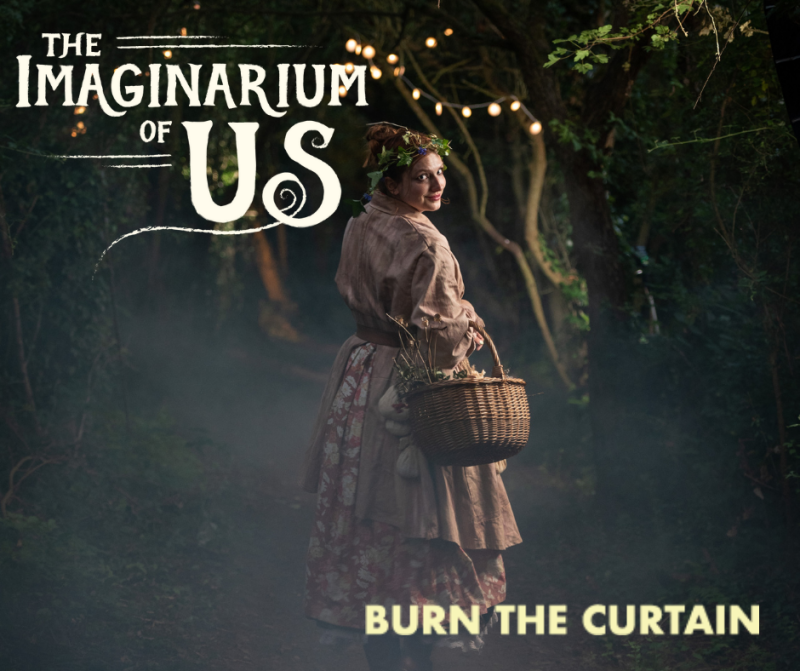 The Imaginarium will an outdoor performing 'museum' celebrating the ordinary and extraordinary in our lives and the things that matter to us all. Exhibits will be created with the communities nearby, with artists of a variety of disciplines influenced by the museum's surroundings, and visitors will be guided by ethereal Curiositors, strange collectors from another time and space.
It is a chance to reshape what a museum is, what it can be, and who it is about.
Recently we went to visit one of the artists, Automata maker Mike Hartley, down some dark country lanes deep in the Devon countryside, to see what he is making for the Imaginarium.
Mike has built an extraordinary steampunk inspired machine that will really fire up the imagination, with extraordinary sounds and visuals and which appears to change shape from every angle. It's also much bigger than we thought... We can't to see it in your local park and for you to experience it.
Perhaps you might like to join us to make an animation for it? We'll be at the Cygnet Theatre on the 21st & 22nd August (age 8+) Email kerrie@burnthecurtain.co.uk to reserve your place.
What outdoor theatre does at its best is celebrate our landscapes. It does this collectively with those who use it every day, and those of you who are in the early days of building a relationship with it. There is a sheer joy of sharing simple things in shared space, and we would love for you to join us.
The Imaginarium of Us takes place on 3rd, 4th, 17th and 18th of September. The gentle hour-long walking performances runs between 5 – 10.30pm to small sized audiences.
To book your slot click here.
There is a 15% local discount code to people who live near Ludwell, Mincinglake and Riverside Valley Parks (email with your postcode to kerrie@burnthecurtain.co.uk).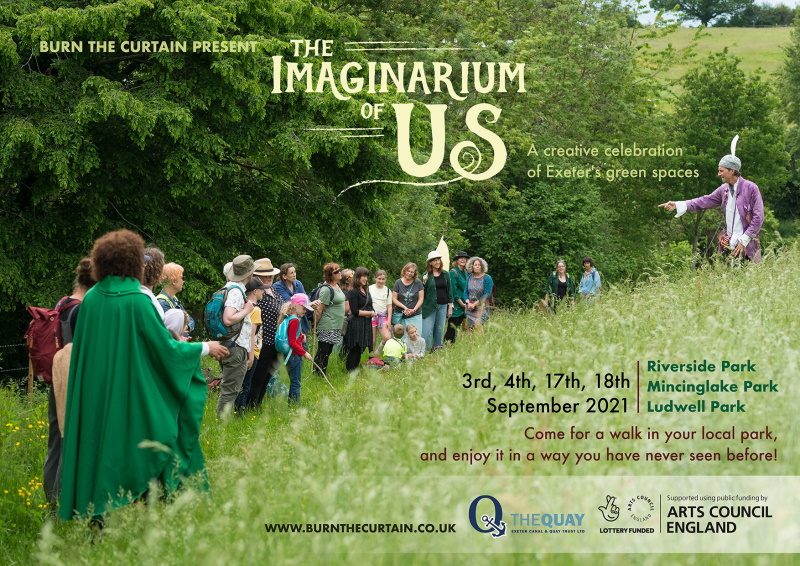 Written by Burn the Curtain's co-creator Alexander Warn. Photography copyright: Theo Moye.
Related
1 Comments