Art has so many benefits. Culturally it enriches us. It can make us think deeply about things (Picasso's Guernica speaks to us of the horror of war in a far more visceral way than, say, a news report for example) or Monet's Water Lilies gives us tranquillity and connects us with nature and the restorative powers of a beautiful garden.
Art can bring communities together and give those who go unheard in society a voice.
Art can be as fleeting as seeing a brightly coloured abstract, whose vibrancy lifts our mood, or it can be in depth and thought provoking as it speaks to us of the 'big stuff' like Love & Death.
The board project at Studio 36 is all these things. It is a fantastic focal point for the local community. The sheer variety of pieces can really make us think and feel joy or question ourselves. Perhaps many people held preconceived ideas about homelessness for example, and the St Petrock's Board was a very powerful and immediate window into a world just across our own doorsteps.
Having the board on a busy road presents art to us all in a new way. We can have that fleeting encounter with a bright abstract, that lifts our mood, without us even having to slow down our pace. Or we can linger and take in the amazing array of talent that has burst out from behind locked doors and celebrates the fact that we are part of an incredible community and not just isolated beings. This has been such a great morale boost for everyone (especially during lockdown) and doubly so when you walk past and see something you have created up on the board.
Experiencing art on this board has demystified it. There is something very different and wonderful about encountering art as part of our daily lives, perhaps on the way to work, or to pick up the kids. We are viewing it as our natural everyday selves. When we see art in a gallery space, we can suddenly have preconceived ideas about it and pile pressure on ourselves to find meaning in what we see or to think something profound about it. If we cannot do one or both of these then we are somehow 'not doing it right' and the fear of being judged can make us feel uncomfortable and perhaps think that art is somehow 'not for the likes of us'.
The board takes away all that preconception and imagined judgement and allows us to just have an immediate reaction to what we see. This is how it always should be, but an underlying snobbery in the art world at large does little to change this.
Studio 36 does a great deal to change this. It presents art to us in a very direct way. The focus is on exactly what art is and always should be, something for everyone and all inclusive. The exhibition boards in the garden do create the impression that the art is more in a gallery space. When I saw the space, I started to feel some of the 'pressures' I feel going into the Tate Modern for example. Then I took a deep breath and reminded myself that I was in a garden and what I was seeing was the most amazing and unique blossoming of a community.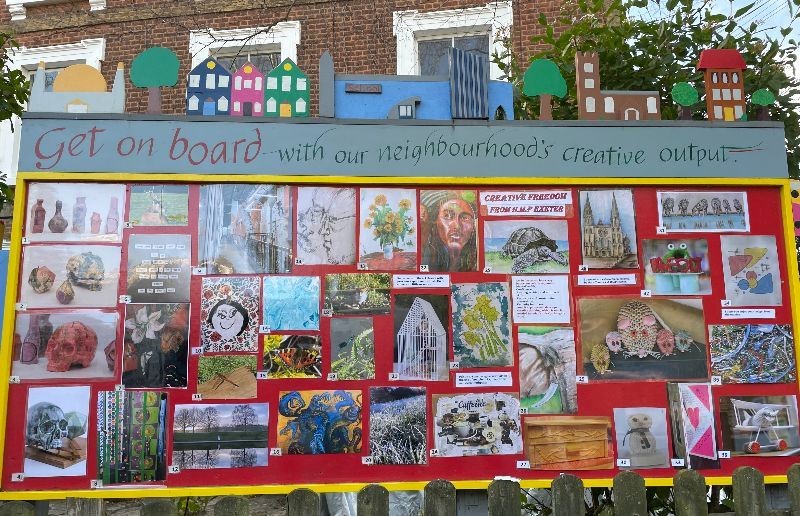 ‏‏‎ ‎‏‏‎ ‎‏‏‎ ‎‏‏‎ ‎‏‏‎ ‎‏‏‎ ‎‏‏‎ ‎‏‏‎ ‎‏‏‎ ‎‏‏‎ ‎‏‏‎ ‎‏‏‎ ‎‏‏‎ ‎‏‏‎ ‎‏‏‎ ‎‏‏‎ ‎‏‏‎ ‎‏‏‎ ‎‏‏‎ ‎‏‏‎ ‎
Find out more at: www.studio36exeter.co.uk
Studio 36
36 Denmark Road
Exeter
EX1 1SE
01392-256206
Related
0 Comments