On the Waterfront
4 - 9 The Quay
Exeter
Devon
EX2 4AP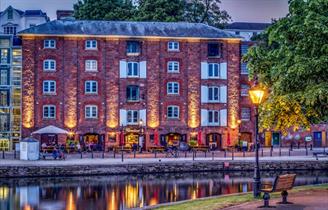 Perched on the edge of the historic Exeter Quayside, we are housed on the ground floor of a magnificent 19th century warehouse. This building and many like it nearby served the booming woollen industry of the mid 19th century.
The industry is now a distant memory but the Exeter Quay is still a hive of activity and interest, popular with locals and holidaymakers alike.
Our restaurant offers a selection of tempting lunch and dinner dishes - from our well renowned pizzas to fresh fish, meats, pastas and salads - while our extensive bar offers a selection of wines, beers, spirits and soft drinks.
Whether you are looking to dine out at tables for 2-6 or host a party upwards of 100 people, On The Waterfront is a versatile venue offering quality food and drink with a warm and friendly atmosphere.
At On The Waterfront we also pride ourselves on our Gluten Free options, these include our lovely gluten free pizzas and burgers.
Information
What's Nearby
Enjoy climbing with your family or friends at the South West's largest indoor climbing wall. The...

0.07 miles away

Clip N Climb is healthy & challenging climbing fun for everyone ages 4yrs & up!

0.09 miles away

The Exeter Ship Canal first opened to shipping in 1566 and was the first canal to be built in...

0.13 miles away
The Custom House Visitor Centre is in the centre of Exeter's historic quayside & occupies one of...

0.14 miles away

Saddles & Paddles is a local business based on the historic Exeter quayside that offers something...

0.17 miles away

Cygnet is a training theatre with a varied programme of classical, modern & musical plays...

0.17 miles away

Exeter's Historic Quayside is the most attractive area in the city, popular with locals & visitors...

0.2 miles away

Popular with birdwatchers, walkers and picnickers, Belle Isle Park is a quiet riverside park easily...

0.31 miles away

St Martin's props up the black-and-white building of Mol's Coffee House on a corner of Exeter's...

0.37 miles away

St Mary Steps Church / Matthew The Miller Clock

0.38 miles away

The south west's first board game cafe.


0.38 miles away

The largest venue in Exeter city centre, Exeter Corn Exchange is probably the ideal location for...

0.39 miles away
Previous
Next