Exeter Cathedral
The Cloisters
Exeter
Devon
EX1 1HS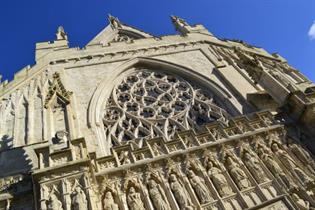 Exeter Cathedral is a testament to the creativity, skill and devotion of those who built it. Dating back 900 years, it is one of England's most beautiful medieval cathedrals and one of the finest examples of decorated Gothic architecture in this country. It is most famous for its two Norman towers, impressive west front carvings and the longest unbroken stretch of Gothic vaulting in the world. Of note are the Minstrels' Gallery, the 15 Century Astronomical Clock, a complete set of Misercords and the highly decorated tombs, bosses and corbels. The library contains the famous 'Exeter Book' of Anglo-Saxon verse, the Exon Domesday and many other historical documents.
Visitor facilities include a well-stocked shop and onsite café, serving a range of light lunches, afternoon teas and light snacks.
The Cathedral prides itself on its choral tradition which dates back nearly 900 years. At 17.30 on most weekdays the Cathedral Choir sing Evensong. The service is free to attend, lasts 45 minutes, and everyone is welcome to attend.
The Cathedral receives no funding from the government or the Diocese of Exeter. An admission fee is payable by visitors, which contributes to the £1.3million annual operating cost.
PLEASE NOTE : There is never a charge to pray or attend a service in the Cathedral and all are welcome. Details of service times can be found on the link
Reasons to Visit :
Exeter's #1 attraction (as reviewed on TripAdvisor)
900 years of history in one of England's most beautiful Cathedrals
Expert guided tours, trails and activities all within the admission price
Pay once and return as many times as you like within 12 months (with GiftAid)
Looking for somewhere to enjoy a cup of tea or a light lunch? Why not try our Cathedral Café?
Our excellent cafe has opening times from 9.30am - 4pm Monday to Saturday (closed Sundays) and offers excellent value for money and a warm welcome in an ancient setting. (Please note the cafe is closed over the Easter weekend)
Awards
Devon Tourism

Devon's Top Attractions Quality Stamp

2017
What's Nearby
The City's award winning Red Coat Guided Tours are provided by Exeter City Council and are the...

0.02 miles away

Over 70% of the wall that once protected Exeter still remains and reveals a lot about the geology...

0.03 miles away

A self-guided tour exploring the buildings and history of Exeter's woollen trade.

0.09 miles away
St Martin's props up the black-and-white building of Mol's Coffee House on a corner of Exeter's...

0.12 miles away

The largest venue in Exeter city centre, Exeter Corn Exchange is probably the ideal location for...

0.13 miles away

Discover Exeter's medieval past, find out about many of Exeter's surviving gems and the events that...

0.14 miles away

Exeter's Royal Albert Memorial Museum reopened after a multi-million pound refurbishment with the...

0.18 miles away

The site of Northernhay Gardens was quarried in Roman times for stone from which to build the...

0.19 miles away

Grade II listed in the National Register of Historic Parks and Gardens, Rougemont Gardens were...

0.19 miles away

The Passages were built to house the pipes that brought clean drinking water into medieval Exeter. ...

0.2 miles away

A self-guided tour exploring Exeter's ancient city wall.

0.21 miles away

Exeter's Historic Quayside is the most attractive area in the city, popular with locals & visitors...

0.32 miles away
Previous
Next