Top 5 Free Things to Do in Exeter
Most of Exeter's visitor attractions are completely free, so it is the perfect destination for a city break on a budget. As well as the visitor attractions, the city is surrounded by green space and is within easy reach of the coast, so there are plenty of opportunities for the traditional free activities, such as walking and cycling - visit our activities pages for more active suggestions.
Below are our top 5 free visitor attractions in Exeter - click on the link for each attraction to find out more...
1. Royal Albert Memorial Museum & Art Gallery
Experience the splendour of the original Victorian spaces, see newly-revealed architectural features and discover new spaces. Enter from Rougemont Gardens and enjoy panoramic views of the city from the Roman Wall.
Bee Bags for young children contain toys and activities to help guide a themed visit around RAMM for young children with their parents/carers.
There are 12 Bee Bags, each with a unique character. They have particular interests and may be inspired by different objects in the galleries Bee Bags are free to use, just ask for one at reception.
2. Exeter's Red Coat Guided Tours
These free guided tours run daily throughout the year (except 25 & 26 December), and are the perfect way to discover Exeter's hidden secrets and architectural treasures.
3. Custom House Visitor Centre
Lively displays, illustrations and artefacts bringing to life the history and development of Exeter's historic quayside. You can also watch a short film of 2,000 years of history.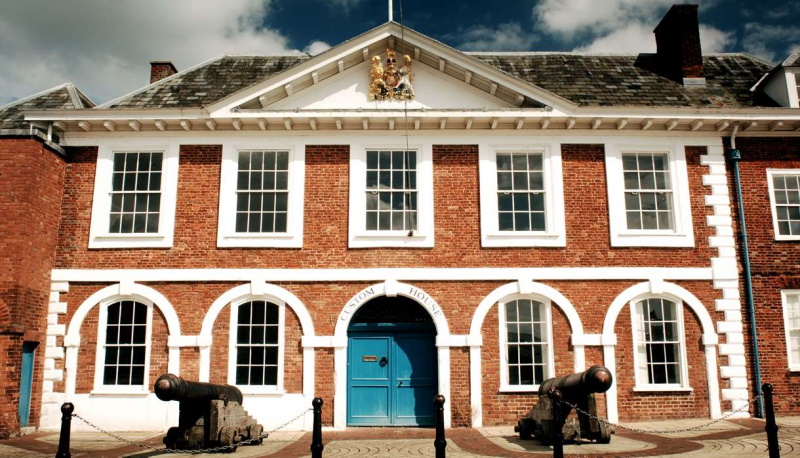 4. Self-Guided Heritage Trails
Explore Exeter's City Wall Trail, discover the history and importance of the woollen cloth trade to Exeter on the Woollen Trail, and visit medieval site of interest on the Medieval Trail. Free trail leaflets are available from Exeter Visitor Information & Tickets or the Custom House Visitor Centre.
A 800 year-old centerpiece of Exeter's Civic life, which is still in use today. A structure of outstanding architectural interest, it is not merely an ancient monument but remains a busy working building.
Click here to search for more free days out, in and around Exeter.