Local history writer Suze Gardner reveals why everyone should go on a Red Coat Guided Tour...
If you're reading this you are probably interested in history. Join the club!
I have been studying and writing about history for nearly 30 years, but I take my hat off to Exeter's Red Coat Guides!
The Red Coats are a dedicated bunch! On my first tour, the weather was awful, but the red anoraked guide was ready and waiting, quite happy to do a tour for just one person in spite of the wind and rain!
The depth of their knowledge is astonishing, but Red Coat tours are suitable for everyone. From history buffs to people who would just like to know more, there's something for everyone.
So have a go at some of the Red Coat Guided Tours and be prepared to be fascinated, surprised and amused!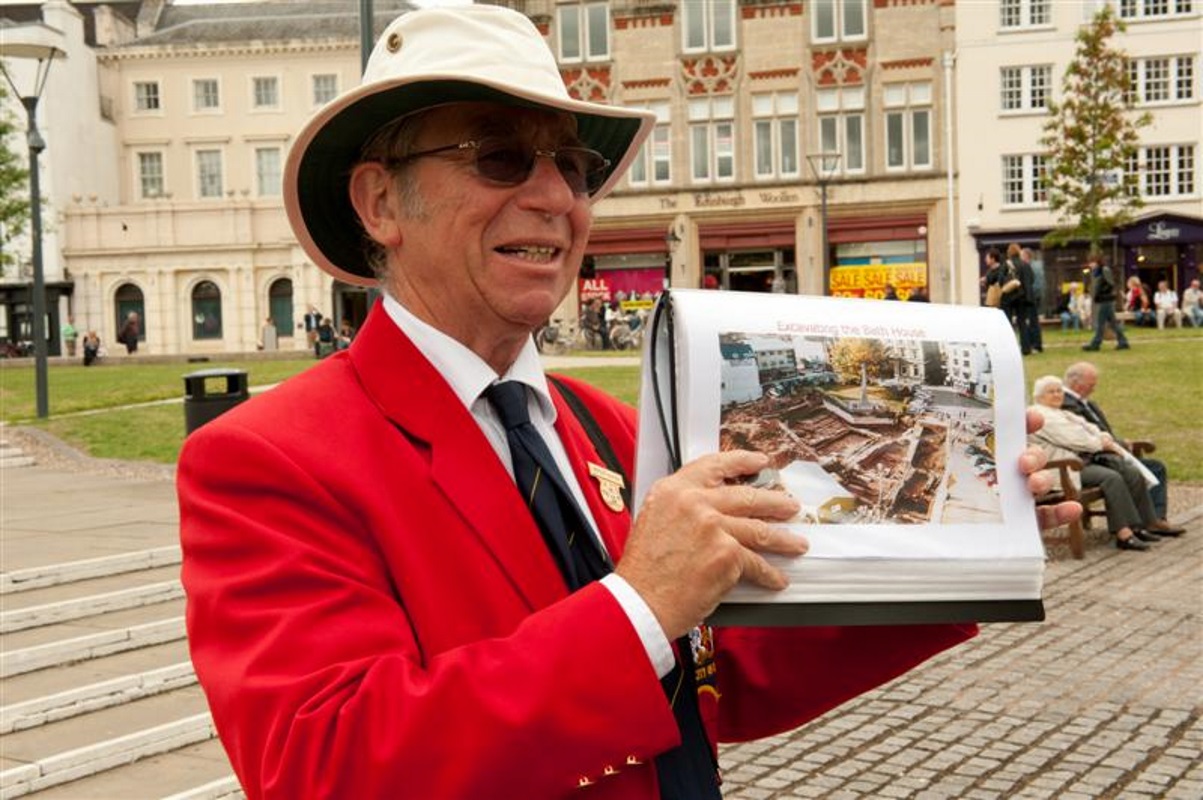 Introducing Exeter
This is a great tour to start with. While other people hurried about their business, we stopped and really looked at some of Exeter's most beautiful and astonishing buildings. And learned a lot too!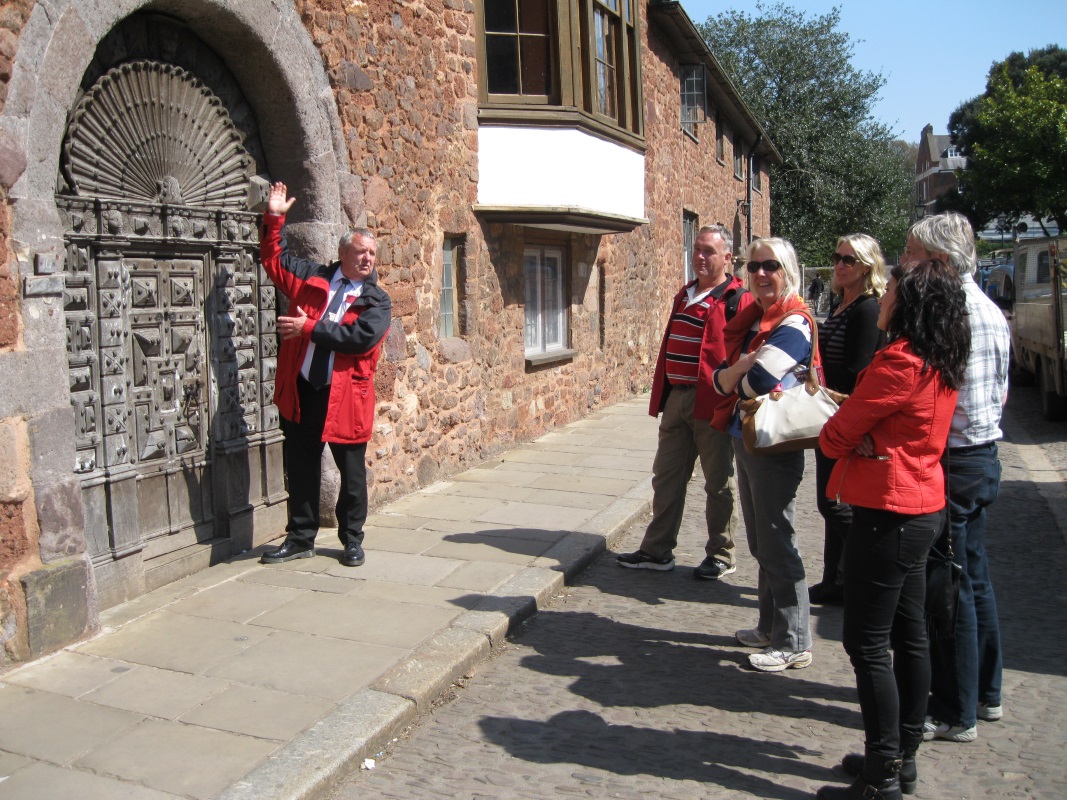 Cathedral Close and Bishop's Palace Garden
Hear fascinating stories about Cathedral Close and visit the beautiful gardens at the Bishop's Palace. Not a lot of people get the chance to see them!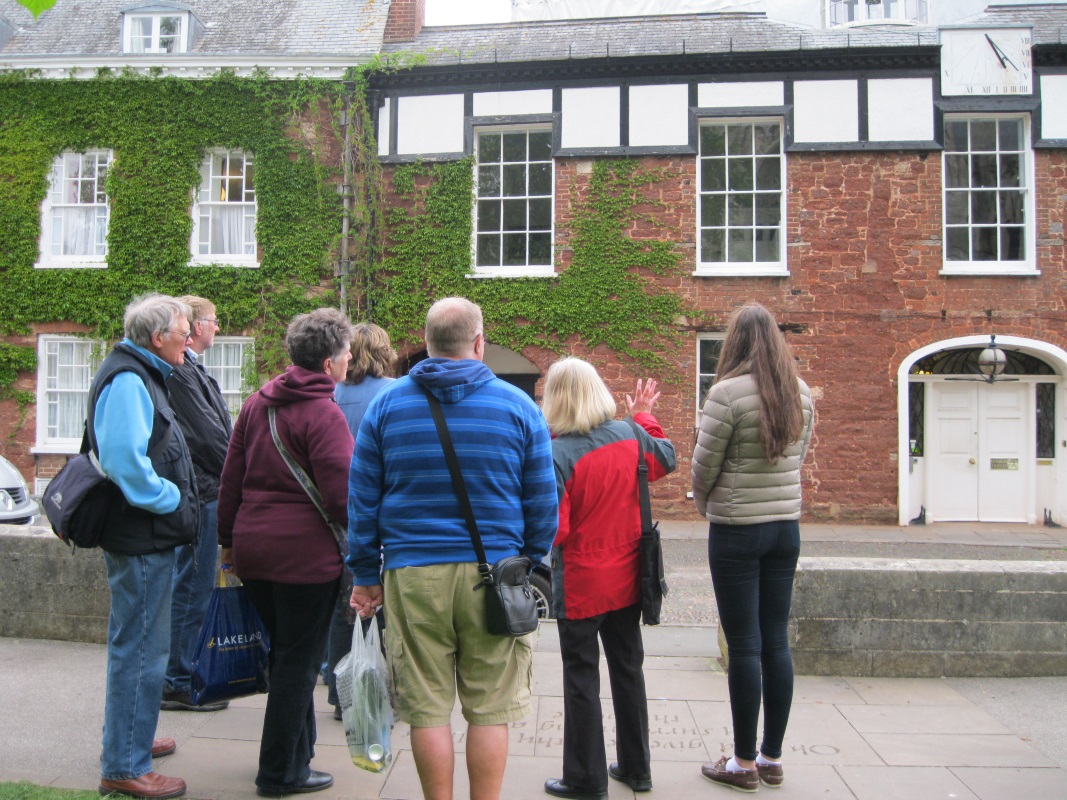 Cathedral to Quay
Exeter Cathedral's long history will fascinate everyone. Then walk to Exeter Quay to hear about its development. Don't miss the upstairs ceilings at Exeter's old Custom house and have a giggle at some of the odd things that used to be imported!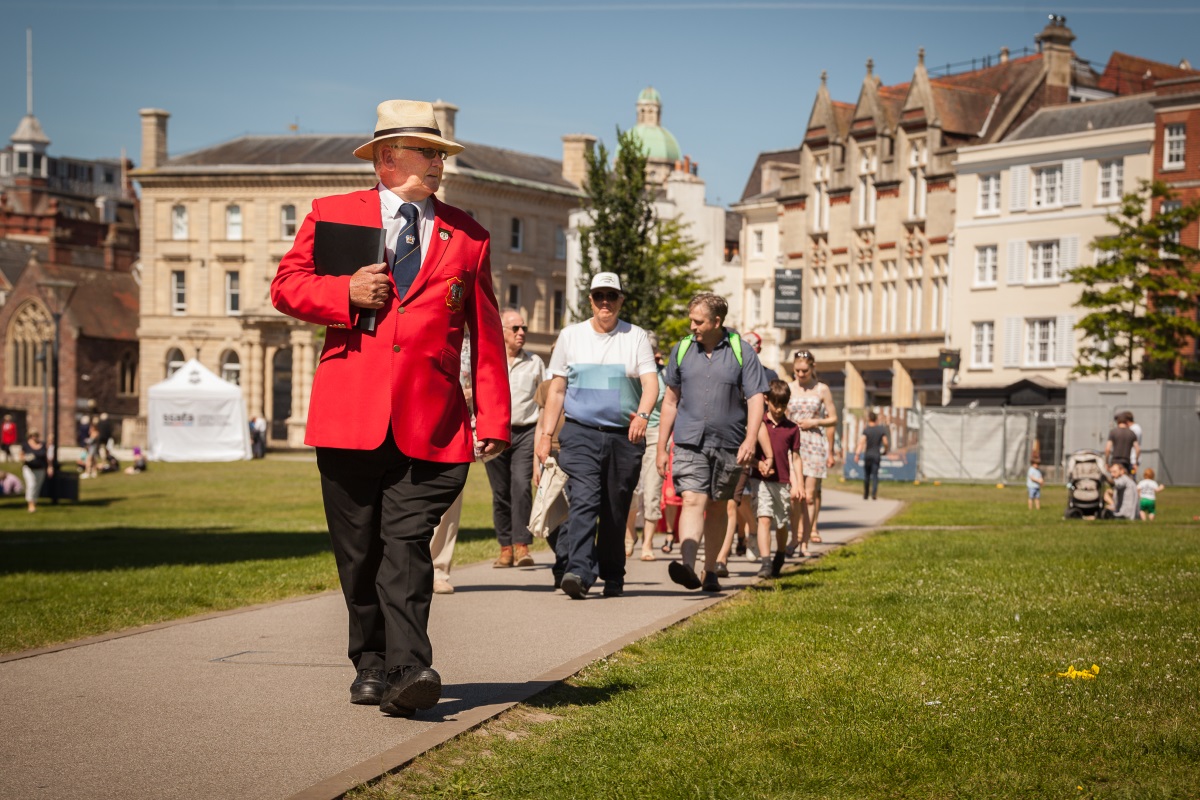 Churches, Cemeteries and the Catacomb
A great way to see some of Exeter's old churches and burial grounds. There are some intriguing facts! See the Catacombs at St Bartholomew's Cemetery and find out why they were a failure. (Rare bats nest within at certain times of the year, so tours are dependent on them).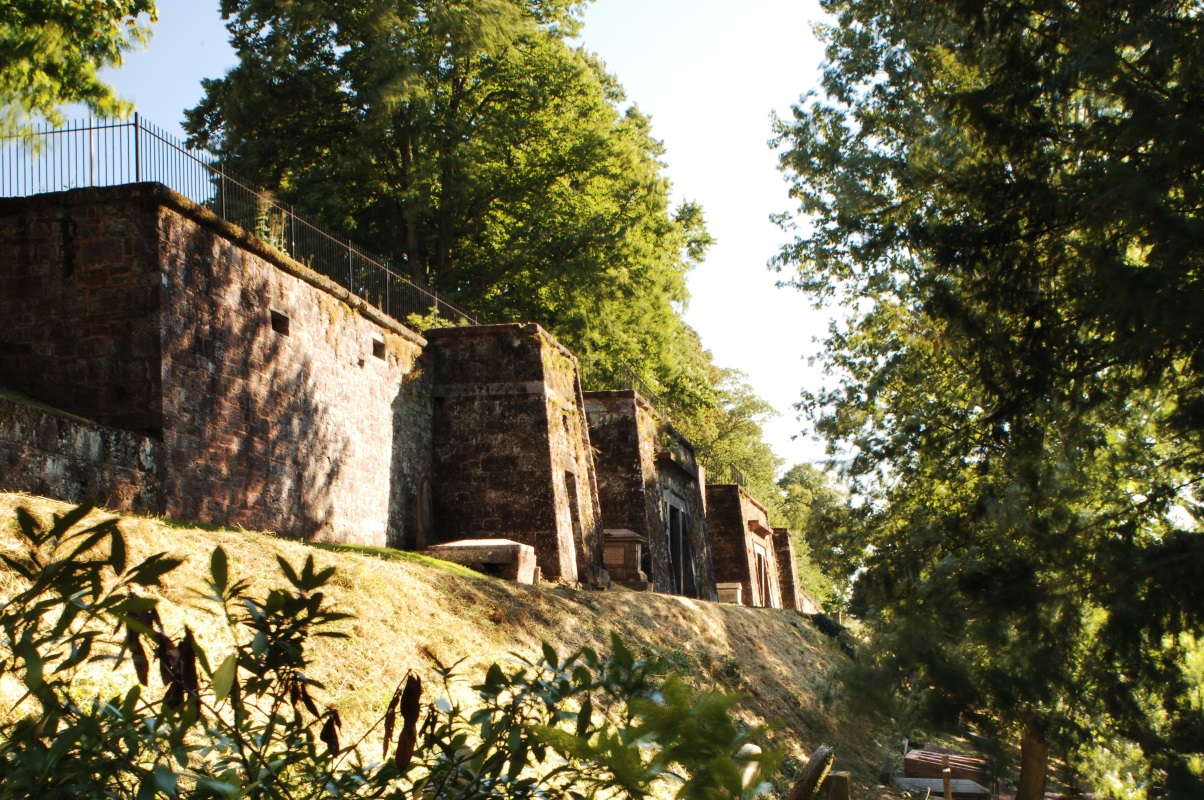 Exeter's City Wall
First built by the Romans, the wall has been added to over the centuries and is almost a microcosm of the city's history. There is around 70% of the wall left despite attacks by Vikings, William the Conqueror, King Stephen, Perkin Warbeck, Cornishmen in the Prayer Book Rebellion and both sides in the English Civil War! The tour around the mellow walls makes a lovely informative walk.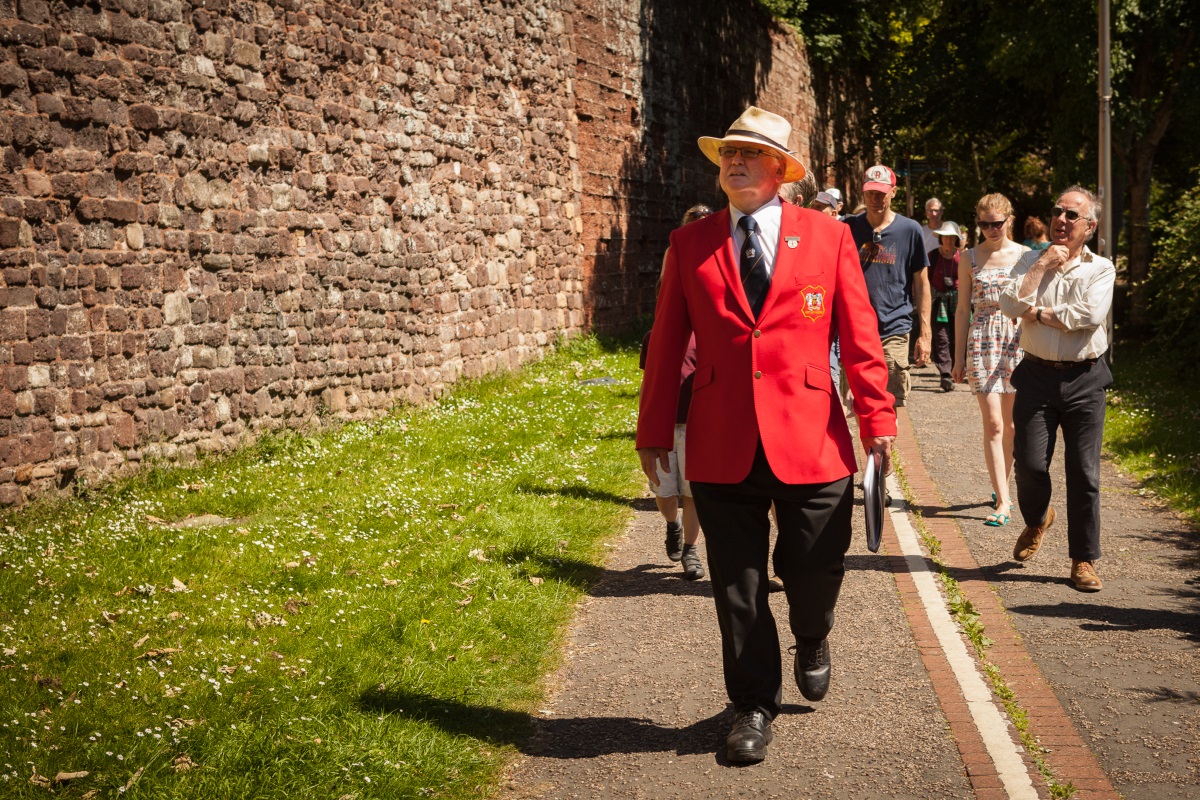 Medieval Exeter
From Exeter's earliest custom house to its later one, this tour takes you on a trip to discover how Exeter became so important, rich and large for a city in the medieval period. Think commerce trade and markets!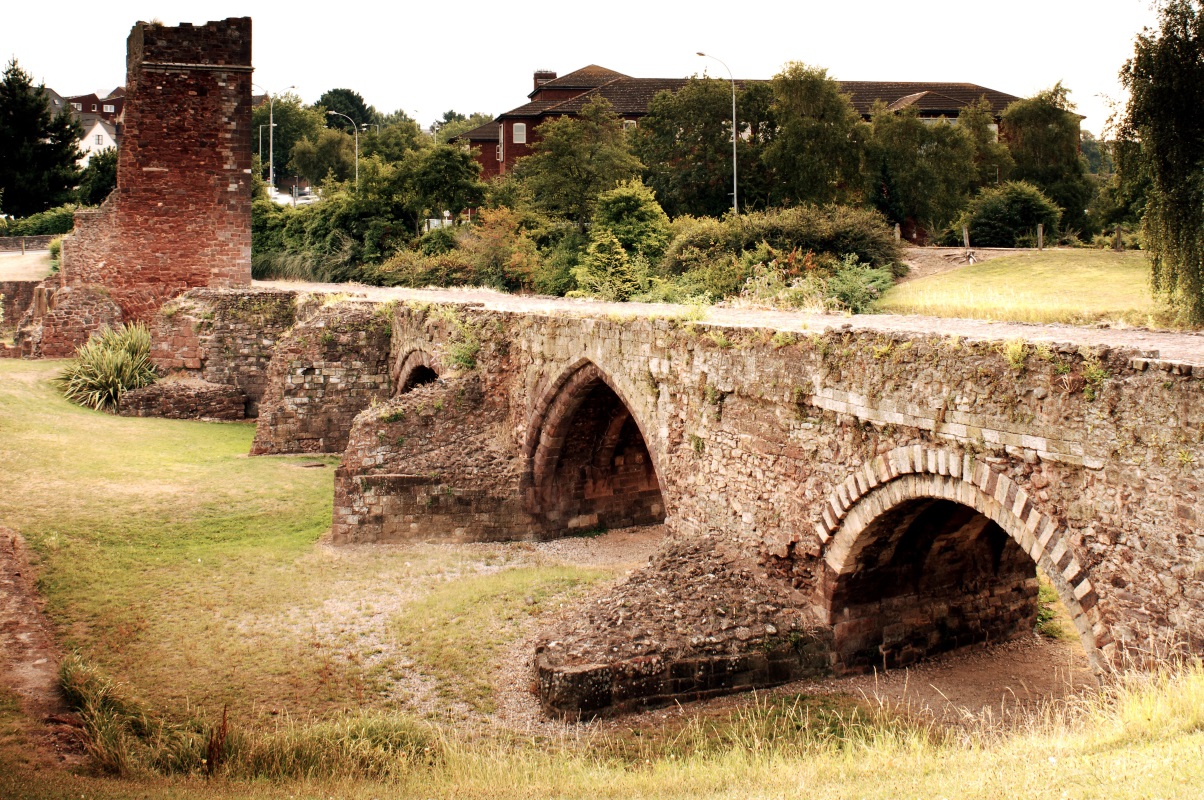 Tudor Exeter
Have a look at some of Exeter's surviving Tudor Buildings on this tour. The best single word to describe them is picturesque. But this tour is about more than looks. Learn about famous folk who lived in or visited the city. They might surprise you!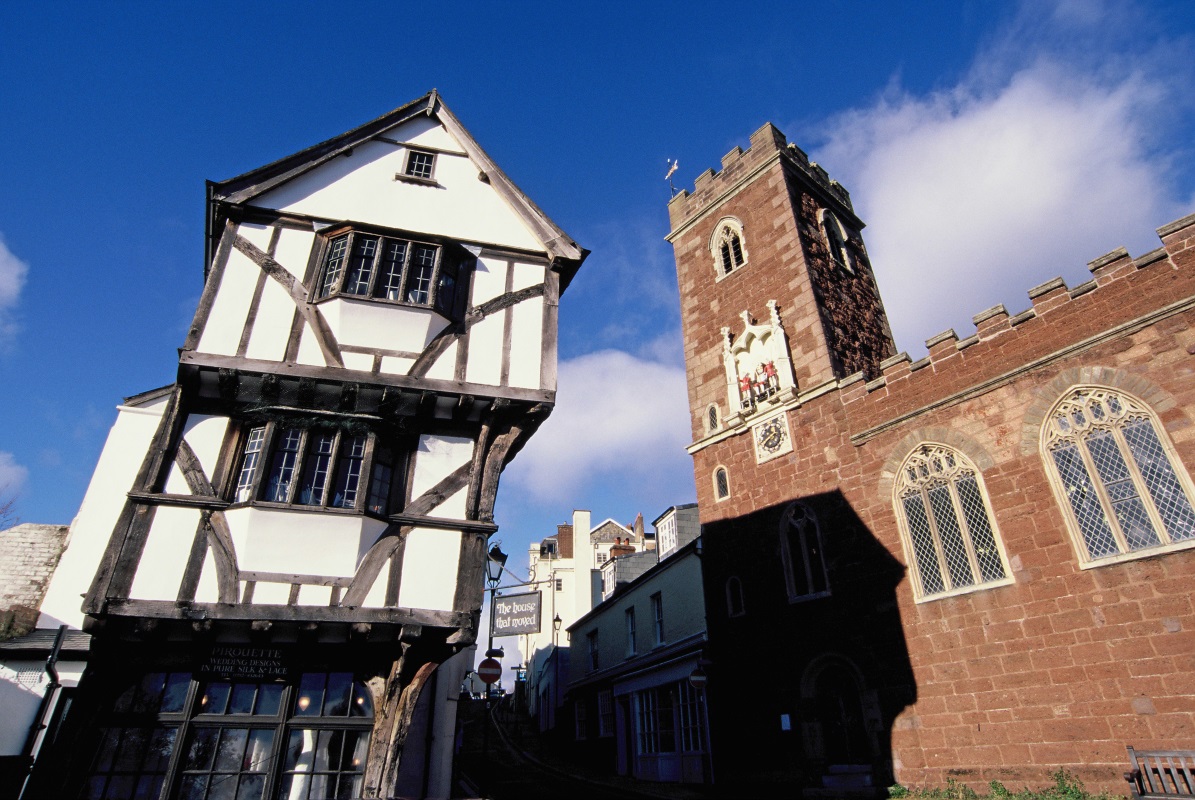 Georgian Exeter
If you admire elegant Georgian architecture and town houses, then this is the tour for you. Learn the reasons why Exeter became a magnet for the wealthy and stylish who, in turn were keen to see the city continue to grow and improve.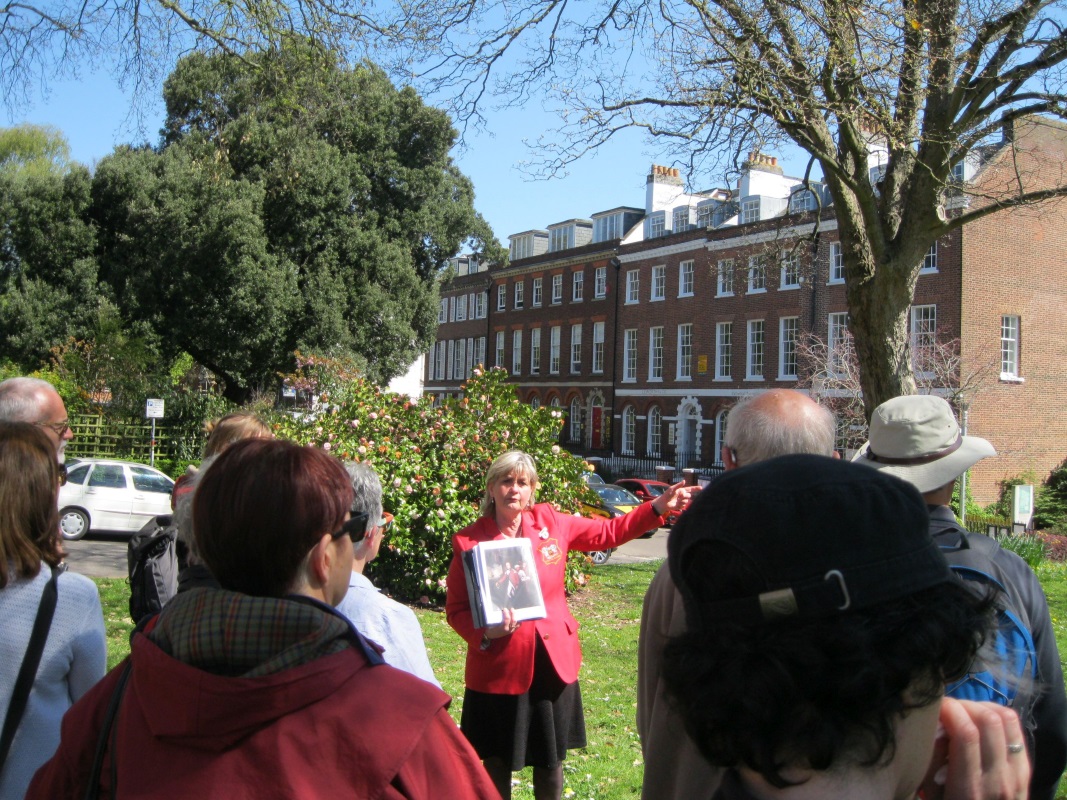 Exeter Blitz
Exeter was not a strategically important city during World War Two, so why was it bombed? Why did Hitler take such a personal interest in the bombing? Find out on this tour and hear some hair raising bomb damage statistics.
Exeter Old and New
What can I say about this tour? 2,000 years of Exeter's history delivered in one and a half hours. It doesn't feel at all rushed, but you'll learn a lot and have fun at the same time!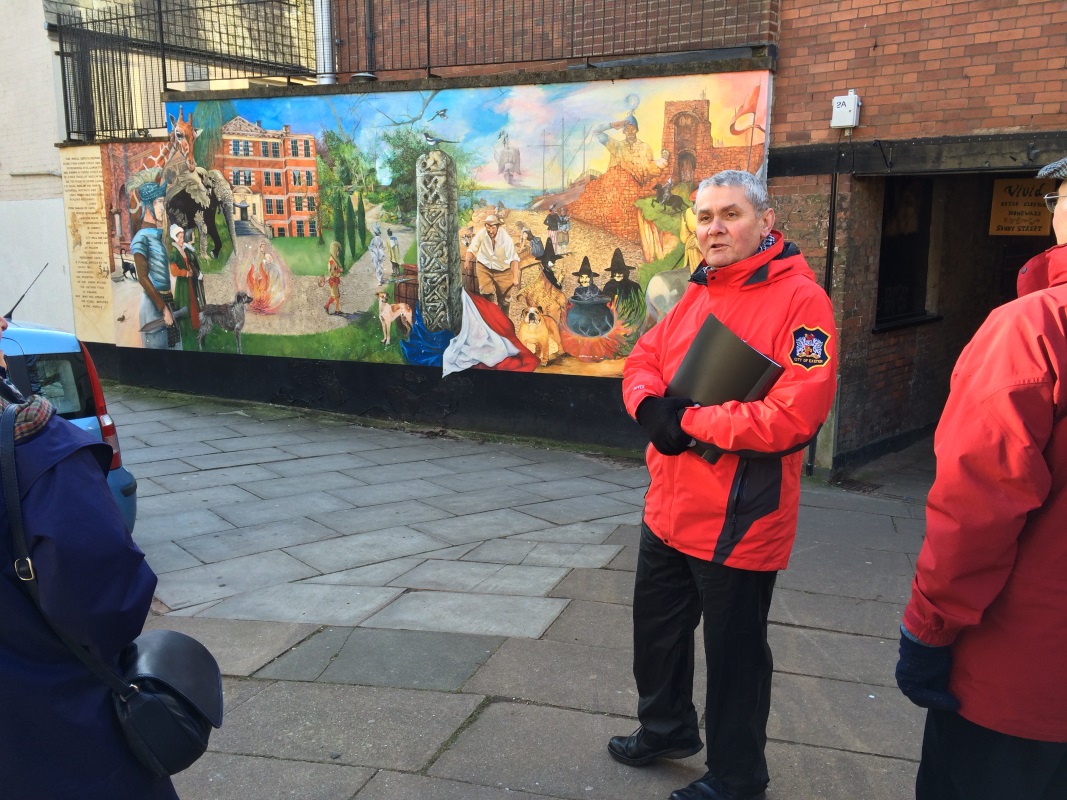 Heart of Exeter and the Devon and Exeter Institution
A brilliant tour about how Exeter changed over the centuries, and how it stayed the same! The second part of the tour takes you to the Devon and Exeter Institution where there has been a library since 1813. You'll feel that you've stepped back 200 years!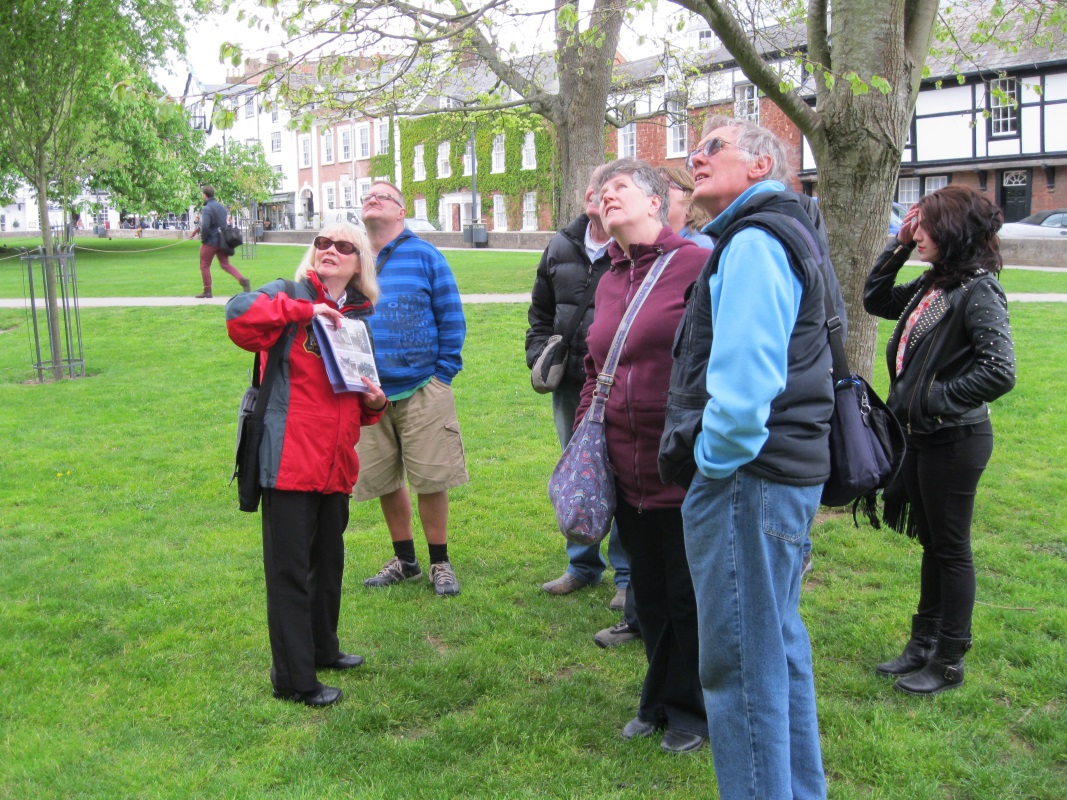 Forgotten Exeter
How did Roman invaders keep clean? What happened when William the Conqueror besieged the city where dead King Harold's mother rebelled? Fascinating stories about some of Exeter's most turbulent times.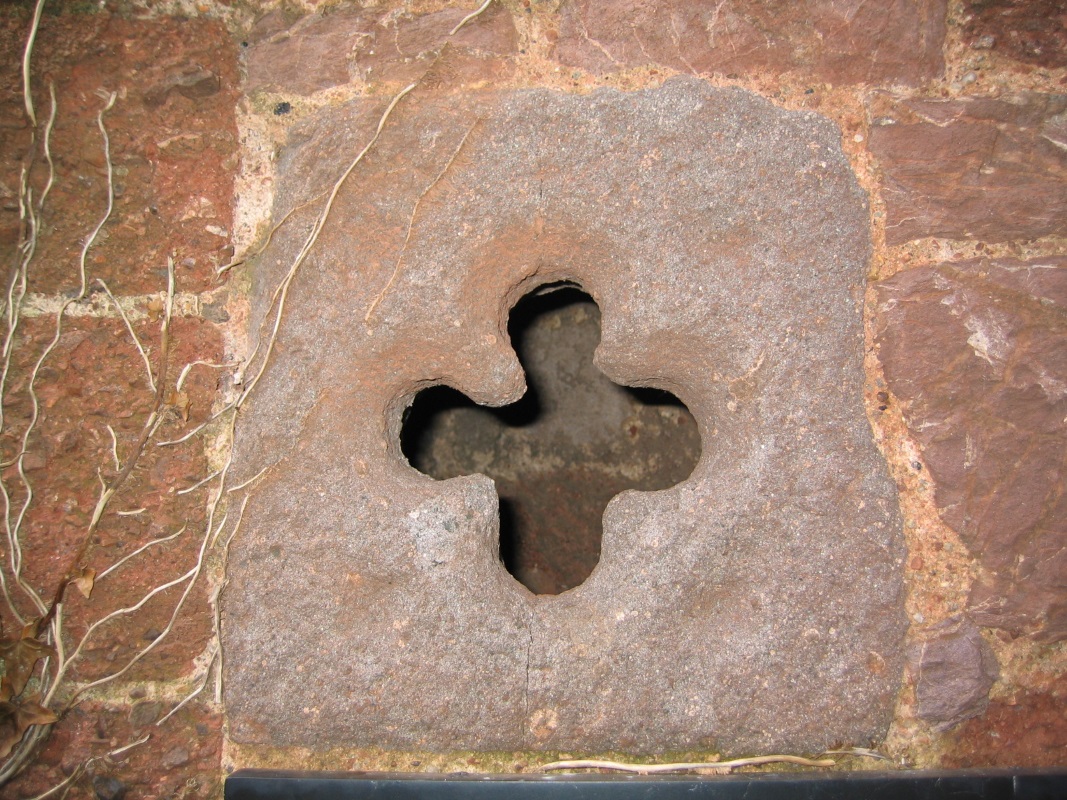 Ghosts and Legends
Exeter has the reputation of being one of the most haunted cities in Britain. Join your guide for tales of spooks, unexplained goings on and legendary ghostly baddies. It's atmospheric to say the least!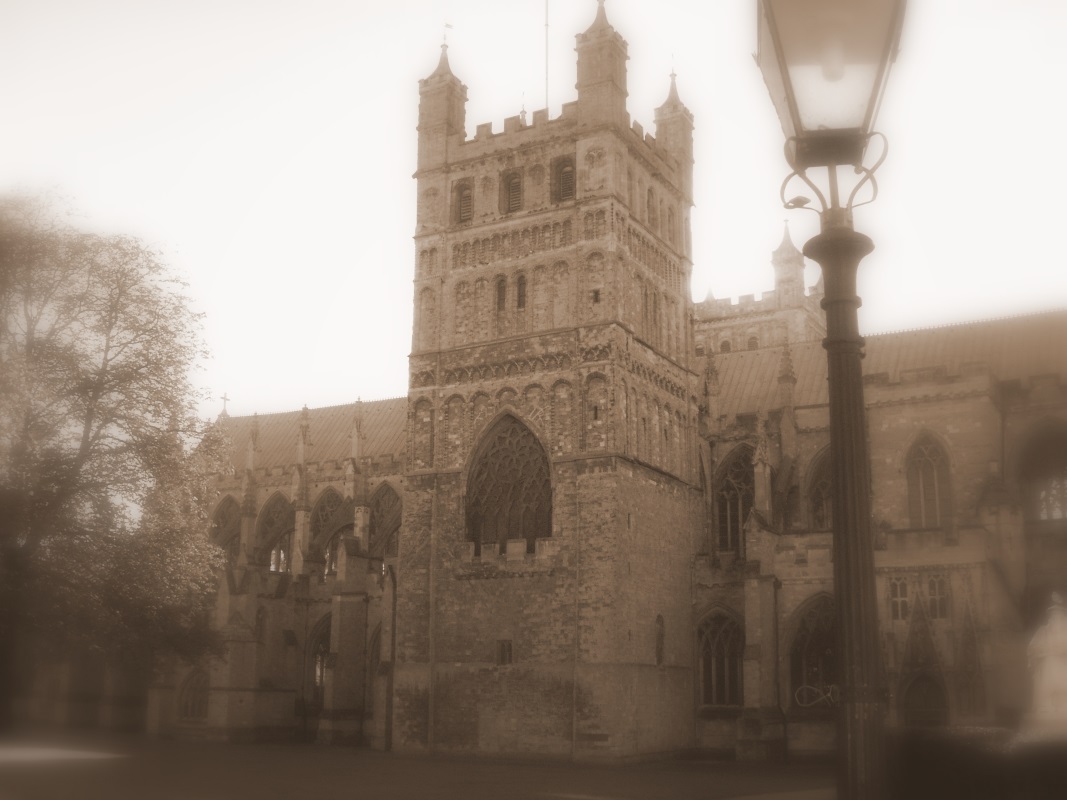 Oddities and Curiosities
If, like me, you relish unusual and strange facts and love to find out why such odd things come about, then you'll love this very entertaining and enlightening tour of the seemingly every day city centre. You'll be surprised at how surprised you'll be!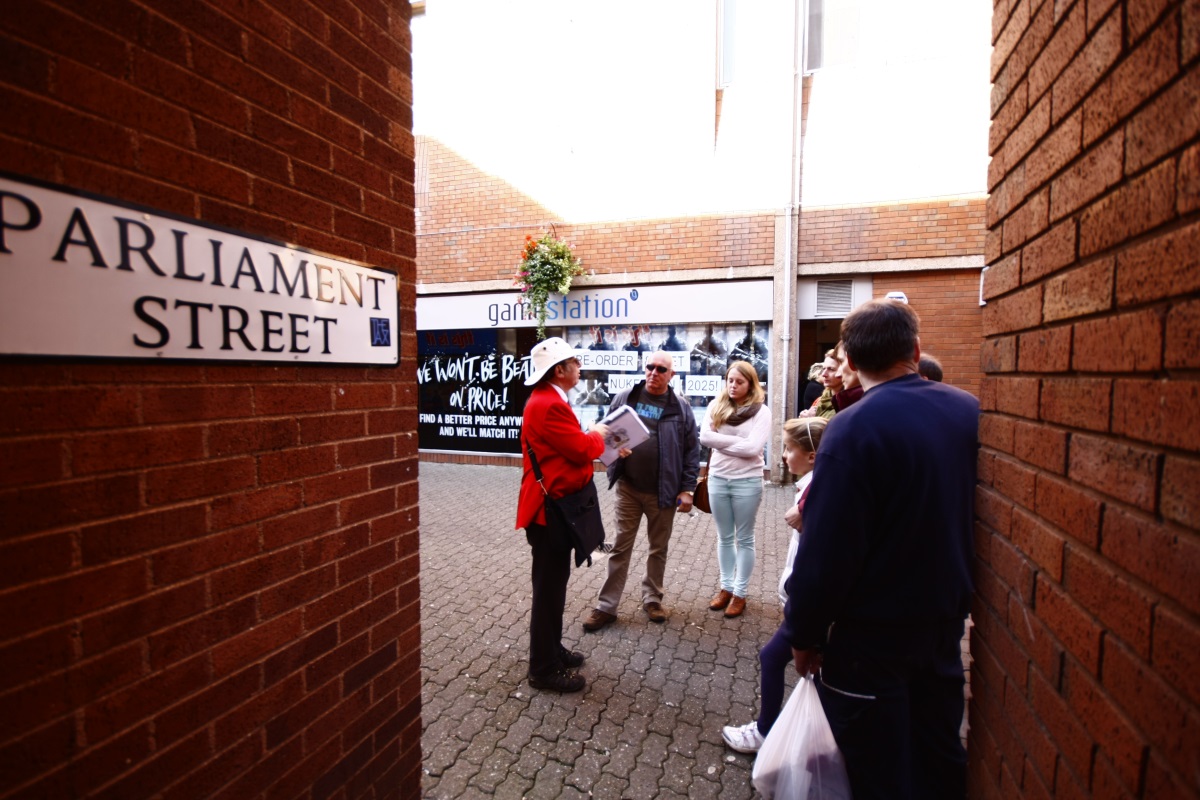 Exeter's Historic Quayside
Exeter's Quayside and river are lovely locations, but they're more than that. On this tour you'll also see the historic canal, find out why it was built so close to the river and hear about Exeter's fascinating maritime trading history.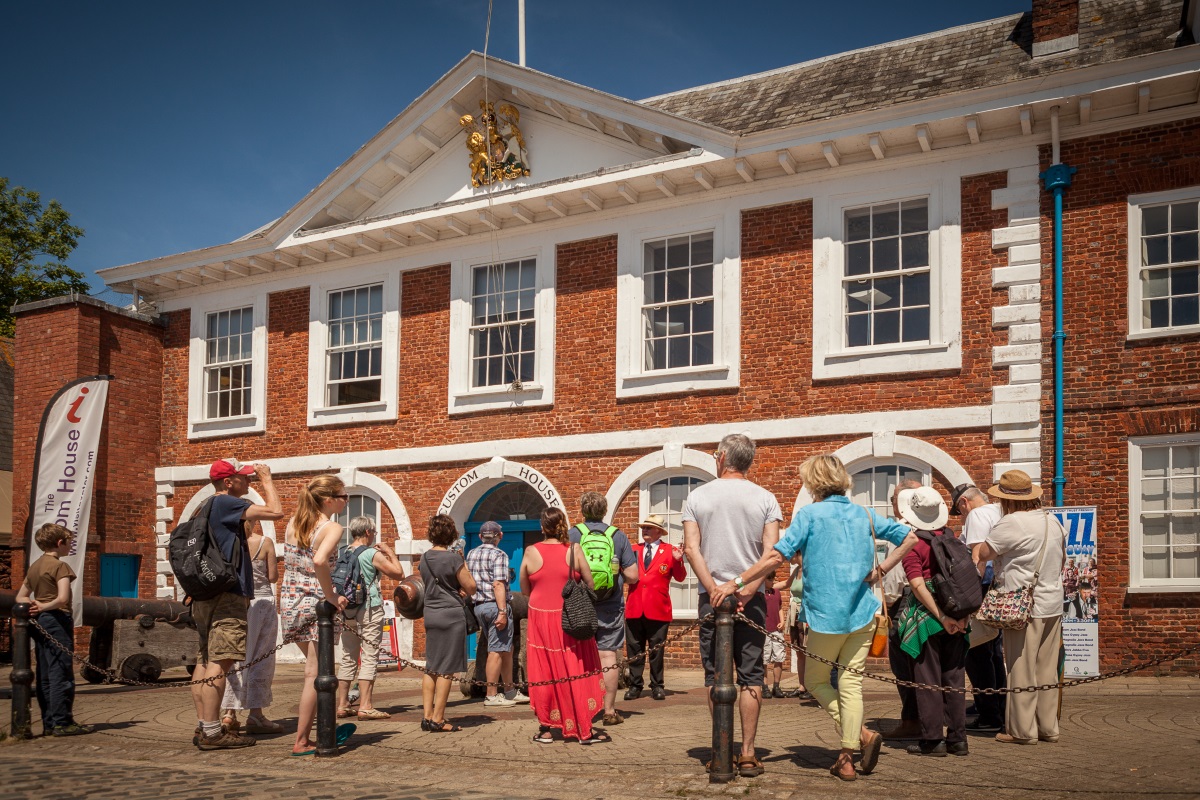 Exeter Canal Trip
Have a guided walk around the Quay, then take a boat trip on Exeter's Canal, followed by a pub stop! Then it's up to you - have a leisurely walk back to the Quay, or pay the boat man to be taken back. Either way it makes for a leisurely laid back experience.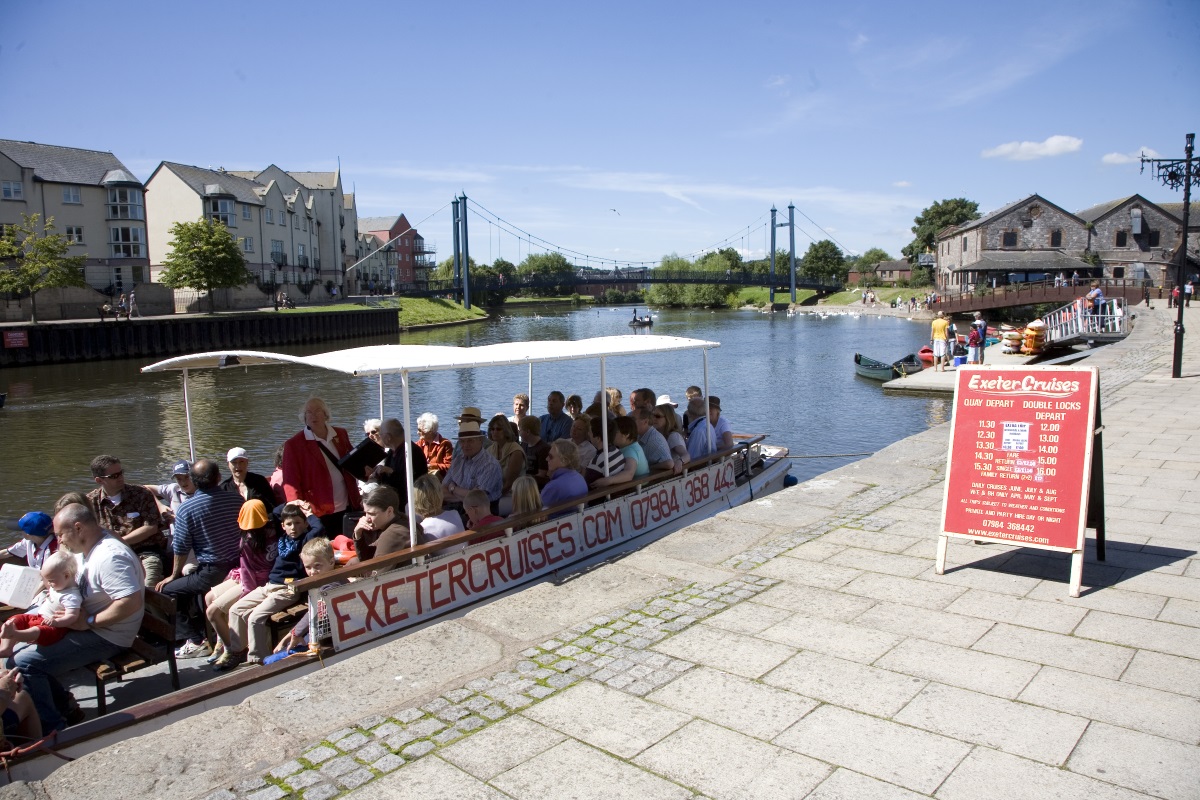 Spooks and Broomsticks Halloween Tour
These child friendly tours take place on Halloween when the guides leave their red coats at home and dress up! They love it when children look spooky too! Learn how to detect witches before taking a tour around some spooky spots.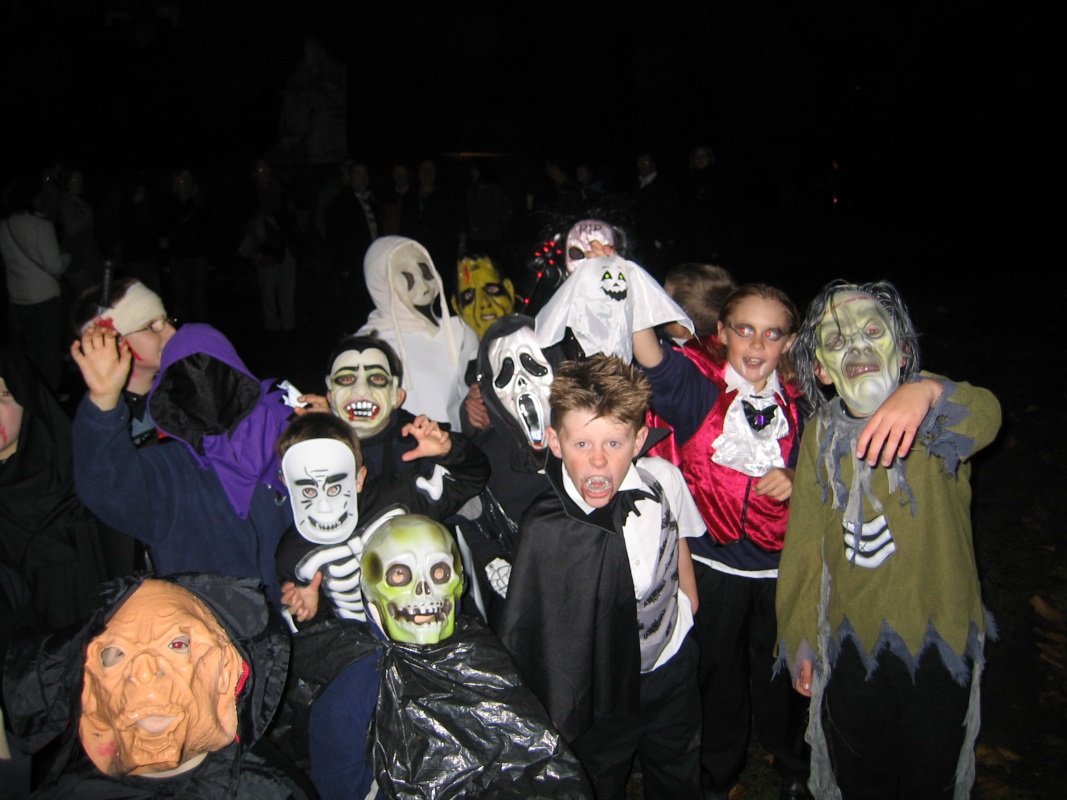 Red Coat Mystery Tour
This special tour only runs on Boxing Day and New Year's Day and I have to confess that this is one tour I haven't done yet. (Too much festive cheer!). Only the intrepid Red Coat Guide knows where the tour goes and what it's about!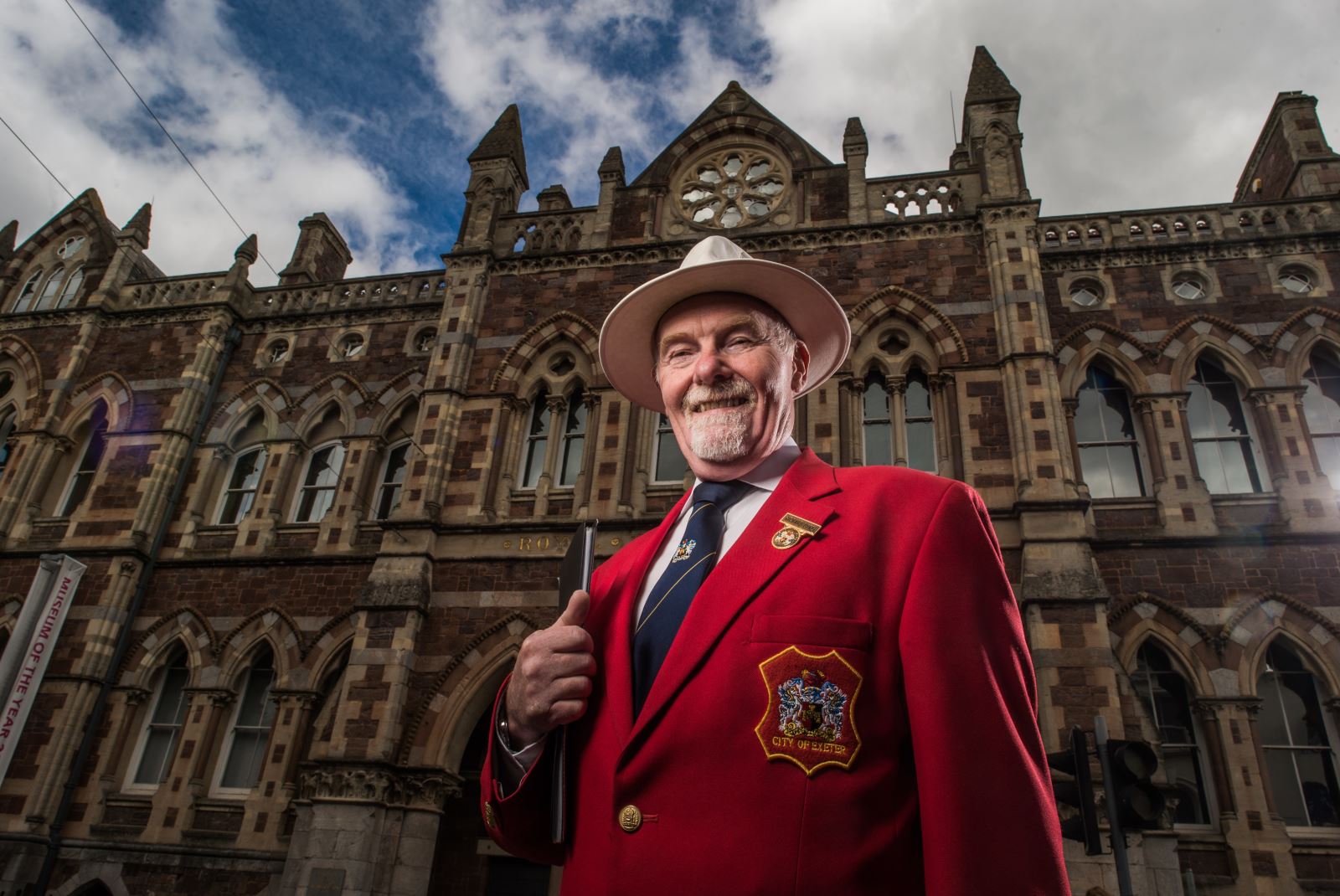 The City's FREE award winning Red Coat Guided Tours are provided by Exeter City Council and are the perfect way to explore Exeter, one of the oldest cities of England. Run by experienced qualified volunteer guides, all tours are on foot so please wear suitable footwear. No dogs (except guide dogs) are allowed on tours. Children must be accompanied.
Tours depart from the Hooker Statue on Cathedral Green (some tours from the Quay) each day of the year except Christmas Day and 1 January. Details of the full tour programme and starting points, can be found below.
Related
0 Comments