Who doesn't love a good BBQ when the sun is shining and the weather is fine? We thought we give you all some new ideas to give a go. What you need is of course a BBQ – those disposal ones will do but you may need a few to create these feasts!
Traditional British BBQ
Sausages
Burgers
Chicken
Salads – potato salad; coleslaw; green salad etc
Of course you can buy these shop bought but why not try making your own? There are loads of recipes online, but we thought we would share a homemade recipe for you from BBC Good Food.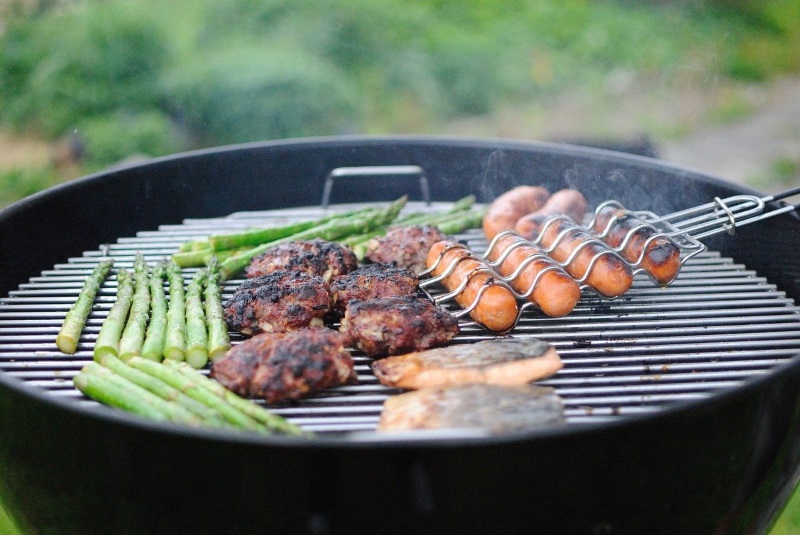 Beef burgers – serves 4
Ingredients:
1 small onion, diced
500g good quality beef mince
1 egg
1tbsp vegetable oil
4 burger buns
All or any of the following to serve: sliced tomato, beetroot, horseradish sauce, mayonnaise, ketchup, lettuce, crispy bacon, cheese etc
Method:
Tip 500g beef mince into a bowl with 1 small diced onion and 1 egg, then mix
Divide the mixture into four. Lightly wet your hands. Carefully roll he mixture into balls, each about the size of a tennis ball
Set in the palm of your hand and gently squeeze down to flatten into patties about 3cm thick. Make sure all the burgers are the same thickness so that they cook evenly
Put on a plate, cover with cling film and leave in the fridge to firm up for at least 30 mins.
Heat the bbq to medium hot (there will be white ash over the red hot coals – about 40 min after lighting). Lighting brush 1 side of each burger with vegetable oil
Place the burgers oil side down on the bbq. Cook for 5 mins until the meat is lightly charred. Don't move them around or they may stick
Oil the other side, then turn over using tongs. Don't press down on the meat, as they will squeeze out the juices
Cook for 5 minutes more for medium. If you like your burgers pink in the middle, cook 1 min less on each side. For well done, cook 1 min more.
Take the burgers off the bbq. Leave to rest on a plate so that all the juices settle inside.
Slice the 4 burger buns in half. Place, cut side down on the bbq rack and toast for 1 min until they are lightly charred. Place a burger inside each nun, then top with you choice of accompaniment
South African Braai
South Africans take braaing extremely seriously. As quoted from contiki.com - A braai is an integral part of South African culture, and a common practice in any South African household. The word 'braai' is actually Afrikaans, deriving from the Dutch word for 'roast', and is usually an occasion for friends and family to come together in celebration. Through its turbulent past, braaing is one of the few things not specific to one ethnic or cultural group in South Africa – it's a tradition that ties the nation together. Traditional braai's are cooked on local wood, such as kameeldoring wood, instead of coal or gas to give the meat a distinct flavour. It's pretty much a special South African meat-fest that can last for hours on end.
Traditional Dishes include:
Braaibroodjie (AKA Toasties) – often cooked right at the beginning as a snack to keep you going whilst you wait for the fire to cool down before braaing the meat
Boerewors – traditional beef sausage (you can order these online)
Sosaties – meat skewers usually lamb
And basically anything meat related including fish
Often served with potatoes and corn on the cob (mielies) wrapped in tinfoil and left to cook on the coals; and of course salads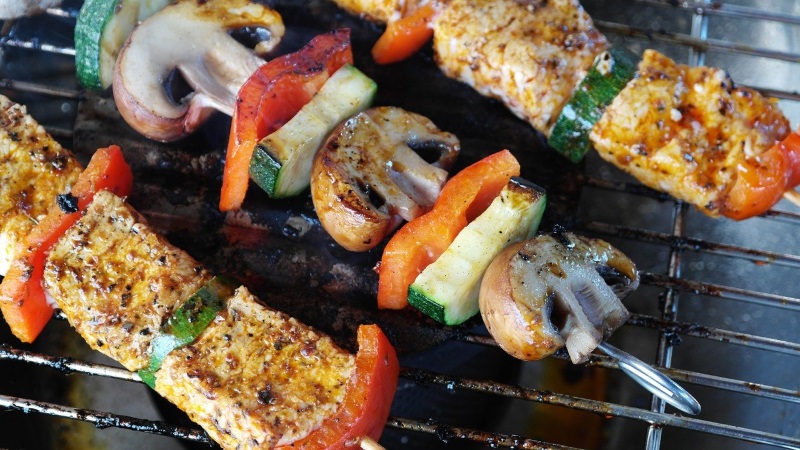 Braaibroodjie – serves 4-5 (africanbites.com)
Ingredients:
2-3 Large Onion Sliced
3-4 Fresh Sliced Tomatoes
Mango Chutney Homemade chutney here
8 Slices or more good-quality bread White, Wheat
8 Cheese sliced or grated cheese
Butter
Salt and pepper
Mayonnaise optional
Caramelized Onions
2 Tablespoons or more Olive Oil
½ teaspoon minced garlic
Onions
Salt and pepper to taste
Method:
Heat oil in a saucepan over medium heat. Add onion, garlic, salt and pepper cook, stirring frequently, until onion is translucent, about 3-5 minute
To ensure crispy bread butter both sides of the bread.
Then layer sandwiches with onion, tomatoes, cheese slices or grated cheese, chutney, you may season with pepper, if using store bought chutney
Cover with the remaining slices of bread.
Pan grill:
Preheat grill pan or large skillet over medium heat. Cook sandwiches 3 minutes per side or until bread is golden brown and cheese is melted.
Barbecue:
Clean barbecue of any remaining food after grilling, if necessary oil grill with paper towel dipped in a little bit of oil,
Place the sandwiches on the grill or inside a barbeque basket, it really helps facilitate flipping the sandwich around if you are a novice, slowly grill until they are golden brown and cheese has melted, about 2 minutes or more per side, depending on grill. Be careful when grilling because they grill up fast.
Sosaties - from FeedFeed.com
Ingredients:
2kg lamb shoulder, boned, skin removed, trimmed and cut into 3cm cubes
500 g (3 1/3 cups) large dried apricots
3 onions, cut into 3cm wedges
Marinade:
110 g (1/3 cup) apricot jam
80 ml (1/3 cup) white wine vinegar
55 g (1/4 cup) brown sugar
3 bay leaves
4 garlic cloves, finely chopped
2 tsp ground turmeric
1/4 tsp cinnamon
1 tbsp mild curry powder
Method:
Marinating time: overnight
Soaking time: 30 minutes
Start this recipe a day ahead to marinate lamb. 12 metal skewers required
For the marinade, combine all ingredients in a large bowl.
Transfer one-quarter of the marinade to a small bowl and set aside. Add lamb pieces to remaining marinade and toss to coat. Refrigerate overnight.
Soak apricots in hot water for 30 minutes or until plump. Drain and set aside. Thread 4 lamb pieces alternately onto each skewer with 3 apricots and 3 onion wedges.
Heat a barbecue or chargrill plate to medium. Cook skewers, brushing with reserved marinade and turning them occasionally, for 15 minutes or until browned and cooked through.
Serve immediately with any additional marinade as a garnish
Argentina Asado
Asado (Spanish: [aˈsaðo]) is the techniques and the social event of having or attending a barbecue in various South American countries, where it is also a traditional event. Often cooked on a grill, called a parrilla, or an open fire – usually cooking the meat long and slow
An asado usually consists of:
Beef
Pork
Chicken
Chorizo
Morcilla (like a black pudding)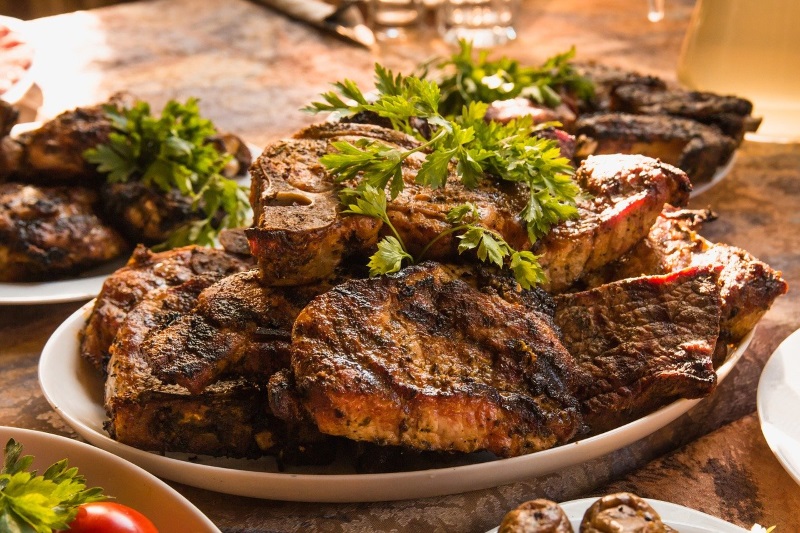 Argentinian Beef Rump with Chimichurri - serves 6-8 from sbs.com.au
Ingredients:
2kg beef rump, with fat cap intact
Spice rub
1tbsp smoked sweet paprika
1tbsp sea salt flakes
2tsp ancho chilli powder
1tsp soft brown sugar
1tsp ground black pepper
Chimichurri
2 cups flat leaf parsley leaves roughly chopped
1 cup coriander leaves roughly chopped
½ cup mint leaves roughly chopped
3 garlic cloves roughly chopped
2 French shallots roughly chopped
2 long red chillies deseeded and roughly chopped
60ml lemon juice
2 tbsp sherry vinegar or red-wine vinegar
1 tsp sea salt flakes
½ tsp freshly ground black pepper
185ml extra-virgin olive oil
Method:
Refrigeration time: 2 hours
Resting time: 20 minutes
To make the spice rub, combine the ingredients in a small bowl.
Place the beef on a clean work surface and, using a sharp knife, score the fat in a crosshatch pattern. Cut deeply, but don't cut into the meat. (This will help to baste the meat as it cooks by evenly releasing the flavoursome fat, and it will also stop the sides of the meat from curling.) Massage the spice rub deeply into the grooves and all over the meat. Cover with plastic wrap and refrigerate for 2 hours.
To make the chimichurri, blend the parsley, coriander, mint, garlic, shallots, chilli, lemon juice, vinegar, salt and pepper in a food processor until a coarse paste forms. With the motor running, add the oil in a thin, steady stream until incorporated. Taste and adjust the seasoning, then transfer to a small bowl, cover with plastic wrap and refrigerate until needed.
Preheat a hooded barbecue grill to high and lightly grease with oil.
Place the beef, fat-side up, onto the grill, cover and reduce the heat to medium–low. Cook for 45 minutes. Turn the beef and cook for a further 15 minutes. Turn again and for another 10 minutes for medium. (You can cook a little less or more according to your preference). Transfer to a plate, cover loosely with foil and rest for 20 minutes before slicing.
Slice the beef thickly and serve on a platter drizzled with half the chimichurri. Serve the remainder of the sauce in a small bowl for guests to help themselves.
American Pit Barbecue
In the United States, barbecue refers to a technique of cooking meat outdoors over a fire; often this is called pit barbecue, and the facility for cooking it is the barbecue pit. This form of cooking adds a distinctive smoky taste to the meat; barbecue sauce, while a common accompaniment, is not required for many styles.
Tennessee is apparently the King State of BBQs - Tennessee barbecue is most clearly defined in Memphis; it is best known for both "dry" and "wet" pork ribs, as well as pulled pork shoulder served with a tomato-based barbecue sauce. Dry ribs are covered in a "rub" — a mix of spices and herbs — and then smoked!
Like a South African Braai – American BBQs are heavily meat based. So we thought we would share a recipe for you to try.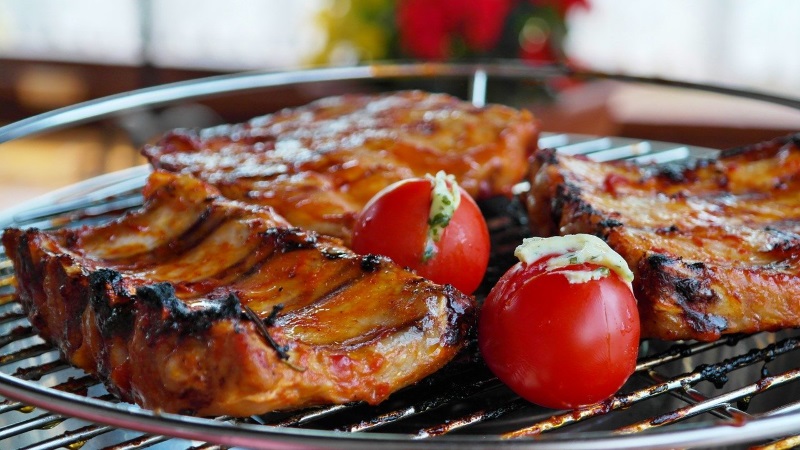 Tennessee Style BBQ Ribs - Serves 4 (simply recipes.com)
Ingredients:
1/4 cup sweet paprika
1/2 cup brown sugar
1 Tbsp black pepper
1 Tbsp garlic powder
2 teaspoons cumin
2 teaspoons salt
2 teaspoons cayenne
1 teaspoon dry mustard
1/2 teaspoon celery seed
1/2 teaspoon dried oregano
2 spare rib racks
Method:
Make the dry rub, rub all over ribs: Mix all the dry ingredients together. Rub them all over the ribs and, if you have time, set them in the fridge overnight.
Grill over low, indirect heat initially for one hour: Get your grill or smoker going. You want pretty low heat, about 200-220°F if you can measure it. Make sure you have a spot to put the ribs that is not directly over the heat source. Lay the ribs down. They should not sizzle. If they do, cool the grill down until the ribs no longer sizzle when placed down. Cover the grill or smoker and walk away for an hour.
Every hour or so after that, turn and rotate the ribs so they cook evenly. You should not have to baste them if you do this: The fat in the ribs will do the basting for you. Depending on how hot your set-up is and at what stage of doneness you like your ribs, they will be done in 4-8 hours.
Related
0 Comments