Proud Topsham resident and property journalist Graham Norwood tells us about the fascinating histories behind some of Topsham's most recognisable buildings...
You don't need to be a devotee of architecture to know that Topsham is a special place for its buildings - and if you've visited the town even briefly you'll know about one particular house, called Wixels.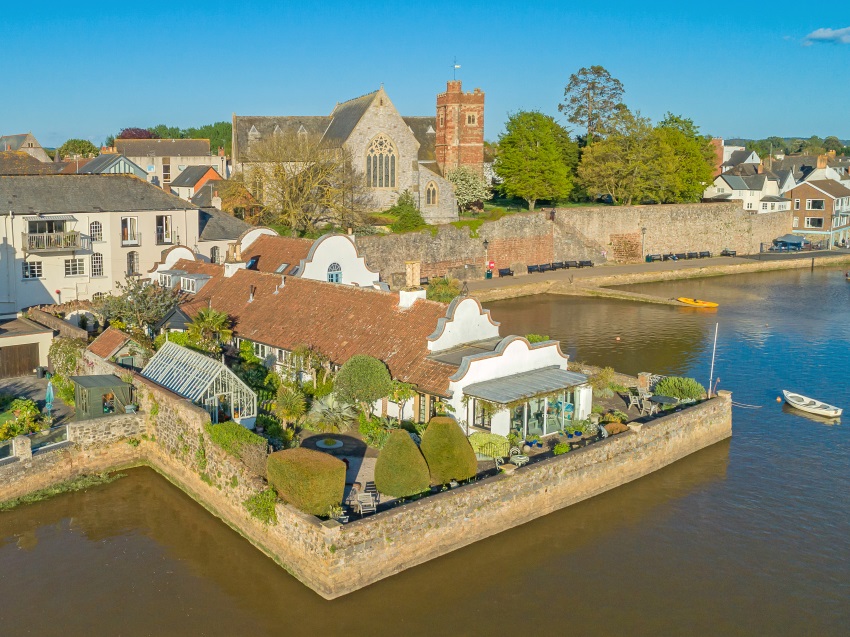 But while Wixels is unique and striking (and now for sale for the first time in over 25 years) its amazing back-story is just one of hundreds of 'property transformations' in Topsham - that is what makes this town one of the most important locations to see Devon's heritage.
Nothing beats strolling through the town yourself or joining one of the twice-weekly free 90-minute walking tours on Wednesdays and Saturdays in spring and summer. If you haven't been on one yet, this should whet your appetite.
Wixels is the house that grabs the eye as you look from the top of Topsham's church steps; for good measure it's also the one with a waterside garden of semi-exotic plants that has been open to the public over 75 times during the past quarter century.
This home's iconic status and distinctive appearance (it juts into the Exe with water on three sides at high tide) is no less striking inside: a mix of bedrooms, lounges and small rooms used as studios by recent owners, it exudes a serene artistic mood.
Its history, however, is more complex and what the locals call 'very Topsham'.
Prior to becoming a house in 1920 it was a cluster of warehouses and sheds, serving the port during its heyday as a trading hub and sail-making and ship-building centre. Originally the buildings that went on to become Wixels stored stone, coal and even guano; across the road was a foundry making nails in a home now called (what else?) Nail House.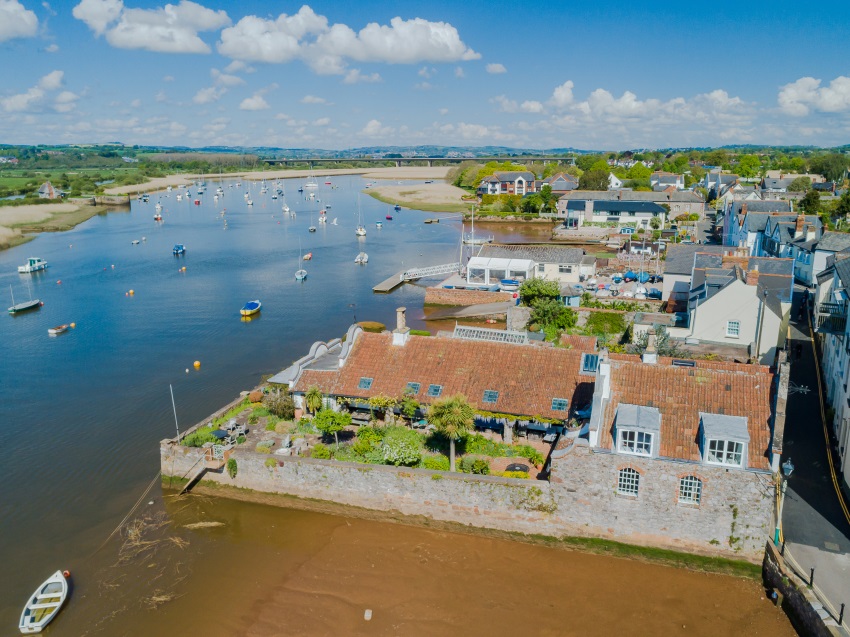 Fascinating isn't it? Many other Topsham homes tell similar transformative stories.
Try walking down The Strand from Topsham Quay down to the water at The Goat Walk.
One of the first buildings you'll see, now an attractive furnishings store called Casa, used to be a prison; stroll along further and the large Dutch gabled houses dating from the 17th and 18th centuries were built for some of the country's wealthiest merchants who could keep an eye on the own ships from their private gardens across the road.
Then try White Street: 300 years ago houses were built here for shipwrights and carpenters but now it's a distinctly bijou row of cottages and homes. In the intervening centuries it once boasted a 50-foot windmill and the smallest pub in Exeter - both long gone. The area was Topsham's red light district too - that's in the past, too…
Fancy a pint? Well there are plenty of stories about drinking places - Topsham has more than its fair share, each with a spectacular history.
When you take a sip in The Globe, the Jacobean building which is still the centre of life in the town, you should remember it used to be Topsham's first post office. Then there's The Lighter down at the quay - named after estuary ships and looking like a period gem (except it was rebuilt after a fire in 1971). How about The Salutation? That sits on the site of a former granary, confirming that in Topsham nothing is necessarily quite what it seems.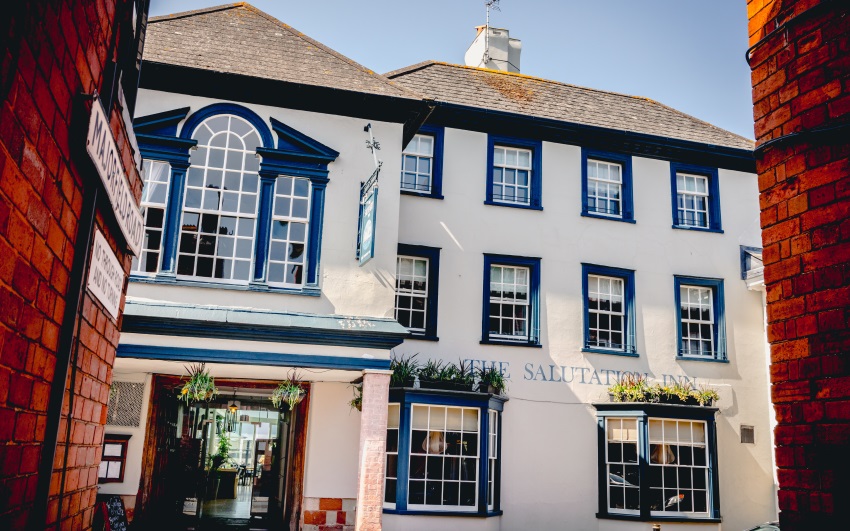 There are plenty of other tales to be told.
Why are homes lining and near Holman Way at the top of a steep embankment? Because what is now the road to Topsham Quay was from the 1860s until the 1960s a railway line.
Some of the town's most distinctive homes have spiritual histories. The Congregational Chapel on Victoria Road is now a sensational house; the 18th century Quaker Meeting House on Majorfield Road became a school in the 1850s and is now a group of homes.
And the town's most modern properties - the small zero-carbon estate of futuristic houses and apartments you can see as you drive from Countess Wear to Topsham - have kept a link with the past by taking the name The Chasse. This is named after The General Chasse, believed to have been the biggest ship built at Topsham.
That's what we mean by not having to be 'into' architecture to enjoy Topsham's buildings: they unravel a rich history quite unlike anything you'll find anywhere else.
If you want to find out more, visit Topsham Museum. It's an architectural treat in itself, as its collections are in a 17th century merchant's house and sail loft overlooking the estuary.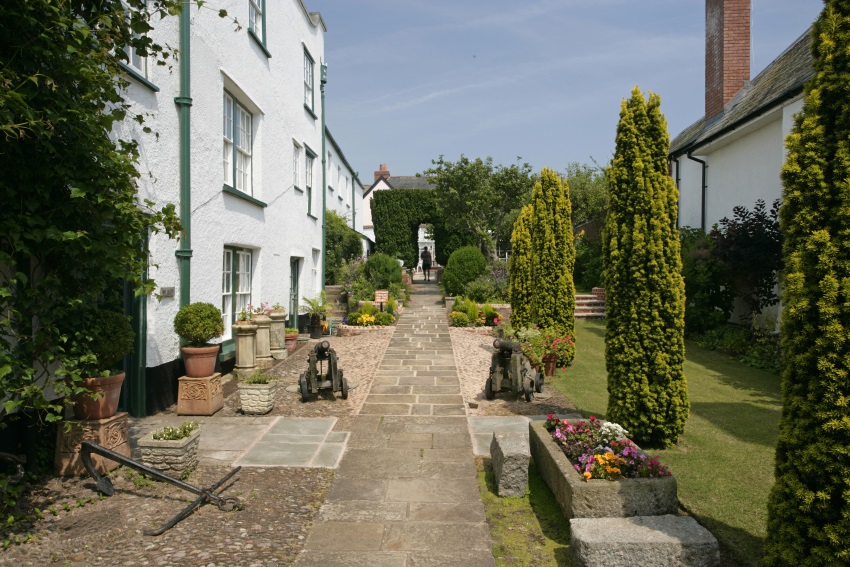 It's an ideal stopping-off point as you tour the town, wandering between the independent shops, cafes, restaurants and bars - enjoy!
For more information on Topsham, visit www.lovetopsham.co.uk
Related
0 Comments