Devon has a long and fascinating Roman past. Around 70% of the old Roman walls can still be seen in Exeter today. A story from 2013 really sounds too good to be true: a metal-detectorist found 22,800 old Roman coins in a field a near Seaton. Being the third-largest coin hoard found in the whole of Britain, it is now one of the most important parts of RAMM's archaeology collection. These coins are only one small part of what can be found in RAMM about Devon's Roman past: hundreds and hundreds of objects have been excavated throughout the centuries, varying from knife handles to weapons or mosaics. All these objects tell us a lot about how the Romans lived in Devon and why they decided to stay here for many hundred years.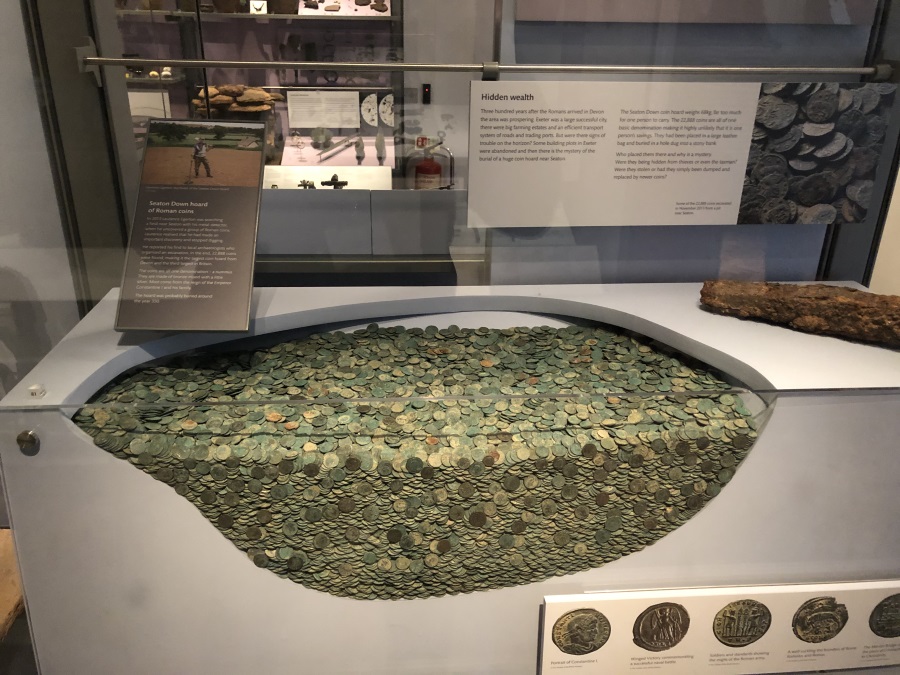 The great thing in the Roman section of RAMM's exhibition is that all the objects which are displayed have been found locally in and around Exeter. So they do really tell you how your hometown might have looked 2000 years ago. No matter how good your knowledge about Devon's history is, it is always nice to have someone put it in a different perspective. This is why I chose to do a guided tour about Roman Devon & the Seaton Down Hoard in RAMM and I would recommend everyone living in or visiting Exeter to do the same.
The guided tours at RAMM are done by volunteers, who are passionate about the displays and history of Exeter. If you are interested into Roman Devon, the tour takes place on every first and third Thursday of the month from 2 to 2.30 pm. Even though it is only a 30-minute tour, there is a lot to discover in the display and if you still have questions after the tour, your guide will be very happy to tell you even more about Roman life in Devon.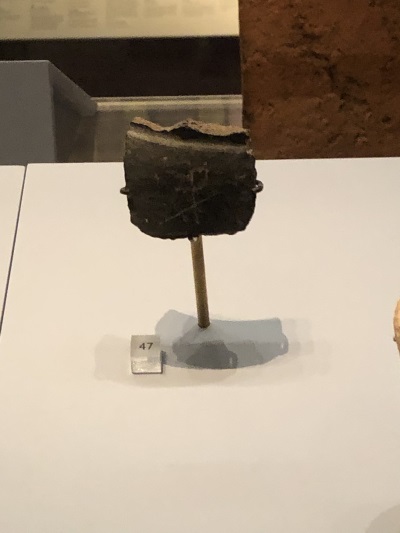 Devon attracted the Romans because they believed that many treasures like silver could be found in the ground. And actually, it is due to Devon's soil that we still can see so much of what the Romans have left here today: the pottery for example does not seem to corrode in Devon's soil. Roman influence in Exeter reached from their expertise in pottery and other crafts to the buildings they erected here: most famously their fortress and a bathhouse. It is no coincidence at all that the cathedral was built on the same grounds were the Roman fortress once stood. In 1971, construction works led to the uncovering of the old bathhouse right next to the cathedral. Sadly, it has not been possible to display the bathhouse yet. But still, beautiful mosaics and figures which were once parts of Roman Exeter can today be admired in RAMM.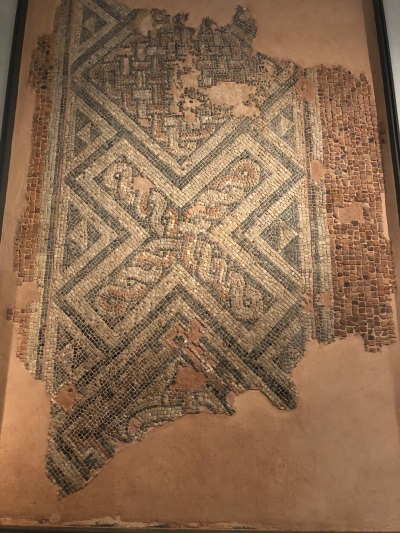 One of the most amazing things about all the Roman objects to me is that they actually have been found quite recently, most of them in the 19th and 20th century. Imagining that these sometimes very tiny objects have survived nearly 2000 years and can now be part of the displays leaves astonishes me. Not only does the display take you on a journey into Devon's Roman past, it also shows you how these objects can be used to further our understanding and knowledge of the past: the remains of an old legionary's dagger have been used to produce a replica showing how it would have looked.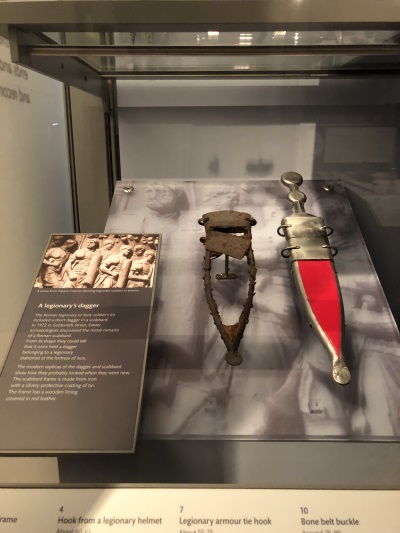 Everyone who is interested in learning more about the displays should join a guided tour at RAMM. It provides you a lot of interesting information and many details about the way that the Romans influenced the whole region. The entry fee is only £2.50, so it is really worth the money. For those who would like to explore other parts of Exeter's history: RAMM offers tours on many different subjects, including a tour about ancient Egypt, a local history tour or tours through the whole museum. So they have something in store for everyone! All the necessary information can be found on the RAMM website.
Related
0 Comments