Literature Works is delighted to be welcoming acclaimed poets Joe Dunthorne (right) and Devon's own Matt Harvey (left) to Exeter Custom House on Wednesday 13th November for Quay Words Poetry Positive.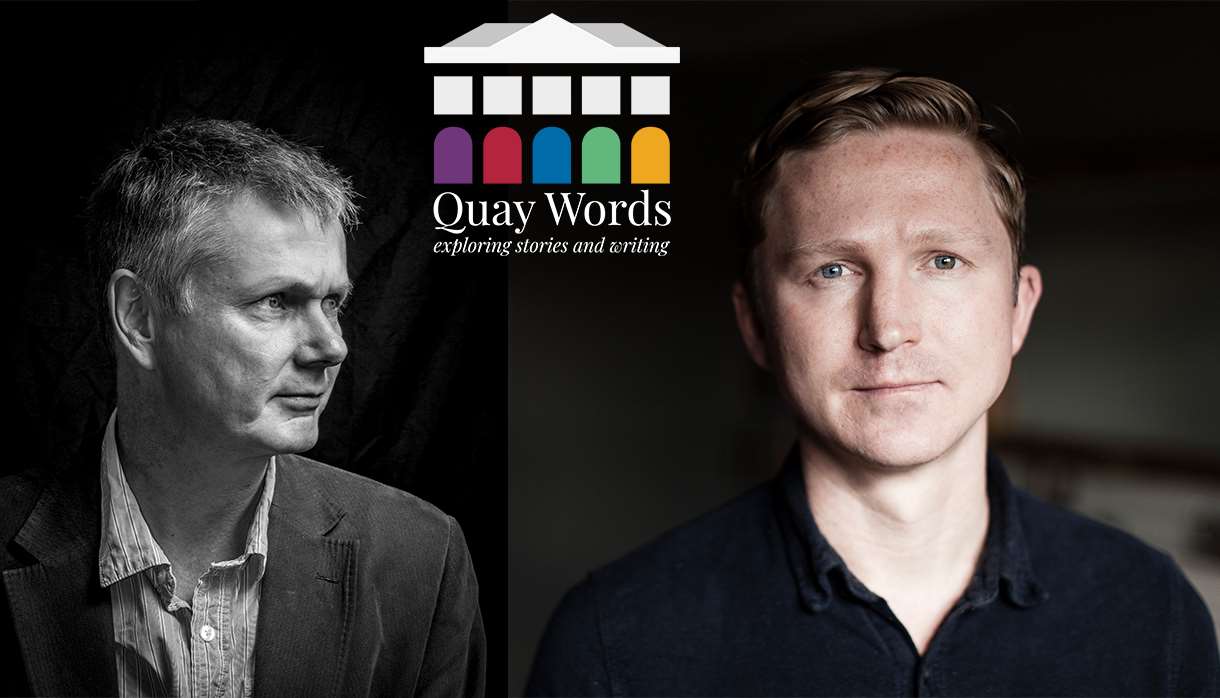 Matt has kindly agreed to give insight as to how living in the South West impacts his creative process and even provides some hints about what you can expect from the event.
You're reading at an event alongside Joe Dunthorne at Exeter Custom House this month as part of Quay Words Winter. What do you love about being a poet in Devon?
There's so much I love about living in Devon – the moor and the sea, great river walks, interesting towns, wonderful markets, and interesting people of wide-ranging views, of humour, imagination, stoicism and tenacity. And there's much I love about being a poet – I get to move words around until I'm satisfied they mean something and create some sort of effect.
I loved living in Devon when I was selling shoes in Conkers on Totnes High Street or teaching computer skills in adult ed. at the Mansion. I just love living here. And I love that I get to do this thing I love doing in this place I love living in. Poetry takes me all over the country – I do a lot of writing on trains and in cafes and lonely hotel rooms – and I have to say the best bit of all this travelling is coming home.
Your event is called 'Poetry Positive', can you tell us a bit about how you'll be bringing your brand of positivity to the Custom House and what's one thing that keeps you positive?
I'll be bringing a motley selection of verse from my latest book, Sit! – a collaboration with artist Claudia Schmid – and Where Earwigs Dare, alongside new poems that I feel fit the bill. This probably means poems about dogs, people, petty theft, vegetables and sperm banks, although I'm not making any promises.
I can't claim to have an especially positive outlook all the time, or even most of the time, but I prefer to celebrate rather than denigrate and much of my work seems to be an ongoing effort to cheer myself up. On a good day it can have a similar effect on others.
One thing that keeps me positive is my dog, Tess, who gets me out of the house and into weather and unexpected human encounters. She also shows more enthusiasm for my return home than the rest of my family put together, even when I turn up with a takeaway.
How does living in the South West impact on your creative process?
This feels like a new spin on question one which I answered so sincerely yet so evasively above. But I'll try to be more specific. It impacts firstly on what I choose to write about – over the years I've written a fair amount inspired by my home town of Totnes, frequently misrepresenting the town for comic effect. I am forgiven, mostly, for being essentially well-meaning. But I also think we have a slower, gentler pace and style of life round these parts and I hope this is reflected in my output too. Even though I'm frequently told I read too fast.
What's coming up next for you?
I have only a few gigs left this year, two days of work-related poems at Worktech19 Conference in the Queen Elizabeth Hall on the South Bank, and over to Bath Assembly Rooms for a turn at the Green Energy Awards. I'll wear my good shoes and smartest trousers.
The two biggest things are musical theatre related: A few days after Joe and I perform at Exeter Custom House it's the opening night of Rumpelstilzchen the German translation of Rumpelstiltskin the musical, my first musical theatre piece with composer Thomas Hewitt Jones. It's in Ahrensburg, Germany, on the 16th November, so please tell all your Deutsche Freunde. A week later we find out if our funding bid – for a new musical with Thomas – has been successful. Send positive thoughts!
Interview conducted by Michelle Phillips, Literature Works.
Related
0 Comments