There are just so many recipes to try from Exeter or inspired by our city and region, we had to create a second blog! Take a look at these delicious recipes and see if any take your fancy!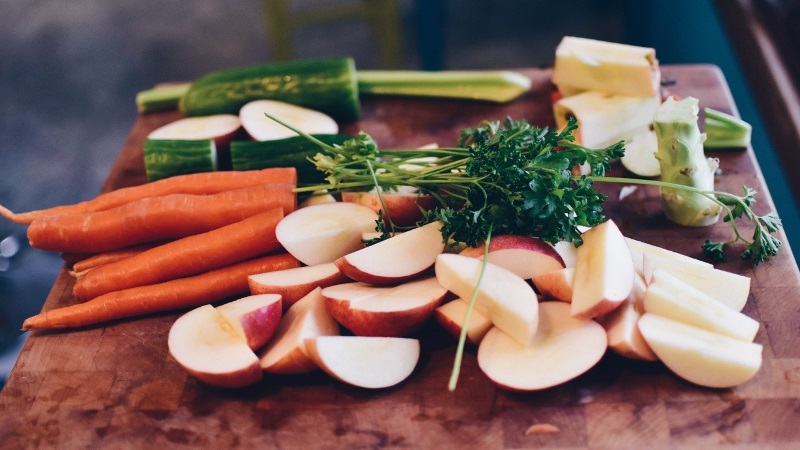 Goats Cheese & Red Onion Marmalade Straws – Quicke's Cheese
This recipe from Quicke's Cheese is perfect as a snack during quarantine – perfect your straw skills now ready for when you're able to have dinner parties again!
Ingredients:
200g Quicke's Goat's Milk Cheese, coarsely grated
2 x 320g packs ready-rolled all-butter puff pastry
200g red onion marmalade
100g pitted black olives, drained and roughly chopped
3 tbsp roughly chopped fresh thyme leaves
Method:
Preheat the oven to 200°C/180°C fan/gas 6
Place the puff pastry sheets (still resting on the paper they come in) onto two baking sheets
On each piece of pastry, cover with an even spread of red onion marmalade, then sprinkle with the olives, thyme and grated Quicke's Goat's Milk cheese
With the long edge of the pastry facing you, cut each sheet vertically in half
Horizontally, cut each half into 
10 strips

Twist each straw, grate over 
the Quicke's Vintage Cheddar, then bake for 
15-20 minutes or until golden and crisp
This recipe was sourced from Quicke's Cheese.
Rhubarb Pie
Dart's Farm is a family-run shopping village based in Topsham. Join their lifestyle and give this rhubarb pie recipe a go; a luscious sweet treat any time of day!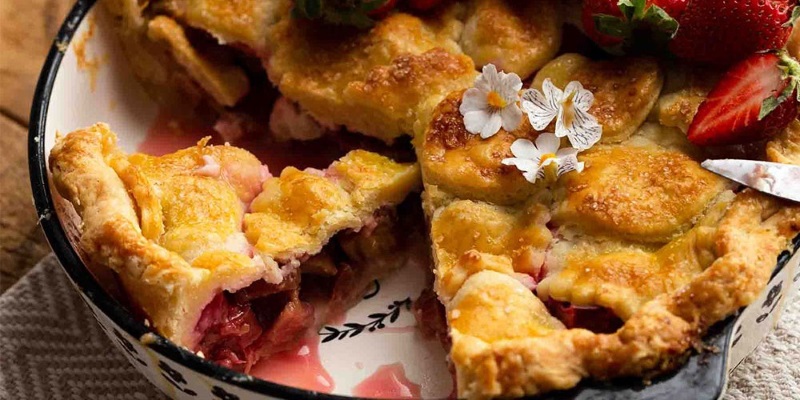 Ingredients:
For the pastry:
1 cup cold butter (226g)
2 1/2 cups all-purpose flour (300g)
1/2 tsp salt
1/2 tsp granulated white sugar
4-6 tbsp cold water
For the filling:
200g granulated white sugar
50g cup brown sugar
30g cornstarch
1/4 tsp salt
6 stalks of Darts Farm rhubarb
1 tsp Little Pod Vanilla Extract
1 tbsp butter
1 Black Dog Free Range Egg (for basting)
1 tbsp coarse sugar for sprinkling
Method:
For the pastry:
Place cold butter, flour, salt, and sugar in a food processor and pulse 4-5 times. Pea-sized butter flakes should still be visible. Add one tablespoon water after another and pulse 1-2 times after every tablespoon. Stop adding water when the dough starts to clump.
Divide pie crust into two halves and form 1 - 1.5 inch thick discs without kneading. Cover tightly with plastic wrap and refrigerate at least 2 hours or up to 2 days.
For the filling and constructing the pie:
Preheat oven to 190°C (375°F).
In a large bowl stir together both sugars, corn starch, and salt. Add rhubarb and vanilla extract and stir to combine. Set aside.
On a lightly floured surface roll out the first dough disc into a 12-inch circle. Transfer to a 9-inch pie dish. The edges of the pie crust should hang out of the baking form.
Add filling. Then cut butter into small pieces and put on top of the filling.
Roll out second dough disc and cut to your preference. Arrange pie crust on top of your filling and seal and flute the edges. Brush with egg and sprinkle with sugar.
Bake for 45-50 minutes. Cover after 20-30 minutes with parchment paper to prevent it from browning too much if necessary.
Let cool to room temperature and chill for 4 hours in the fridge. Store leftovers in the refrigerator up to 3 days.
For a flavoursome twist:
Add 1 teaspoon of orange zest to the rhubarb pie filling.
Sprinkle 1 tablespoon of lemon juice to give you a zesty flavour!
You can replace half of the rhubarb for sliced apples. Up to 300g of apples can be added to the rhubarb pie filling.
Top tips:
Allow rhubarb pie to rest after baking until it is completely cool. Then you can place it in the refrigerator.
Always use cold butter when making the rhubarb pie because that is what causes the flaky crust.
Before serving the fresh rhubarb pie allow it to chill in the fridge for at least 4 hours. This allows the filling to thicken up.
This recipe (and image!) was sourced from Darts Farm.
Coronation Brown Shrimp with Spiced Pineapple Chutney
Otter Vale Products is a Devonian and family-run company, based in Cullompton. Try this chutney-inspired dish!
Ingredients:
For the shrimp:
2 tbsp. Otter Vale Coronation Sauce
200g brown shrimp
2 tbsp. seasoned flower
1 egg, beaten
150g breadcrumbs
Vegetable oil, for frying
For the pineapple chutney:
1 tsp. fresh ginger
1 small white onion
1 red chilli
1/2 a fresh pineapple
100g granulated sugar
100g white-wine vinegar
Method:
For the shrimp:
Mix the Coronation Sauce with the shrimp to bind.
Place a sheet of cling film onto a work surface and spoon the shrimp onto it. Roll into a tight cylinder, secure at each end and freeze for two hours.
After two hours, remove the roll from the freezer and cut into four equal portions, removing the cling film. Roll each portion in the flour, dust off and dip into the beaten eggs, then coat in the breadcrumbs, missing out the flour. Chill in the fridge until you are almost ready to serve.
For the pineapple chutney:
Chop the ginger, onion and chili. In a saucepan add a splash of olive oil and pace over a medium heat. Add the chopped ingredients and sweat until soft but not golden. Finely dice the pineapple, season and add to the pan and cook down for three to four minutes.
Add the sugar and simmer until it is dissolved. Add the white-wine vinegar and simmer until the liquid is reduced to a syrup.
To serve:
Deep fry the breaded shrimp until a light golden brown, plate and serve with the spiced chutney.
This recipe was sourced from Otter Vale Products, belonging to River Exe Café and Taste of the West.
Fudge Tartlet
Roly's Fudge is well-known for its crumbly, sweet fudge. Originating in Devon over 30 years ago, the company makes fresh fudge every day in their independently-run stores.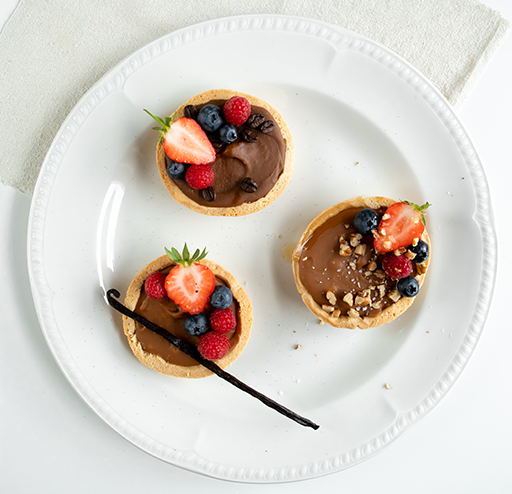 Ingredients:
Shortcrust Pastry (pre-bought or check out this recipe here)
300g Roly's Fudge of your choice (pictured are the Salted Maple & Pecan, Coffee & Cream and Vanilla Clotted Cream Fudge)
Method:
Preheat your oven to 180ºC fan bake.
Roll out your pastry and cut circles of the correct dimensions of your tartlet dishes. (We used 10cm diameter ones)
Carefully line the dish with the pastry, place baking paper on them and baking beans to blind bake for 10 minutes.
After 10 minutes, remove the baking paper and beans and let the pastry dry in the oven for a further 5 minutes.
Once the pastry is done let cool.
In the meantime heat a saucepan over medium heat and chop up the fudge and place in saucepan.
Once it begins to melt, make sure you stir constantly until it forms a thick smooth paste.
Fill each pastry lined tart dish with the filling and let set for 30 minutes to an hour.
Add your toppings and serve with ice cream or clotted cream, if you fancy something extra-sweet why not try drizzling some of our fudge sauce on there too, you can find a link to it here.
This recipe (and image!) was sourced from Roly's Fudge.
Hake with Salsa Verde
Rockfish is a popular restaurant chain in the West Country. Fresh, local seafood is served daily in Exeter, Exmouth, Plymouth, Torquay, Poole and Weymouth.
Ingredients:
2 hake steaks, 200-250g each
Spring onions, finely chopped, stick of celery, finely chopped
2 dill pickles, scrape out seeds, chop,
6 green olives, sliced,
Small handful of mint, chopped
Small handful of basil, chopped
Small handful of coriander, chopped
1 tbsp. white wine vinegar
Squeeze of lemon
2 tbsp. extra virgin olive oil
Method:
Set the oven to maximum.
Season the fish and put in a hot pan with a little oil for a few minutes and turn over when golden then put in the hot oven for about 5 minutes.
Make the salsa verde by mixing together the spring onion, dill pickles, celery, olives, mint, basil and coriander. Add in the vinegar, lemon and olive oil.
Put a good couple of tablespoons of the salsa verde on the plate and put the golden piece of hake on top. Finish with a tiny bit of lemon juice and sprinkling of sea salt.
This recipe was sourced by Rockfish.
Easter Leg of Lamb with Potatoes, Olives and Lemon
Green Dale Farm Shop is located in the heart of the East Devon countryside, with a family-friendly café, butchers and wet-fish counter on site!
Ingredients:
1 Greendale 2.4kg Whole Leg of Lamb (bone-in)
1 whole head of garlic
8 fresh bay leaves
3 large lemons, quartered lengthways and as many pips removed as possible
50ml olive oil, plus a further 4 tbsp. for the potatoes
1 tsp. ground cinnamon
1kg Charlotte Potatoes (or other waxy variety), peeled and quartered length ways
140g pitted green olives
125ml dry white wine (you can substitute hot stock if preferred)
Sea salt and freshly ground black pepper
Method:
First, heat the oven to 220°C (Gas Mark 7). Take the garlic bulb and pull it apart. Leave half of the cloves unpeeled, and peel and slice the other half. Take a large roasting dish and place the unpeeled garlic cloves in the bottom, together with three or four bay leaves and the lemon quarters. Cover them with 200ml cold water, then place the leg of lamb carefully on top. Drizzle 50ml of the oil over the lamb and rub it in well, then season generously with salt and pepper and scatter over the cinnamon. Use the point of a sharp knife to cut small slits all over the lamb skin, then push the slices of garlic and remaining bay leaves into these slits. Cover the lamb leg and its dish tightly with foil and put it into the hot oven, and immediately reduce the oven temperature to 150°C (Gas Mark 2). Cook for four hours, occasionally skimming any fat off the juices; remove the foil for the last 30 minutes' cooking time.
When the lamb has been in the oven for an hour, put the potato wedges into a separate roasting tin, then drizzle over the 4 tbsp. of olive oil and season well with salt and pepper. Give everything a good turn over to ensure the potatoes are coated evenly, then put the tray into the oven to roast alongside the lamb for one and a half (or up to two) hours. When the lamb has had its time and is cooked to your liking, lift it out of its dish and wrap it tightly in foil, then leave it to rest for about 20 minutes. Have a look at the potatoes to see if they are cooked – if not, turn the oven back up to 220°C (Gas Mark 7) for 5-10 minutes while you make the sauce. Take the dish you used for the lamb and place it on the hob, then add the wine or stock and the olives, stirring well. Bring to a simmer, then keep warm until you're ready to dish up. When the meat is rested and the potatoes are cooked, carve the lamb into thick slices and take it to the table so everyone can help themselves, together with the potato wedges and the olive sauce on the side.
This recipe has been sourced from Greendale Farm Shop.
Pear and Ginger Chutney
Try this chutney recipe a go, giving any dish a tangy Spring kick! Ben's Farm Shop sells high quality local meat and veg in Exeter's city centre, from Riverford Farm.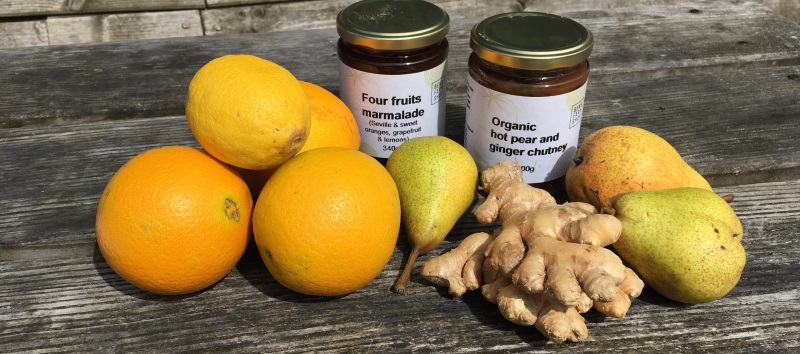 Ingredients:
270g apples, peeled
270mls cider vinegar
360g sugar,
180g raisins,
360g pears
225g onions, peeled
150g tinned chopped tomatoes
11g salt
68g ginger purée
9g garlic purée
1 tsp. chilli powder
Method:
Chop the apples, pears and onions.
Place all ingredients into a pan, bring to the boil and then simmer gently for 3 hours until the chutney is dark in colour, stirring occasionally.
Heat up jars in the oven, dishwasher or a hot water bath. Spoon the chutney into the hot jars, or use a jam funnel, and seal with wax discs and cellophane tops or tight-fitting screw tops to form a seal.
Leave to cool before storing in a dark cupboard.
This recipe (& image!) was sourced from Ben's Farm Shop.
Don't forget to tag us in your cooking pictures on Facebook and Twitter!
Related
0 Comments