Iconic Exeter pub The Hour Glass is revisiting historic West Country dishes as part of a menu showcasing the best of the region both old and new.
The Hour Glass, located at 21 Melbourne Street, just a stone's throw from Exeter Quayside, has always had a reputation as an excellent dining pub, particularly renowned for its Sunday roasts, hearty pub fayre, great steak and hand-cut, triple-cooked chips. Now alongside these familiar favourites, diners at The Hour Glass will also find the likes of Devonshire Dumplings, Scalloped Oysters, Devon Pork Pie and Exeter Stew… all heritage Devonshire recipes which have been given a new lease of life in one of Exeter's most atmospheric pubs.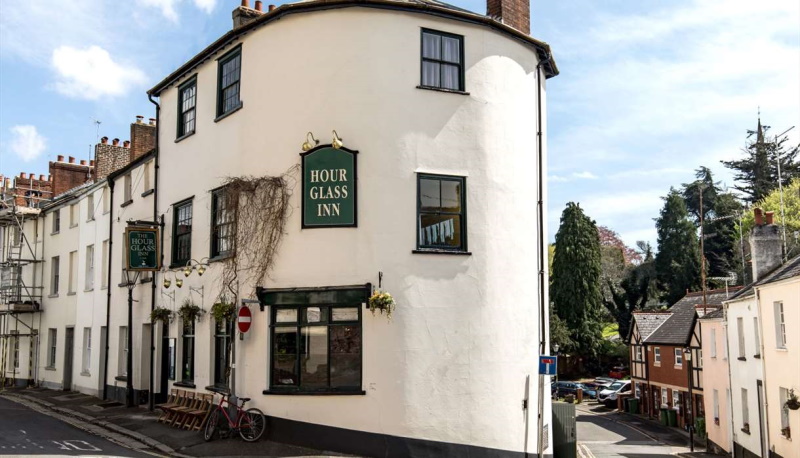 Over the past few months the kitchen team have been hard at work researching then reinventing forgotten recipes inspired by vintage cookbooks, magazine articles, menus and even old postcards. The result is a menu full of classic pub favourites that showcase the world-class suppliers within and around the city, alongside modern versions of heritage dishes paying tribute to Devon's local food history.
A great example of the new/olde Hour Glass menu is their version of the dish 'Devonshire Scallop':
"Researching this dish we found that a Devonshire Scallop didn't actually contain any scallop at all" explains head chef David Knapman. "It was instead a potato/cheese/mustard mix baked in a scallop shell. When we discovered the Hand Dived Scallop Company – a tiny outfit based out of Brixham sending us live hand-dived, in-shell scallops literally the day they've been picked off the seabed – we knew we had the perfect opportunity to revisit this dish. Our version now includes the delicious potato/cheese/mustard base, but we top it with one of these incredible Brixham scallops, simply roasted in a pan and finished with a sauce made with many little secret things including the scallop roe, which has been cured and smoked, and a tipple of cider brandy."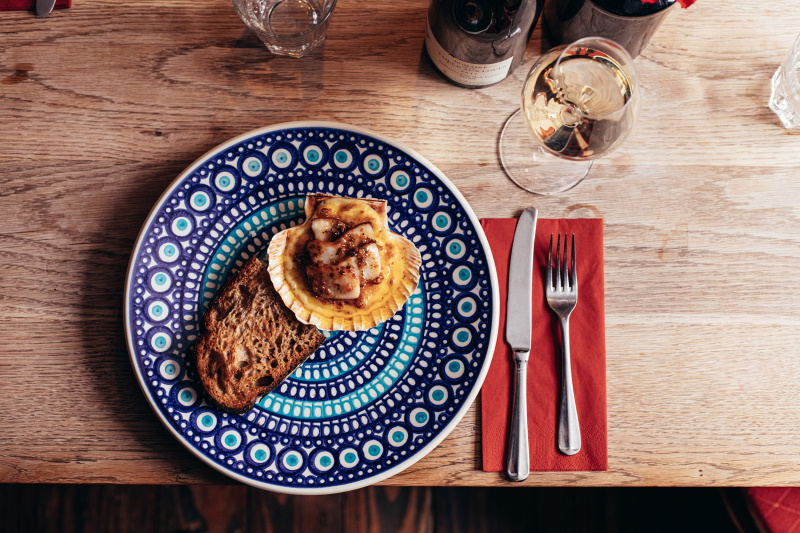 Seafood isn't the only item on the menu. The Hour Glass also works extensively with local organic veg supplier Shillingford Organics along with many other nearby farms to source outstanding lamb, beef, chicken and pork. "The beef for our steaks is reared on Dartmoor and the flavour is simply outstanding," says David. "We're so lucky here in the West Country to have so much available on our doorstep. Even the potatoes for our chips come from Devon."
The Hour Glass is one of Exeter's most historic pubs, dating back to the 1840s and still retaining many of its original features. Its quirky décor, many nooks and crannies, and the friendly staff give the pub its unique atmosphere and spirit of warm welcome. After a brief period of closure it was taken over by Exeter Brewery and reopened in 2021.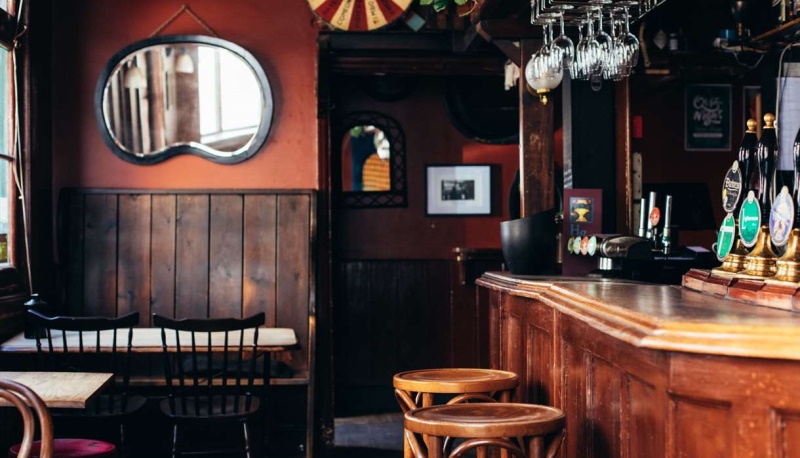 "The Hour Glass has always been my favourite pub in Exeter," says Exeter Brewery and Hour Glass Managing Director Alan Collyer. "For me it's a labour of love. As well as being a great drinking pub - with a wide range of real ale, fine wines and spirits - it's consistently had a great reputation as a place to eat well. With its own rich history, The Hour Glass is the perfect place to celebrate local food and local food history. It's such an old world, atmospheric pub, it has a great kitchen and it's a business that is already extremely rooted in its locality."
The Hour Glass is open for dinner Wednesday to Saturday and lunch Friday to Sunday. Further details, menus, bookings and more are available at www.hourglassexeter.co.uk.
Related
1 Comments