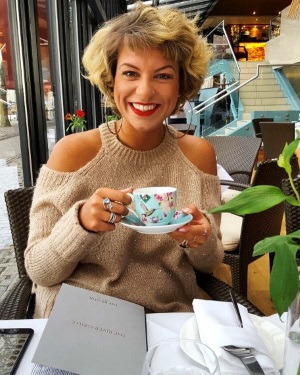 Hailing from Devon, but now a Bristol-dwelling lass, Natalie Brereton is a local food blogger who is passionate about seeking out delicious independent places to eat and drink in the South West. Here she tells us about her favourite city eateries...
The Old Firehouse
I always make this my first pit-stop for when I am back in the homeland of Devon. It is a fantastic venue in which to meet up with friends for casual drinks or food. The medieval style pub is rustic and quirky, lit up with candles. It is cosy, atmospheric and I enjoy the sound of endless chatter from the groups that have gathered here for the evening. The small courtyard is always bustling with punters. The food is all about solid pub grub; home-cooked hearty dishes at reasonable prices and let me TELL YOU ABOUT THEIR PIZZAS. These bad boys are huge, great for sharing and delicious – there are over 19 different choices on the menu to choose from and the best part? They are served until the early hours; it totally beats that late night kebab.
The Exploding Bakery
Two lads with a love of food and baking opened this joint together and what a treat it is. Paving the way for Exeter independents; this bakery has a small café space to the side of it, so you can watch the guys lovingly prepare their cakes on site. All made with simple, honest ingredients and none of the rubbish stuff. Passion is what drives this team and they also serve up savoury treats and coffees throughout the day. The café is small and quaint but anything you order you can take away with you to enjoy. It's definitely worth checking out.
Al Farid
A forgotten gem within Exeter's city centre has to be Al Farid. Tucked away in the corner of the Cathedral Green, this is a Moroccan mezze bar and restaurant. This intimate but charming venue is packed with character. Once you enter you are transported to what could be Morocco itself. The interior is quirky with lanterns adoring the ceilings, shisha pipes and comfortable seating with rugs and drapes everywhere.
If you have not tried this sort of cuisine before, then the menu has plenty of choice for you to get stuck in, whereas if you want a bit of everything the mezzes are great value and perfect for sharing. If you are a fan of this type of food, the menu is sure to please, with plenty of authentic Moroccan dishes on offer. Not only will you be going out for dinner if you visit this place, it will be an experience of another culture.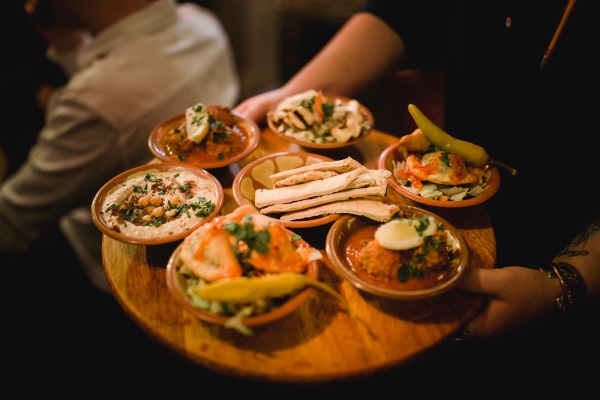 No 1 Polsloe
I have been waiting a very long time for something to arrive in Exeter like the No 1 Polsloe Café and now my prayers have been answered. I have watched establishments come and go from this space on the corner and couldn't help but think that for the right business, it would be a perfect fit. Enter Rebecca and her small team. I have shamelessly stalked No 1 Polsloe's Instagram feed with delight; taking in the sights of beautifully presented dishes and their hand crafted cocktails.
The café itself is cosy and charming and utilises the space it has well; think long wooden benches with cushions strewn across them to take or leave, quirky décor, plants and funky ornaments. The menu is varied with lots of different options; whether you want a lighter bite or full meals there is more than enough here to choose from. Open throughout the day and into the evening, this kitsch café is the perfect place to come with a group of your girls, with family (I came with my Mum – we both loved it) or if you want to get your head down in a creative space. The staff are wonderful and nothing is too much for them.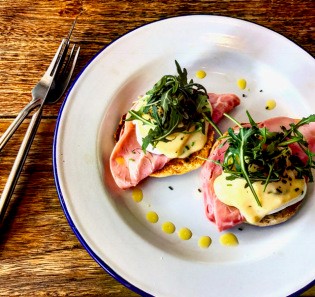 The Salutation Inn, Topsham
If you are a food lover and want a truly special fine dining experience then The Salutation is a must. Situated in Topsham, the restaurant is famous for creating dishes and tasting menus that take the diner on a journey through their palette. Offering weekly changing tasting menus; you have the choice from 4, 6 or 8 courses with the option to adjust a menu to suit your requirements if you so wish. Chef Tom William—Hawkes (formerly of Gordon Ramsey's Hospital Road and Michael Caines' Gidleigh Park) heads up the kitchen here and creates French influenced plates for you to enjoy and if you want to go all out, you can select the wine flight to accompany your meal.
The restaurant here is much more of an experience than just a dinner. However, if you are after something a little less formal, The Glasshouse Café is open for breakfast, light lunches, afternoon teas and Sunday roasts. The 'Fizz Friday' deal is also ever popular, and a lovely start to the weekend in a lovely setting. The Salutation also offers beautiful accommodation, if you want to turn your gastronomic adventure into a delightful stay as well.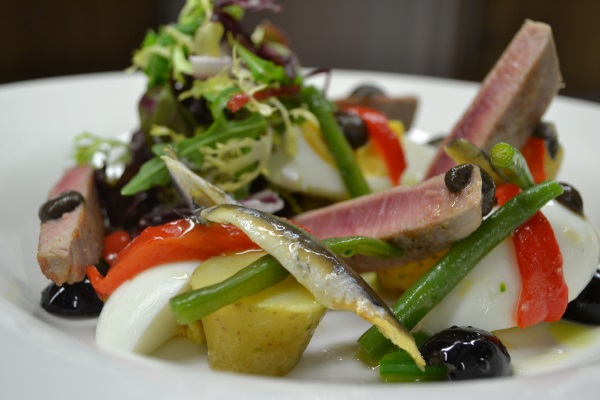 Meat59
Relatively new to the Exeter scene but impressive nonetheless is Meat59. Family tag team Jenna and her brother-in-law Vince opened their first Meat59 in Torquay in 2014. Jenna, a fond food-lover (my kind of girl) and Vince, who worked in the army as an apprentice chef, had always wanted to open their own place, after Jenna discovered that the street food scene was becoming popular in London.
Meat59 source their beef and pork from local and award-winning Gribbles Butchers in Devon and hand press their patties daily in the kitchen. The secret recipe buns are baked in the Crusty Loaf bakery. Meat59 has (pleasingly) a rather different burger menu than I have encountered before, with some lip smacking combinations. I'd highly recommend the original 'Meat59' burger and the dirty fries.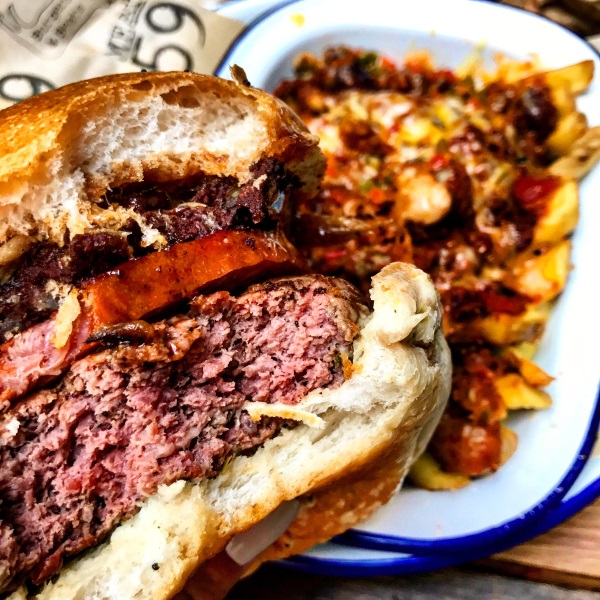 The Oddfellows
The Oddfellows has been a firm favourite of mine since its arrival within the Exeter food and drink scene. An independent restaurant and bar, expect to find a menu of classic English dishes with a twist, all created with locally sourced ingredients in an open kitchen. Menus change quarterly with the seasons and the specials board is different every week in order to showcase what produce is at its best.
Not only do these guys do food incredibly well, they have plenty of beverage choices with their hand-picked wine selection and variety of continental beers. However, the show-stopper at Oddfellows Exeter has to be their speakeasy cocktail lounge situated upstairs. The ethos here is simple; to create fantastic drinks using quality ingredients and embrace experimenting in order to create the perfect cocktail to suit your taste. You will not find any boring, bog-standard, watered-down refreshments here.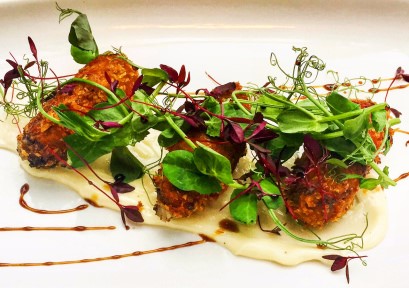 On The Waterfront
No matter how long I have left it, I always return time and time again to On the Waterfront on Exeter's beautiful quayside. For me, they have been banging out the best pizzas in the city for as long as I can remember. In a casual setting situated right on the waterfront, I have many happy memories of sitting in the sunshine and enjoying great quality dough in the company of my family and friends.
There are plenty of pizza options to choose from and you can always go half and half with toppings if you really can't decide (trust me with all the delicious options it can be quite difficult to choose a favourite). I think there is a reason this establishment has been going on for as long as it has. Not only can you indulge in delicious pizzas which are extremely reasonably priced; The Waterfront has a sense of community and its loyal Exeter following speaks for itself. This is the perfect place to while away those summer days.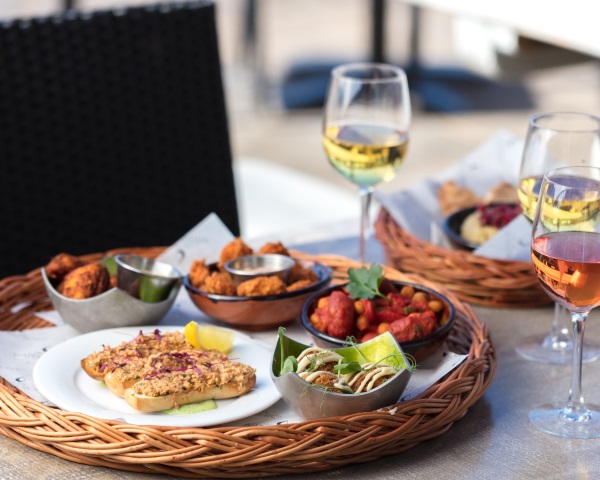 Rendezvous
At the risk of sounding like a 90s RnB crooner, Rendezvous is for the grown and sexy amongst us. This hidden gem is a stone's throw from the city centre and is an intimate basement wine bar and restaurant in one. Think low lighting, stone walls and warm interiors; this is the perfect place to come to enjoy some seriously good vinos which have been hand selected from around the world or a special dinner with daily changing menus.
Again showcasing the best in south west produce – this is a lovely date night pick as it is sure to impress. It is worth noting that they also have a great secret garden hidden out the back for the summer months, a perfect oasis away from the hustle and bustle of the centre.
Darts Farm
Recently awarded 'Best Farm Shop in the UK' at the 2016 Farm Shop and Deli Awards, Darts Farm is a place to shop, eat and drink. What started out as a humble working farm 40 years ago is still going strong today and the farm shop champions the finest in South West produce, whether it is locally grown, baked, reared or caught. It is worth paying a visit just to go and peruse the vast selection of goodies on offer from a huge range of suppliers all under one roof.
They also have a deli bar and butchers, or if you are after something a bit more formal there is an onsite restaurant. One of my personal highlights of Darts is the 'Fish Shed' – it is one of my favourite places in Devon to go and enjoy a classic fish and chips dinner. Everything is caught locally and if you are interested in where the fish has come from, just ask and the staff will be more than happy to indulge you. Lobster anyone?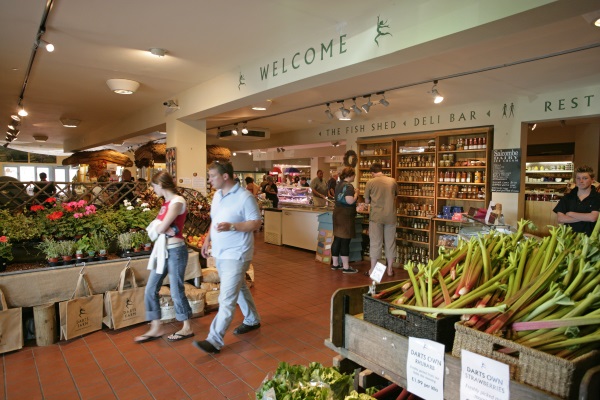 Visit Natalie's blog at https://stuffed265.wordpress.com/
Related
0 Comments