When the sun graces the beautiful city of Exeter, there's something idyliic about indulging in al fresco dining. In celebration of National Picnic Week, we invite you to discover the incredible outdoor locations scattered throughout the city. Exeter boasts a vibrant café culture, with numerous venues offering outdoor dining options so if you are not quite up for a basket and picnic rug, you can still enjoy the great outdoors in the heart of the city.
Green spaces
For an authentic picnic experience, seek out one of Exeter's many green areas. Cathedral Green provides a picturesque setting with its sunny patches and shaded spots beneath trees or the Cathedral itself. Just off Queen Street, you'll find Northernhay Gardens, the oldest public open space in England, and adjacent to it, the serene Rougemont Gardens, offering a leafy retreat where you can lay out your picnic spread.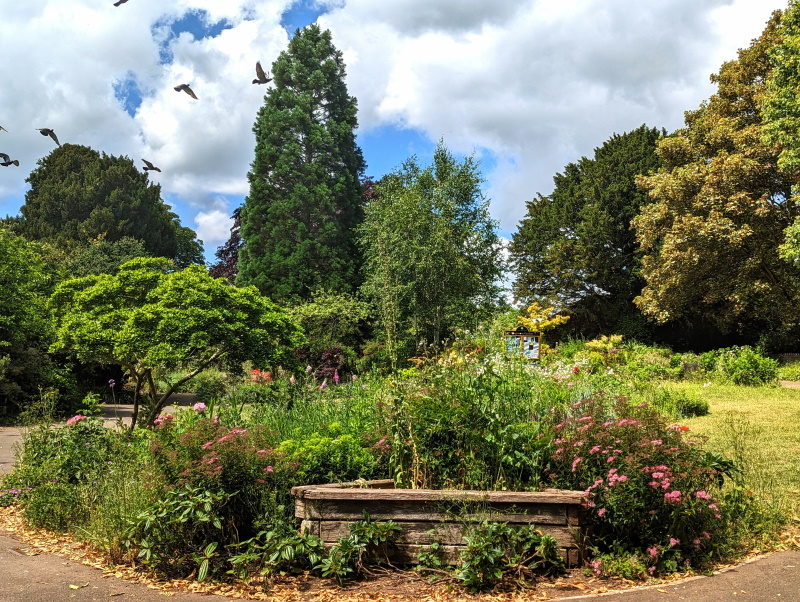 Check out more ideas for places to picnic in our blog: 13 picnic spots in Exeter - Visit Exeter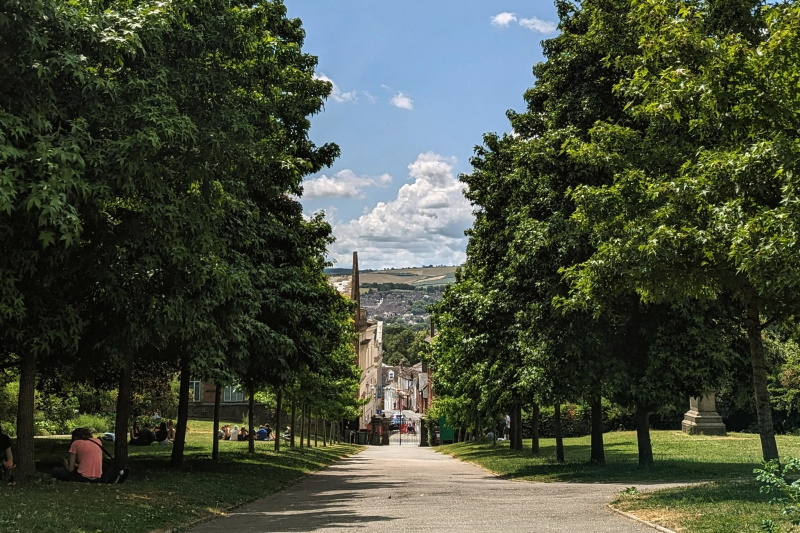 Picnic Provisions
Now that you've found your perfect spot, it's time to decide on the culinary delights to grace your picnic basket. If you want more than a takeout to enjoy, Exeter can offer you the picnic works!
1. Between Bread: A newcomer to Exeter, Between Bread is renowned for its award-winning sandwiches. From the mouthwatering Cubano, featuring slow-braised sticky pork shoulder, to the signature Grilled Cheese or Vegan Panko Fried Crispy Cauliflower, there's a filling between bread for everyone. Not to mention tasty traybakes for that sweet treat.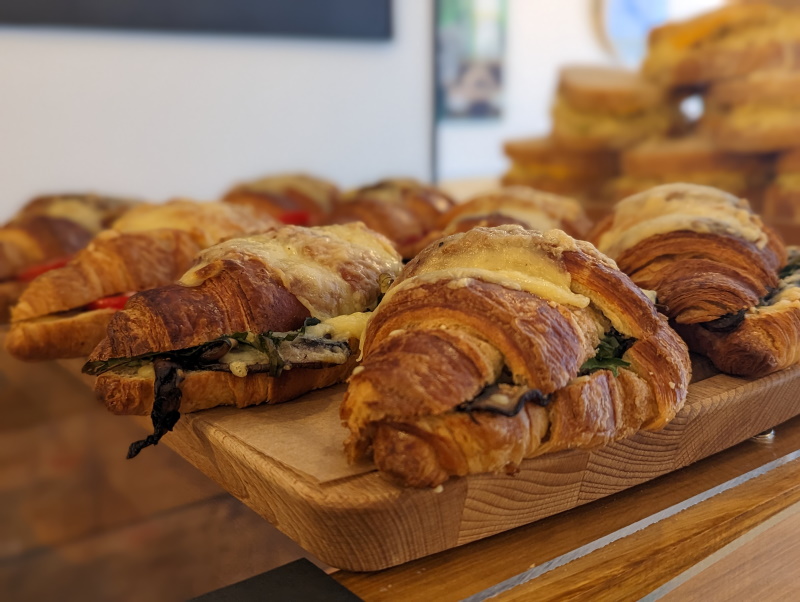 2. Bon Gout Deli: Established in 1987, Bon Gout Deli is a treasure trove of gastronomic delights. This Aladdin's cave of high-quality food offers a wide range of handcrafted items, including quiches, scotch eggs, frittatas, brownies, salads, sandwiches, pasties, pies, and much more, all locally sourced and globally inspired.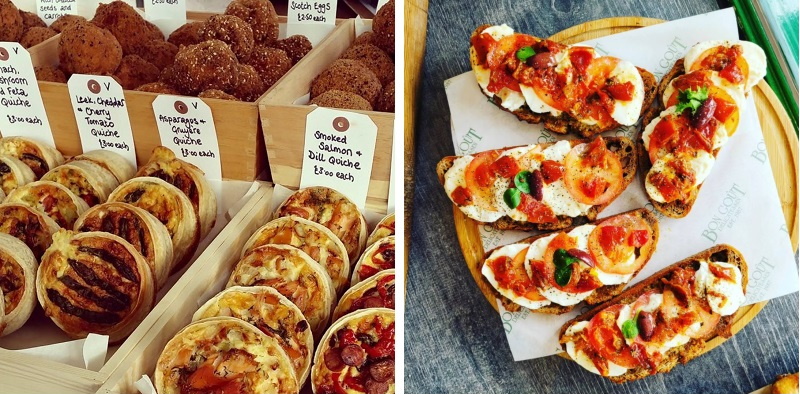 3. Chandos Deli: Known for sourcing authentic produce from around the world, Chandos Deli in Princesshay is a haven for food enthusiasts. Their selection includes local farmhouse cheeses, fine charcuterie, antipasti, homemade cakes, fresh bread, and refreshing drinks. Their freshly prepared, award-winning sandwiches and sweet treats are perfect for an on-the-go picnic.
4. Daily Bowl: Located at Exeter Central Station, Daily Bowl is a plant-based community cafe with a mission to nourish through wholesome, locally sourced, seasonal menu items that prioritize gut health. Their lunchtime bowls are a must-try, featuring sumptuous flavors from South-East Asia, South America, Sri Lanka, and India, curated to give your gut the respect it deserves. Indulge in their delicious plant-based combinations and embrace the vibrant tastes of their offerings. Best of all, their takeout packaging is fully compostable so friendly to the planet.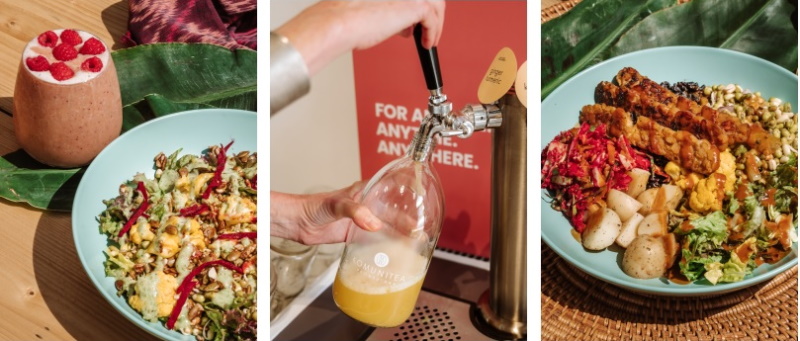 5. How On Earth Deli: Exeter's first plant-based delicatessen, How On Earth Deli proudly serves 100% vegan and homemade dishes. With a passion for great-tasting food, they specialise in creating exciting and affordable plant-based options. Prepare to be amazed by their range of meat alternatives that will leave you exclaiming, "I can't believe this is plant-based!". Their counter offers a selection of meat alternatives as well as dips and salads in all the colours of the rainbow.
6. Magdalen Cheese and Provisions: A cheese and local food specialist run by Rachel Howe and Jacob Hicks. Their mission is to source and sell the best traditionally made cheeses and accompaniments and give them pride of place on the modern table. Cheese is the heart of their business – cheese is selected on a weekly basis, going by what's tasting the best at that time. This responsive way of buying cheese means everything is at its peak when it arrives in the shop. Outside of the cheese counter, you'll find shelves stocked with all sorts of goodies that pair with it. From rare UK grain crackers and sourdough bread, traditionally made pickles and ferments to organic, unhomogenised milk, whey butter and eggs. Charcuterie from Somerset to Piedmont. And, most recently, a small but carefully selected range of natural wines, ciders and beers.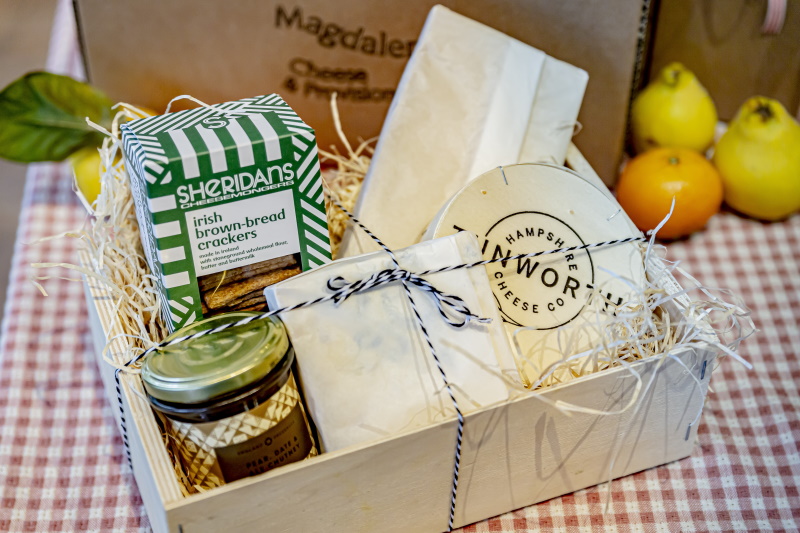 With your picnic basket filled with delightful culinary delights, it's time to head to your favourite spot in Exeter and embark on an epic al fresco dining experience.
So, whether you are reclaiming your lunch break or making a day of it in the city, grab your friends and savour the flavours of Exeter.
Fancy sitting and watching the world go by instead?
Sidwell Street
Sidwell Street, the heart of Exeter's bustling cafe culture, transports you to a vibrant Mediterranean-like street, teeming with flavours from around the world. As you walk along Sidwell Street, you'll find restaurants and cafes with bistro seating, where diners can savour their meals while basking in the sunshine. Zukis Restaurant, Aris Healthy Life Store are a great starting point.
Princesshay and Roman Walk
During the summer, a visit to Princesshay is a treat. Keep an eye out for their "village green" in Princesshay Square, adorned with bunting and featuring a 'grass' lawn and picnic benches. If you prefer a quieter and more secluded spot, head to Roman Walk where on the other side of the wall you will discover a grassy common with picnic tables perfectly suited for a relaxing outdoor meal.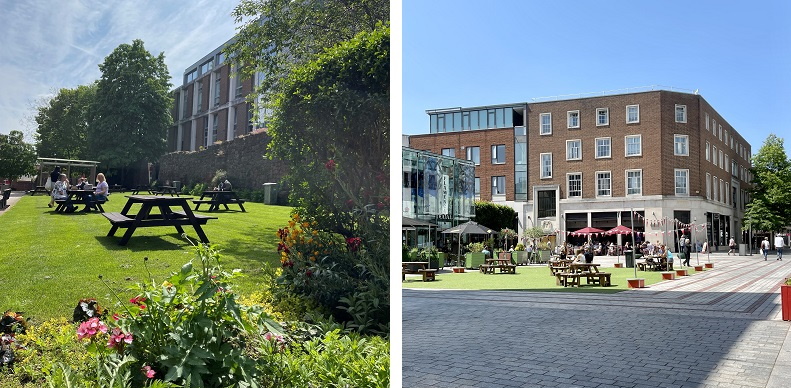 The crescent of Queen Street
Queen Street greets you with a row of eateries and their delightful outdoor dining setups. Think incredible coffee and sumptious sausage rolls at Exploding Bakery, or a bowl full of sunshine at Daily Bowl.
Glorious Guildhall
Take a moment to explore Guildhall Shopping and Dining, where you'll find the Food Quarter with its amphitheatere-style seating surrounding St Pancras Church. With mini tables lining the area, you won't even have to eat off your lap!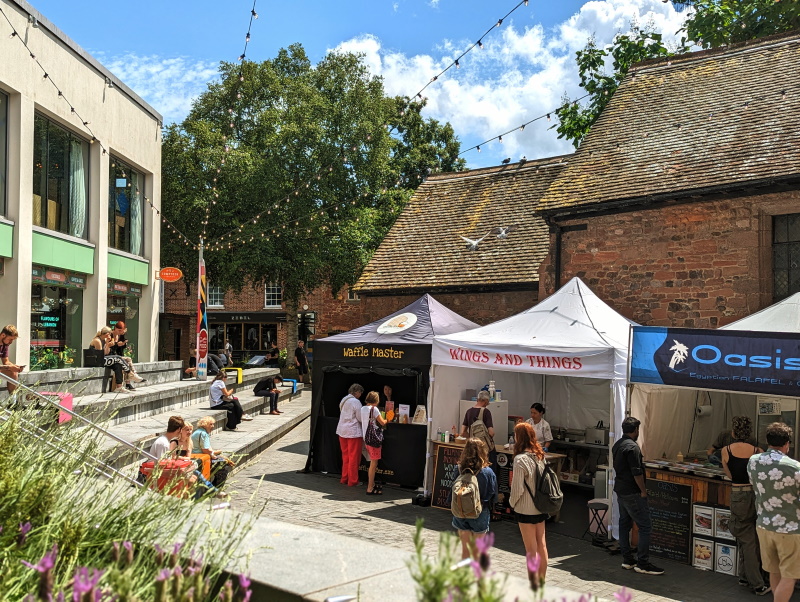 Related
1 Comments