Jayne Oliphant-Thompson of Kenton Park Estate tell us more about their Cheeky Gin gin...
When you taste "Cheeky Ginny", Kenton Park Estate hope you experience how the flavour of their Gin captures the FUN spirit at the Estate.
Why did we create our own Estate Gin ..... Because we love gin just as much as anyone else! But more importantly because we wanted to create another product for our collection (not just sparkling wines and still wines) but one that contained the herbs that we grow here in the Estate's very own herb garden.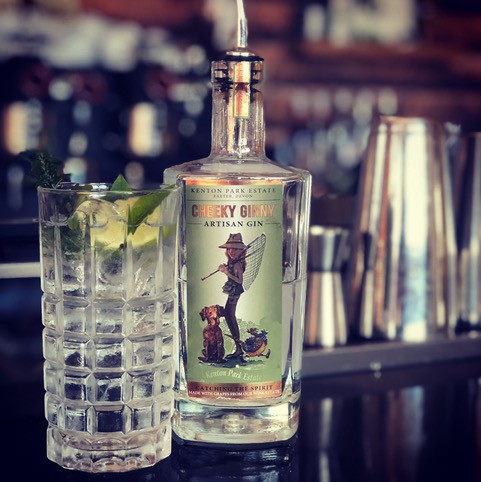 So when walking around the herb garden in the the early summer of 2019 when the scent from the lavender was incredible and the rosemary was starting to flower, the thought of creating a gin infused with our own herbs became very appealing. Fennel was popping up everywhere and the liquorice scent from the fennel was quite intoxicating.
Health tonic
We loved the idea that we could create a drink that contains so many incredible botanicals - a health tonic almost!
Aromatic
When we discovered that we could also make a gin that includes the aromatic grapes from our vineyard, we were ecstatic with excitement. Our grapes are chargrilled with the honey from our very own bee hives which sit at the bottom of the vineyard.
Throw in our own fresh tarragon and fresh basil, with cardamom, cinnamon, goji berries, angelica root, English coriander, juniper berries, dried orange and grapefruit peel and it all combines beautifully to create a knock-out combination that certainly packs quite a punch at 44% ABV.
Having decided to make our own unique gin, we couldn't wait to create the label that would reflect life here on the Estate.
The Cheeky Ginny character was created by cartoonist Bryn Parry to reflect our love of our lifestyle here in the outdoors and the image of Ginny fishing from the island in the middle of the lake here in her fishing gilet, fishnet stockings and Fedora hat really catches the fun spirit of life on the wild side here at Kenton Park Estate, where our vineyard dogs (all three of them) enjoy nothing more than chasing the pheasants who roam freely in the vineyard stealing the grapes!
Fame & glory
Cheeky Ginny doesn't seek to obtain any fame or glory or indeed any awards, and maybe because of that it has developed a group of loyal followers who seem to have made it their mission to promote it for us and incredibly it is currently SOLD OUT until we get the next batch underway.
However we don't want to produce it in mass quantities as we want to keep it as a truly Artisan Gin, crafted slowly without the need to rush to ship it across the globe far and wide, so you won't find us on the supermarket shelves or in other stores.
Serving suggestions
Delicious served on its own simply with ice to experience the purity of flavour.
We love Cheeky Ginny when served with a platter of several different fresh herbs that we can pick & choose from depending on our preference that day - so plenty of fresh mints (Moroccan mint, apple mint, chocolate mint, spearmint) along with sprigs of rosemary & lots of lavender.
When you taste it, we hope you experience how the flavour of the gin captures the fun spirit felt here at Kenton Park Estate.
Gin glass
It's not just about the gin, it's also about the gin glass you use to enhance the overall experience and we love the unique designs on the gin glasses available to buy from our online store.
Order online
You can order our gin online and we will send it out to you in a gift bag as soon as the next batch of gin is ready.
Smokin Ginny
Watch out for our NEW gin soon to be released ... "Smokin Ginny".
by Jayne Oliphant-Thompson, Kenton Park Estate - https://www.kentonparkestate.com/post/cheeky-ginny-kention-park-estate-s-gin
You can also see a variety of other topics covered by Kenton Park Estate here!
Related
0 Comments