We have put a guide together with some amazing things for you to do, to get you all out and about and active during your Exetercation!
In and around Exeter...
Take inspiration from previous Visit Exeter blogs, for outdoor activity ideas: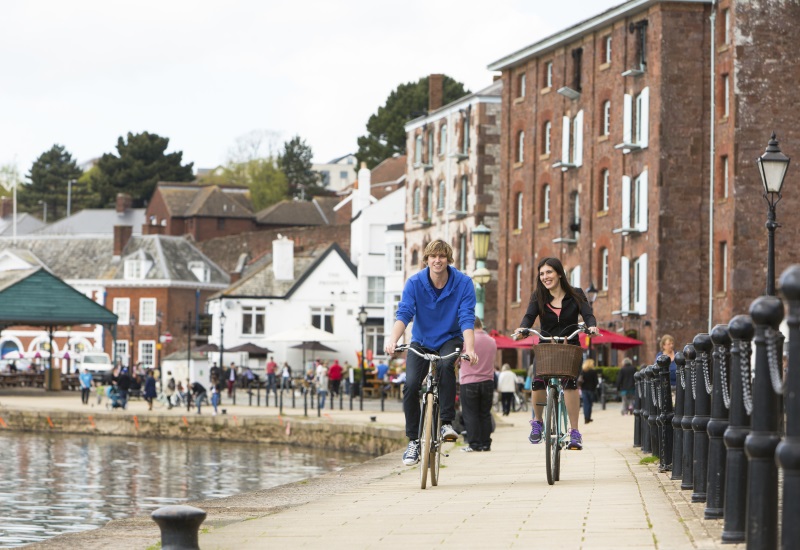 Fitness groups, sport pitches and courts
Sport Pitches and Courts
There are many sport pitches and courts dotted around the city in some of our parks and open spaces... tennis courts, skates parks, playing fields, bowling clubs etc. To find out what we have on offer please click here!
Heavitree Park boasts a full basketball court and there are Multi Use Game Areas at Kinnerton Way, Buddle Lane, Lancelot Road, Summerway, Kings Heath, Dryden Road, and Lakeside Avenue
Exeter City Community Trust's Summer Programme
Exeter CITY Community Trust are proud to present their Summer Sport Spectacular, five weeks of amazing holiday clubs from Tuesday to Thursday in Exeter and Exmouth! These days will run from 9:30am to 3:30pm.
The sessions are perfect for children of any ability, aged 5 – 14 years old, and include football skills sessions, multisport activities, plenty of fun competitions. All sessions are compliant with up-to-date government guidance to make sure everybody is safe. Click here for more information.
Freemoovement
Do you want to get back into fitness? Then why not join Freemoovement? Freemoovement is run by a group of people who motivate and support each other to get fit and improve their health. They achieve this by making the most of Exeter's local parks and open spaces with some very simple fitness kit and smiles on their faces!
Everyone is welcome to come along and take part, no matter what level you are capable of. There is no expectation for you to be a super star, just sign up, turn up and get moving.
Freemoovement aims to support and motivate you to get fit. If you want to get involved and be part of a healthier, happier and more supportive community then please register here.
Devon School of Fitness – Topsham Playing Field, Topsham
Devon School of Fitness are starting "Bootcamp Fitness" a fun outdoor fitness class at Topsham playing Fields on Thursday 7 August. Every Thursday 6.30pm to 7.30pm. Run by former military instructor, Wayne Sibthorpe of DS Fitness who has over 25 years' experience in the fitness industry.
First two classes are free, then a cost of £20 per month paid via the website. Please bring water and suitable training attire is required. All levels welcome. Please do turn up early if its your time with us as we will need you to fill out a medical and Covid 19 form. For full details and how to register please click here.
Outdoor Yoga with Yoga in the Garden – Bell Isle Park
Wendy is a 500Hr qualified Yoga Teacher in central Exeter. She runs a small studio from her home, but have recently embraced teaching small groups of students outdoors in Exeter's beautiful open spaces. As we move forward, she hopes to reopen her studio under government guidance, whilst still offering outdoor classes to families, groups and individuals. She is happy to discuss the needs of the group/individual and plan a yoga class accordingly, at a time and local venue to suit you both. She particularly love teaching teen, children and family yoga classes as well as more traditional holistic yoga classes for adults.
Over the Summer period, she will be updating my social media pages with pre-arranged class times and venues, and students can post questions or request to book simply. Visit Wendy's Facebook and Instagram accounts or contact her by email: herbstwendy@hotmail.com.
Related
0 Comments