It looks like summer is over for another year, but the change in season brings more fun and exciting things to look forward to in Exeter this autumn.
There are many family friendly things to get your teeth into this October half term from Halloween events, to sports and crafty activities, there is something for everyone.
Here are our top 16 events and activities happening in and around Exeter this October...
1. Halloween at Crealy
Pop down to Crealy this Halloween for their biggest 'spooktacular' event ever. Lots of Halloween fun, games and activities will be going on, as well as all the usual rides and attractions. Don't forget to check out the Scarecrow Scaremaze, The Creaky Hotel, The Treehouse Trolls and free pumpkins, amongst other Halloween treats. Stay on in the park on the 27 and 28 October for Crealy's epic annual firework display. Selected rides will also remain open until late and a DJ will be live from 5pm to make the event extra magical.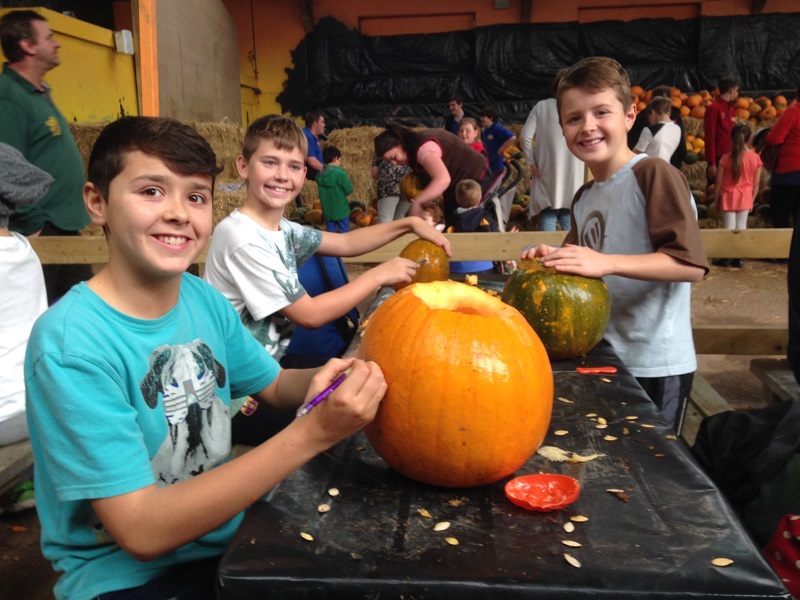 2. Exetreme Imagination Festival
Let your imagination run wild this October with the Exetreme Imagination Festival – the festival that aspires to develop and share young people's passion for writing. Taking place between 20 – 27 October, Exeter University and other Exeter based arts and culture organisations have collaborated to bring yet another exciting programme of events aimed at young people, age 2 to 25.
3. Exeter Red Coat's Spooks & Broomsticks Tours
Throw on a scary costume on Halloween and come and join in on all the free spooky fun with Exeter's Red Coat Guides annual Spooks and Broomsticks tour of the city on 31 October. Tours include visiting Exeter's most haunted sites and ghost stories of hauntings that have happened in Exeter throughout history. Tours start at 6.15pm from the Richard Hooker statue on Cathedral Green. Last tour 7pm.
4. Witches and Wizards Halloween Tours at Exeter's Underground Passages
Visit the Underground Passages this half term between 20 – 28 October for some spooky fun! Hidden in the passages are lots of creepy ingredients that witches and wizards would use to make spells. Look out for the picture clues as you travel through the passages and remember as many as you can. At the end of your tour, write the ingredients down and invent the creepiest spell you can and tell us what the spell could do! The best, most original and scariest spells in each age group will win a fabulous prize at the end of half term. Suitable for children aged 5 to 14.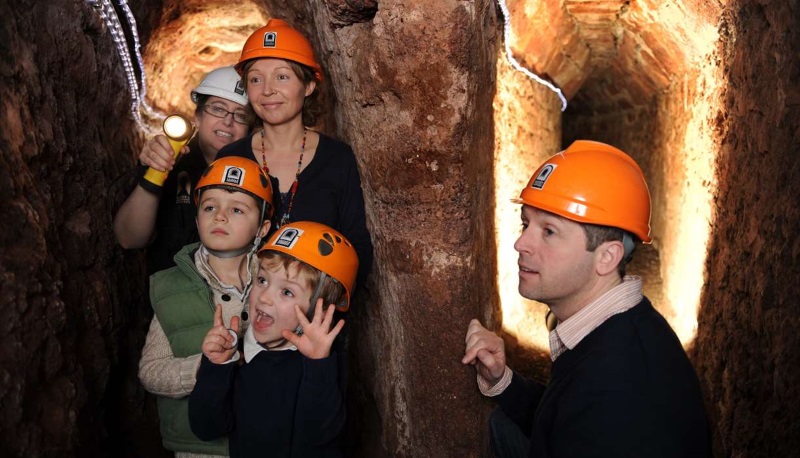 5. October Half Term events at RAMM
There are lots of fun, family events happening over at the RAMM this October half term, with something for all the family to enjoy. Here are some of the highlights on offer:
A Night time RAMMble - Museums at Night - For one night only experience the magic and mystery of RAMM after hours. Explore the museum by torchlight, discover hidden gems and learn about some of the fascinating objects in their collection.
Discover Arts Award at RAMM - Achieve your Discover Arts Award with museum guide Alfie the Sparrow. Take part in arts activities, learn about artists and their work and share your discoveries with others. £5 to participate and price includes an activity booklet, certificate and badge.
Gerald Makes Friends - An exciting chance to take part in a British Sign Language storytelling workshop, suitable for all ages, offered in both BSL and English. This is a wonderful opportunity to come along and have fun telling stories about the RAMM's favourite animals including Gerald the Giraffe.
Ancient Egyptian Activities - Help with the mummification of Shep en-Mut. Have a go at the addictive game of Senet. Join the Scribe School and learn how to write hieroglyphs.
Half term gallery handling sessions - Volunteer guides will help you to explore and handle authentic and replica objects. Handling sessions include the Second World War (Tue 23 Oct), World Cultures (Wed 24 Oct) and Explore Roman Devon (Thu 25 Oct).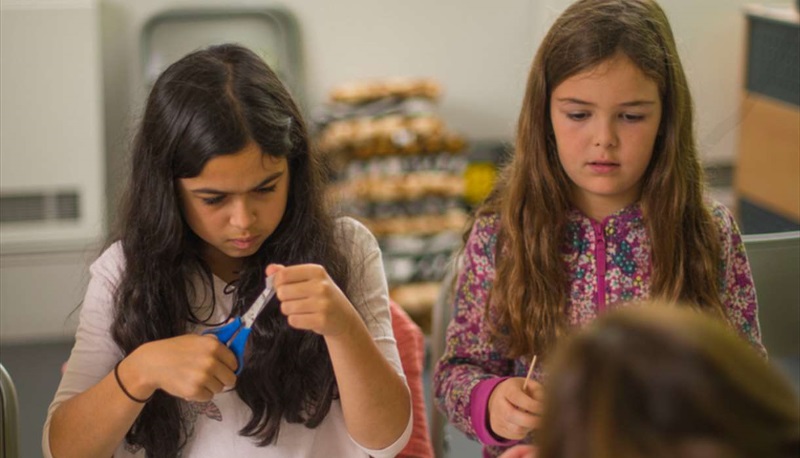 6. Tricks & Treats at the Donkey Sanctuary
Have a scream this Halloween with the trick or treat trail, pumpkin carving and brave the bat beacon if you dare! With yummy treats and the odd trick, there is 'spooktacular' fun for all to be had at The Donkey Sanctuary this October half term.

20 - 31 October 9am - 5pm: Trick or Treat Trail. £3 per trail including a prize on completion.

22–28 October, 11am - 3pm: Pumpkin carving. £3 per person.

23 October: Junior Vet Day. £80. Aspiring junior vets will work with The Donkey Sanctuary's fully qualified vets, veterinary nurses and staff to learn about examinations, medication, anatomy, pathology, dental checks, hoof problems and surgery, with some time for essential donkey grooming!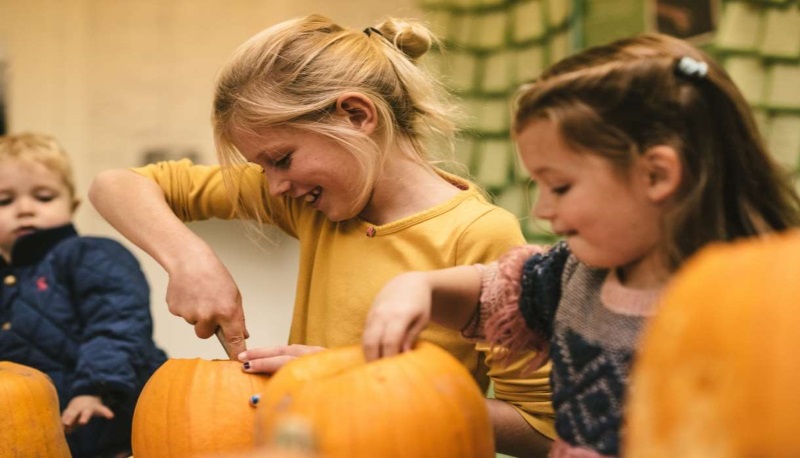 7. The Zombie Trail at The Bear Trail
On Sunday 28 October The Bear Trail is doomed to become over-run with the evil undead and brave Zombie Defeaters of all ages are desperately needed! Run, jump and climb over the muddy assault course as many times as you can during your two hour slot, whilst trying to escape the clutches of the untamed Zombies! Adults £13.50, Under 12s £9.50, 18 months – 5 years £5.50, Spectator £3.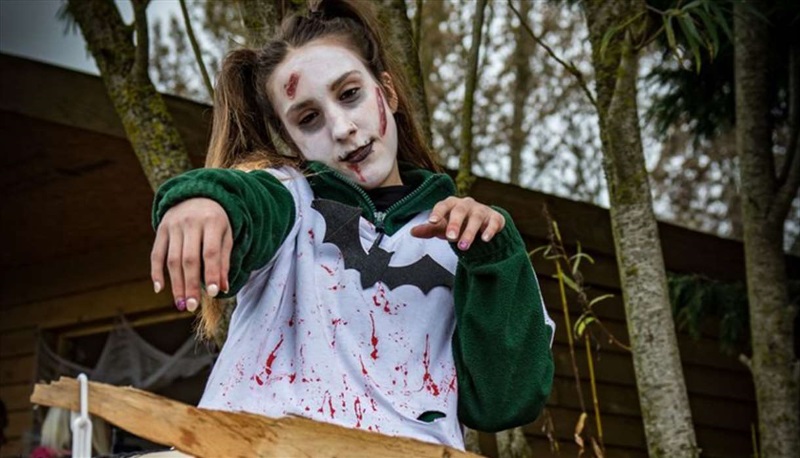 8. Crafting Skills at Topsham
If arts and crafts is your thing, Make at Monteray host creative workshops lead by highly respected professional makers, for those people who are enthusiastic about getting creative. See the website for events this October.
9. Exeter Halloween Fun Run 2018
Cowick Barton Playing Fields will be hosting the October half term Halloween Fun Run on October 25. Get your running shoes on and take part in the 3K or 1K run. Fancy dress encouraged!
10. Museum at Night
For one night only on 25 October, families can enjoy lots of fun, Halloween inspired events at Tiverton Museum. Younger children can enjoy following a fun, pumpkin trail around the museum, before a torch light tour will take place. Don't forget to keep an eye out for any ghosts!
11. Spooky School this Halloween with Pocketwatch Theatre
Experience a spectacular, spooky, spellbinding Halloween at Powderham Castle this October half term. The witches and wizards from Pocketwatch Theatre Company will be returning with a Potions Class, (Level 2) between 21 – 26 October. Don't worry if you missed Level 1 last year, you'll soon catch up. Remember to wear your best magical robes and bring your wands. In between lessons there will also be Halloween themed crafts and games.
12. The Model Village takes on a spooky twist!
There are lots of fun, spooky things happening both day and night at Babbacombe Model Village this half term. From the miniature Halloween scenes around the gardens and hunting for themed characters (daylight only), to the Spookilluminations, sound, fire and lighting effects events (24 – 27 October after 6pm and 28 – 31 October after 5pm). There is also the Workshop of Horrors Tour – an eerie tour by lantern light, through the woods and past 'abandoned' haunted workshops and a chilling ghost story.
13. Langstone Cliff Presents: Cosmo
Cosmo will be bringing lots of close up tricks and fun for children of all ages to the Langstone Cliff Hotel this October half term. There will also be plenty of great entertainment for the grown-ups too to enjoy on 24 October.
14. Children's Sports Activities with Exeter University
If sport is your passion, pop along to the University of Exeter between 15 – 27 October where a number of holiday activities offering an extensive range of sports for children aged 3-16 years will be on offer. From beginners to those who are looking to improve on their skillset, there are a wide range of exciting activities to get stuck into. With qualified coaches and excellent facilities, there are opportunities for children of all ages and abilities to learn and develop fundamental sporting skills.
15. Holiday Activities at Haven Banks
Offering a wide-range of action-packed adventure days guaranteed to please those with an adventurous heart, Haven Banks Outdoor Education Centre offers lots of fun outdoor activities for the half term school holiday break. Archery, kayaking or a day of camp cooking and bushcraft are some of the many exciting activities available to 8-14 year olds with transport provided to all off-site activities. One day and week-long courses and activity sessions are available and there is even an early morning drop off and late collection options for busy parents.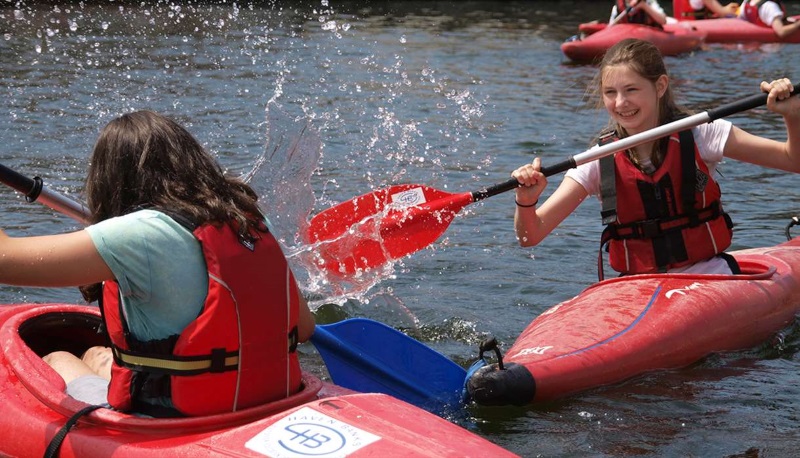 16. Half Term Tennis Club
Get your Andy Murray on this half term at Exeter Golf and Country Club. The tennis coaching will focus on skills, drill, games and competitions with lots of awards and prizes throughout the week. All children are welcome from age 8 to 16 years old between 22 - 26 October.
Related
0 Comments